Restaurant review: Jupin 聚品
Moments after sitting down at Jupin (聚品), which recently opened in a lane off Shida Road (師大路), our party of two realized that we should have heeded the first character, ju (聚), of the restaurant's name. Meaning "to gather" or "to assemble," the name hints at the fact the eatery is more suited to large parties than a lunch or dinner date.
We looked somewhat out of place with a three-generation family of nine chatting animatedly behind us and an office party of a dozen loudly guffawing in the semi-private back room. The menu features a number of reasonably priced set menus for large groups that averages out to roughly NT$300 per person.
For parties of fewer than four, Jupin has an extensive a la carte menu of cuisine hailing from Jiangsu Province (soft textures and light flavors) and Shanghai (stronger flavors and lots of sugar and alcohol).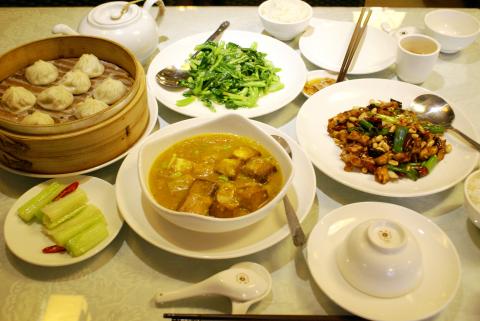 Jupin's Jiangsu and Shanghai fare is worth the trip.
Photo: Noah Buchan, Taipei Times
Our on-the-house starter of celery marinated in rice vinegar, sesame oil, garlic and red chili peppers produced a tingling sensation on the taste buds and set a precedent for the interesting textures that were to follow. The Chinese kale stir-fry (芥藍菜, NT$150) was cooked in a delicious, light sauce, with generous portions of ginger and garlic offsetting the usual bitterness of the broccoli-like vegetable.
Diners who choose the stewed crab roe with soft tofu (蟹黃豆腐, NT$260) will not be disappointed. The large chunks of tofu are lightly seared before being added to the subtle crab roe stew. The side of rice I ordered specifically for this dish was not necessary, though I still added spoonfuls of the delicious stew to it anyway.
For those who like something a little spicy but don't want to be too daring, the kungpao chicken (宮保雞丁, NT$260) is worth a try — its taste makes up for the small portion. Chunks of chicken, ginger, dried red chilies, peanuts and slices of leek aren't so much cooked in a tasty XO sauce as they are caramelized in it.
The Shanghai-style soup dumplings (上海湯包, NT$120) were a little disappointing compared with those I've tried elsewhere. The filling consisted of pork and a little garlic. But rather than being savory, they were slightly sweet, and the flavor of the pork was a little too robust. Though perhaps an authentic Shanghai-style version of the dish, it could have used a little leek or cabbage. We should have listened to our server, who recommended the crab roe dumplings (蟹黃湯包, NT$160), which were sure to have been a hit if they are as delicious as the crab roe with soft tofu.
If you plan to visit Jupin, do so for dinner to best appreciate its artistically lit dining room. Black faux-lacquer walls and hanging lanterns with metal latticework designs lend the restaurant a traditional Chinese atmosphere.
Publication Notes
Jupin 聚品
Address: 13, Ln 92, Shida Rd, Taipei City (台北市師大路92巷13號) Telephone: (02) 8369-1686
Open: Daily from 11am to 2:30pm and 5pm to 10pm
Average meal: NT$800 for two Details: Credit cards not accepted
Comments will be moderated. Keep comments relevant to the article. Remarks containing abusive and obscene language, personal attacks of any kind or promotion will be removed and the user banned. Final decision will be at the discretion of the Taipei Times.