DANCE: In good company
Dance lovers are spoiled for choice this weekend, but for the true balletomane there is only one company that matters — the State Ballet of Georgia, led by its incomparable prima ballerina and artistic director, Nina Ananiashvili.
The company began its first-ever tour of Taiwan at the weekend in Taoyuan and started its four-performance stint in Taipei on Wednesday. It will finish next week with three shows in Yunlin County.
The company is touring with two of the great romantic ballets: Swan Lake, without which it appears no big ballet troupe can leave home, and just for Taipei, Giselle. Both classics are tales about doomed lovers and love's redemptive power. They are also primarily vehicles for the leading lady's virtuosity as well as a chance for the corps de ballet to mesmerize audiences with their unison movements, whether it is a flock of swan maidens or the ghostly Willis haunting a forest.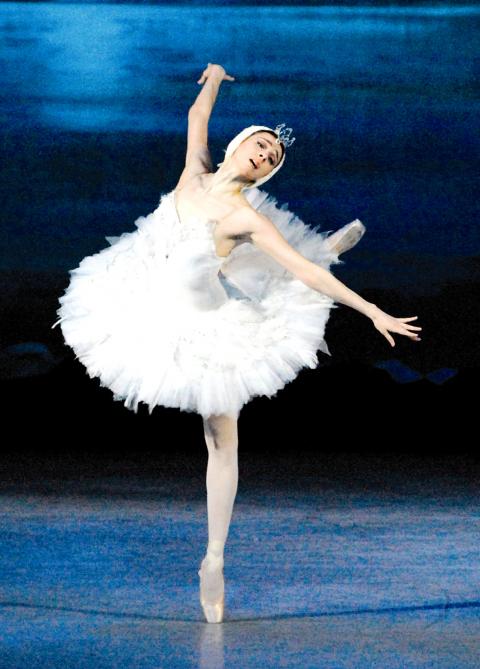 Famed prima ballerina Nina Ananiashvili is leading the State Ballet of Georgia State Ballet on its tour of Taiwan.
Photo Courtesy of the State Ballet Of Georgia
As for the premier danseurs, they basically have the supporting roles in the two stories, which for men are cautionary tales of what happens when you decide to go off in the forest by yourself — you either lose your heart to a woman trapped in a swan's body or you risk being danced to death by a group of vengeful ghosts.
The main drawing card, of course, is Ananiashvili, who became a star with the Bolshoi Ballet and the American Ballet Theater, as well as dancing as a guest artist with most of the major companies around the world. A Georgian by birth, she was asked by the Georgian president to take over the country's floundering ballet troupe in 2004. Since then, the company's fortunes, which had suffered since the breakup of the Soviet Union, have begun to recover.
The troupe's history dates back to 1852 and it has always had close ties with main companies in Moscow and St Petersburg as talented Georgians filled the ranks of those troupes and then returned home. Since Ananiashvili took up the reins of the company, she has added more than a score of new productions to its repertoire, including the versions of Swan Lake and Giselle it is performing on this tour, as well as several works by George Balanchine, also a Georgian. She has also reinvigorated the ranks and brought back Georgia-born dancers from other companies for guest roles. On this tour, for example, there is the wonderfully tall Royal Ballet principal David Makhateli alternating in the princely roles, as well as Karim Abdullin, who is a member of the Bolshoi Ballet's corp. However, the company is not exclusively Georgian; there are a handful of dancers from elsewhere in Europe as well.
Ananiashvili will dance the lead in Giselle tomorrow, a role that has long been considered one of her signature works. At almost 48 (her birthday is later this month), she shows no sign of hanging up her toe shoes just yet. And critics agree that she is still as ephemeral and light on her feet as ever in the technically and dramatically demanding role of a young village girl who falls in love with a visiting aristocrat, only to die — after a wonderful mad scene — of a broken heart when she learns the cad is already betrothed.
Partnering Ananiashvili in the role of Count Albrecht will be Vasil Akhmeteli.
On Sunday, Anna Muradeli will dance Giselle, partnered by Makhateli.
The company's production of Giselle was revamped for the company by one of Ananiashvili's former Bolshoi colleagues, Alexei Fadeyechev, based on the original 19th-century choreography by Marius Petipa, Jean Coralli and Jules Perrot, with new sets and costumes by Viacheslav Okunev.
Next week the company moves to Douliou in Yunlin County for three performances of Swan Lake, beginning on Wednesday. Ananiashvili will dance the Odette/Odile role on opening night.
Publication Notes
PERFORMANCE NOTES:
WHAT: State Ballet of Georgia, Giselle
WHERE: Sun Yat-sen Memorial Hall (國父紀念館), 505, Renai Rd Sec 4, Taipei City (台北市仁愛路四段505號)
WHEN: Tomorrow at 7:30pm and Sunday at 2:30pm
ADMISSION: NT$900 to NT$4,200, available at the NTCH box office or online at www.artsticket.com.tw
ADDITIONAL PERFORMANCES: Swan Lake, Wednesday to March 11 at 7:30pm at the Yunlin County Stadium (雲林縣立體育館樓下特區), 600, University Rd Sec 3, Douliou City, Yunlin County (雲林縣斗六市大學路三段600號). Tickets are from NT$500 to NT$3,600
Comments will be moderated. Keep comments relevant to the article. Remarks containing abusive and obscene language, personal attacks of any kind or promotion will be removed and the user banned. Final decision will be at the discretion of the Taipei Times.