Fur-mosa displayed
Last weekend's Taipei Pet Carnival went beyond cuteness overload to spotlight serious animal rights issues
Hundreds of dogs ranging from Airedale terriers and Akitas to Welsh corgis took over Xinyi District last weekend for the sixth annual Taipei Pet Carnival (台北寵物跨年嘉年華).
About 90 companies and organizations were represented at the event, including about 30 animal advocacy groups. The Taipei Pet Carnival, which bills itself as the largest outdoor pet event in the country, was launched in 2006 by Wawa Public Relations (Wawa 國際公關) and is held outdoors every year at the Shin Kong Mitsukoshi (新光三越) complex.
"Our goal is to let people and their animals have a day of fun together," said Taipei Pet Carnival chief executive officer Chang Ching-lin (張靖霖). "In Taiwan pets don't have a lot of opportunities to go out into the community."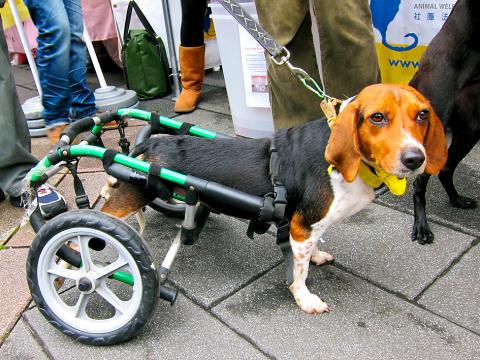 Skal, a beagle rescued by Animals Taiwan, is looking for a home.
PHOTO: Catherine Shu, Taipei Times
While canines were the most prominent of the carnival's four-legged attendees, some rabbits and good-natured cats turned up. The pet products and services offered ranged from organic food and gel breath fresheners to studio portraits and neon hair dye.
Twenty-seven competitions included beauty contests, a dog Olympics and a rabbit show.
But while some pets were being spoiled by doting owners, others were looking for "forever homes."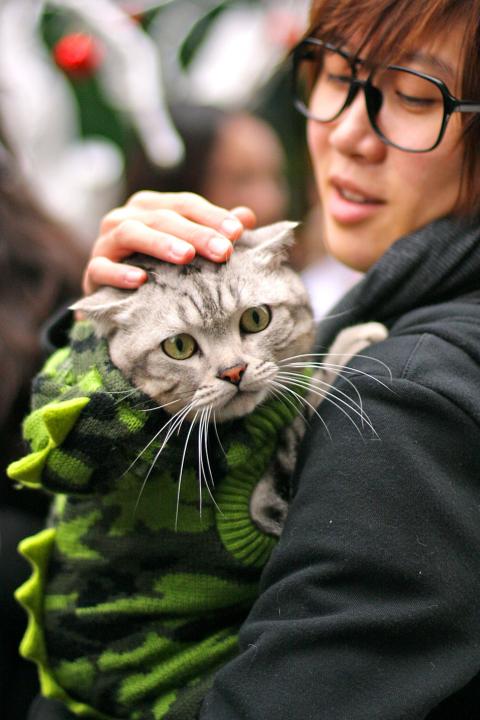 Dogs dominated last weekend's Taipei Pet Carnival, but a few patient cats also showed up.
PHOTO: Catherine Shu, Taipei Times
These included Skal, a beagle rescued by Animals Taiwan (台灣動物協會) after being injured in a road accident. Despite being confined to a wheelchair, Skal eagerly sniffed visitors and chased after other dogs, including Gina, another Animals Taiwan rescue whose front paw was amputated after being caught in an animal trap.
The group needs homes for 60 to 70 animals, but they are careful to find the right match, volunteer Michelle Lin (林青宜) said.
"We'll have the dog meet the entire family first and make sure they are compatible," she said. "We don't want them to end up feeling like having a pet is a burden."
The Taiwan Homeless Bunny Protection Association (台灣流浪兔協會), which set up a booth at the carnival for the first time this year, also seeks responsible pet owners.
Founder Liao Shue-ping (廖雪屏) said that the organization anticipates an increase in abandoned rabbits after the Lunar New Year.
"It's the Year of the Rabbit. You see the same increase in animal adoptions during the Year of the Dog and the Year of the Pig," Liao said. "People adopt a pet and by the end of the year they dump it."
The association's volunteers are currently fostering 40 rabbits, many of which were found abandoned in parks and schoolyards. Potential owners are first educated about caring for the animals, which have an average lifespan of about 10 years.
"A lot of people don't know that you can't feed rabbits nothing but carrots," Liao said.
Huikuang Guide Dog Center (惠光導盲犬基金會) set up a booth at the carnival to raise funds for its seeing-eye dog training program. It takes about three years before a dog is ready to guide a visually impaired person. The group's clients are matched with a guide dog for free, but have to wait up to six months because of the shortage of trained canines.
"It costs about NT$1 million (US$34,000) to train each dog, so we really hope we can find new means of financial support," trainer Erin Li (黎惠芸) said.
Other advocates also want people to be aware of abuse against livestock, not just companion animals. The Taiwan Society for the Prevention of Cruelty to Animals set up a display about factory farming that included graphic video of livestock being killed with bolt guns. Other displays focused on puppy mills and gin traps, which are illegal to use in Taiwan but still allowed for sale.
"I've been a vegetarian for 10 years. Before that I had no idea about factory farming. It took someone to tell me," said Taiwan SPCA co-founder Beki Hunt. "I am confident that if more Taiwanese people knew about factory farming, then they would definitely chose free range or organic stuff or eat less meat."
"We want to focus on protecting all animals, not just dogs and cats," Hunt added.
For more information, visit wawapets.com.tw/wawapets
LEND A PAW
Want to volunteer, donate money or adopt a furry friend? Check out these animal welfare groups.
Help Save a Pet Fund
(流浪動物之家)
>> www.hsapf.org.tw
Founded in 1988, Help Save a Pet Fund is one of the oldest animal shelters and advocacy groups in Taiwan. The group neuters and re-homes stray pets, campaigns for animal rights and publishes a free bimonthly magazine about pet care and animal welfare.
Stray Animal Garden
(流浪動物花園)
>> www.doghome.org.tw
Stray Animal Garden is one of the largest pet fostering and adoption groups in Taipei, finding homes for 600 animals per year. It also runs a catch, neuter and release program for strays.
Taiwan SPCA
>> www.spca.org.tw
The Taiwan SPCA Web site currently has listings for eight dogs and four cats looking for homes, as well as information about fostering pets, animal welfare issues and a petition against the sale of gin traps.
Animals Taiwan (台灣動物協會)
>> www.animalstaiwan.org
Animals Taiwan focuses on rescuing and finding new homes for sick, injured and abused pets. Unable to foster or adopt, but still want to help take care of a needy animal? Then join their "Sponsor-a-Paw" program for NT$500 a month.
Huikuang Guide Dog Center (惠光導盲犬基金會)
>> www.guidedog.tw
A member of the International Guide Dog Federation, Huikuang operates a kennel and training center for seeing-eye dogs in New Taipei City. In addition to training Labrador retrievers and matching them with clients, Huikuang also finds new homes for the dogs after they retire at about 12 years old.
Comments will be moderated. Keep comments relevant to the article. Remarks containing abusive and obscene language, personal attacks of any kind or promotion will be removed and the user banned. Final decision will be at the discretion of the Taipei Times.