It's time to get rid of the old to make way for the new
It's time to get rid of the old to make way for the new — and top of the list are these worn-out catchphrases
Leave it to fashionistas to try on new buzzwords like they're going out of style. Whether it was our bromance with heritage brands, or the shellacking that some collaborations took, last year saw no shortage of PR-driven catchphrases and trendy terms. As with all fads, it's time to put some to rest.
Couture: Calling something "couture" doesn't make it hand-sewn or high class. Yet the word popped up everywhere last year, from discount Web sites to Canal Street pushcarts. It's even uttered repeatedly on the Home Shopping Network and QVC to describe handbags, dresses and almost anything else. You can trust that the rayon and polyester cape selling for US$49.95 was not hand-stitched by petite seamstresses in a Parisian atelier.
Bespoke: A close runner-up to "couture." Used by retailers to make their merchandise seem classier, although the items in question are not literally made to order.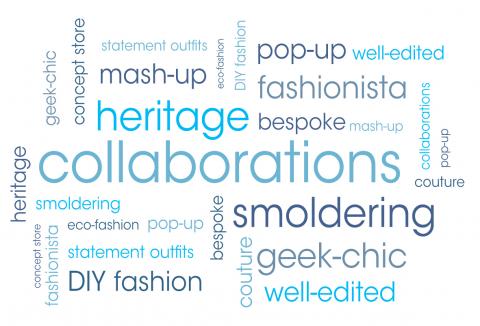 Statement outfits: Does your clothing speak louder than words? That seemed to be the mantra chanted by fashion lemmings, who kept referring to attention-grabbing pieces as "statements."
Smoldering: OK, your makeup is hot. Your outfit is hotter. You are about to combust. We get it.
Pop-up: It was the year of the pop-up store — Shiseido and AllSaints had them, as did Zimmermann swimwear in SoHo and Liberty of London for Target. Blame it on empty storefronts and skittish retailers, but the hit-and-run retail concept swept the world's fashion capitals, to the point of losing its novelty.
Fashionista: The word has gone from describing a class of urban style-conscientious sophisticates to becoming a lazy and cheap byword for anyone with a modicum of taste. (See "hipster.")
Collaborations: H&M and Alber Elbaz; Gap and Stella McCartney; Jason Wu (吳季剛) and TSE. Collaborations went gaga last year, making it seem as if solo designing were a thing of the past.
Concept store: Used to describe any store that deviated in the slightest from the norm, whether it was Ann Taylor's "concept store" in the Flatiron district that featured 10 design finalists, or the OC Concept Store on Madison Avenue that sells watches and yachts. But aren't all stores supposed to have a concept? Just checking.
Geek-chic: If geeks rule the world, it was only a matter of time before they conquered fashion. Last year, anyone who sported thick-framed glasses, cardigans and T-shirts with nerdy references was instantly labeled "geek-chic." The hip-to-be-square term has also become a popular Twitter hashtag.
Eco-fashion: Stella McCartney made vegan platform shoes out of faux leather and cork; Michael Kors used organic cashmeres and cottons in his resort collection. Responsible design never gets old, but this term has.
DIY fashion: It's not always necessary to knit your own mittens. And not everyone becomes a best-seller on Etsy.com. Save your sanity by going to Urban Outfitters and spending the US$8.
Heritage: Waxed Barbour jackets. Red Wing boots. Woolrich sweaters. Classic Americana ruled men's runways last year — and the cash registers at retail behemoths like J Crew. But perhaps the only thing more played out than another lumberjack-chic man with a candy-colored ax was this word, trotted out to label the retro-trend.
Well-edited: This replaced "curated" to describe any collection chosen with a sharp eye. Stay tuned for this year's word: culled.
Mash-up: Used to describe looks that blend multiple influences, as in, "The designer's spring collection is a mash-up of Upper East Side girl and Harajuku girl on Valium," or "Her aesthetic is a mash-up of East meets West." Designers have always drawn upon their imagination and varied cultural references, so the term is superfluous.
Comments will be moderated. Keep comments relevant to the article. Remarks containing abusive and obscene language, personal attacks of any kind or promotion will be removed and the user banned. Final decision will be at the discretion of the Taipei Times.