All in the family
Lisa Cholodenko's portrayal of a nontraditional family steers comfortably clear of the normal traps
Intelligent romantic comedies are a rare commodity, and when one comes our way, it should be savored. The Kids Are All Right, an offbeat, indie-spirited film about love and family, offers just such an opportunity. With a cast that includes Annette Bening, Julianne Moore and Mark Ruffalo, it has a good claim to being a breakout film for director Lisa Cholodenko, who crosses into the mainstream without sacrificing her integrity.
At first glance, The Kids Are All Right is similar to other recent alternative comedies like screenwriter Michael Arndt's Little Miss Sunshine (2006) or Diablo Cody's Juno (2007). There is the same razor-sharp dialogue, the same kind of flawed but attractive characters, the same nod at social issues and unconventional lifestyle choices. It doesn't have the same rapid-fire verbal gymnastics of Cody's script, or the madcap absurdity of Arndt's, but it does have a comic vein that is both a little sad and full of bold optimism about the potential of our very imperfect lives.
A synopsis of the plot is not at first indicative of the film's quality, with its contrived setup of a lesbian couple with two children — a boy and a girl — conceived from sperm provided by an anonymous donor through a sperm bank. But cheap lesbian jokes there are not, nor is the issue of gay marriage and parenthood taken up as a social agenda. Cholodenko steers the film away from being some counter-culture paean to its own unconventionality, making the unconventional family representative of any family that takes the happiness and fulfillment of its individual members seriously.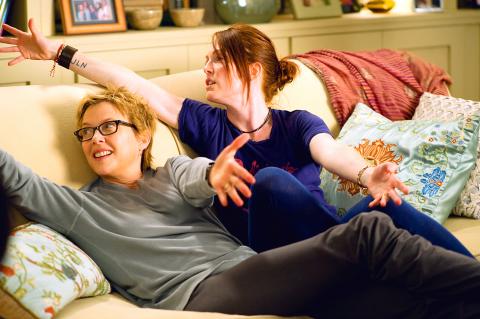 Experience is the mother of wisdom.
Photo Courtesy of Deepjoy Picture Corp
The two adults of the family are Nic (Annette Bening), a focused, sometimes controlling obstetrician who carries the financial burden of the family. She is in a relationship with Jules (Julianne Moore), very much the opposite personality type, who has tried out various careers but never quite taken to any of them. Their kids, Joni (Mia Wasikowska) and Laser (Josh Hutcherson), have reached adolescence. They clearly love their "mums," but are also prone to the curiosity, insecurity and angst that characterizes that period of life.
Laser has become curious about his birth father and he enlists Joni's help to find Paul (Mark Ruffalo), the sperm donor. Contact with Paul, an easygoing college dropout who has made a good living for himself at the grow-your-own, organic end of the food service industry, starts to pull this seemingly well-balanced family in all directions at once. Although Paul is a hugely sympathetic character, in terms of the family that Nic and Jules have built, he is an interloper. Cholodenko riffs cleverly off the personalities, social backgrounds and expectations of the three adult characters, and presents a sensitive portrayal of intergenerational communication, laden with the assumption of authority on one side, and resistance and expectation on the other.
Cholodenko is not afraid of putting her characters, who she clearly loves, under a harsh and unforgiving light. It is this insight into the foibles to which humans are prone that gives rise to the comedy that pervades The Kids Are All Right. Despite the inadequacies of parents and guardians, and the moods and resentment of teenagers, a mixture of love and hard work, and a mature acceptance that we all get things wrong in the complex dance of modern relationships, ensures that the kids will indeed be all right.
Publication Notes
The Kids Are All Right
DIRECTED BY:
Lisa Cholodenko
STARRING:
Julianne Moore (Jules), Annette Bening (Nic), Mark Ruffalo (Paul), Mia Wasikowska (Joni), Josh Hutcherson (Laser), Eddie Hassell (Clay), Yaya DaCosta (Tanya)
RUNNING TIME:
105 MINUTES
TAIWAN RELEASE:
TODAY
Comments will be moderated. Keep comments relevant to the article. Remarks containing abusive and obscene language, personal attacks of any kind or promotion will be removed and the user banned. Final decision will be at the discretion of the Taipei Times.