RESTAURANTS: Oma Ursel 歐嬤烏蘇拉
Established in 2004, German restaurant Oma Ursel (歐嬤烏蘇拉) completely rebuilt its restaurant off Yongkang Street (永康街) this spring. The new two-storied building is designed to look like a half-timbered cottage and would not be out of place in an illustration for a Grimm's fairy tale. A brick terrace offers outdoor seating and the restaurant's entrance is filled with shelves of baked goods like cakes, weckmanner (bread shaped like chubby men) and gingerbread cookies. Waitresses dress in checkered lavender dirndls and white, puffy-sleeved blouses. It would be twee to the point of kitschiness if the food wasn't as tasty as it is.
The restaurant was established by Chiu Dai-yu (邱岱玉) and named in honor of her German mother-in-law, who taught Chiu how to cook classic German dishes. Sausage lovers can chose from a mouthwatering, coronary-blocking selection that includes bratwurst, white sausage, spicy sausage, cheese sausage or gyros sausage. For the best of the wurst, order the wurstseller or sausage plate, which comes with five kinds of sausage, sauerkraut and gerkins and is NT$420 for a set meal with bread, soup, salad, a drink and cake. (Entrees are NT$100 when served a la carte.) The sausages were all winners: thick, juicy and tasty.
Oma Ursel's version of another German specialty, pork knuckles, was less satisfying. The skin was crisp and the slices of meat were savory and layered with just enough fat, but the pork had been slightly overcooked and was dry in parts. A small plate of pork knuckles is NT$620 in a set meal; a larger serving is NT$720.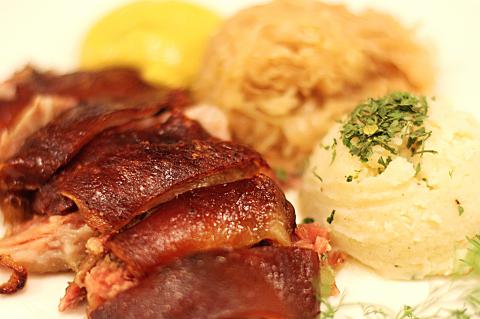 Completely remodeled, Oma Ursel serves tasty Teutonic classics in a building that looks like it comes straight out of a Grimm's fairy tale.
Photo: Catherine Shu, Taipei Times
On a separate visit, my dining companion ordered Oma Ursel's signature meatloaf, which is served with potato noodles, bacon and sauerkraut (NT$420 in a set). The meatloaf was unmemorable, but the hearty potato noodles were just chewy enough.
Health-conscious diners can order from a selection of light or vegetarian dishes (though the meatless entrees tend to be heavy on cheese or carbs). The mixed salad with smoked chicken and "top secret sauce" (NT$280) was good, even though the large chunks of savory, tender chicken were served on a bed of plain old iceberg lettuce and with the usual assortment of cherry tomatoes, cucumber and alfalfa sprouts. The tangy, creamy "top secret sauce" tasted a bit like green goddess salad dressing.
The entrees are tasty and filling, but the restaurant truly excels with its baked goods. (Oma Ursel also has a bakery at 3, Ln 34, Xinhai Rd Sec 1, Taipei City, 台北市辛亥路一段34巷3號). Set meals are served with a rotating assortment of breads, rolls or pretzels. On our second visit, we got a basket of warm pumpernickel slices served with six spreads, including herb butter, ham and cheese and my favorite, pureed fig with tiny, crunchy seeds. For dessert, diners can select from 20 different kinds of cake. The creamy, moist black forest and the just-sweet-enough white chocolate cappuccino cakes stood out. The caramel walnut cake has a texture like short bread and is stuffed with nuts suspended in a gooey filling. It was somewhat dry, but worked well with a cup of hot tea.
The restaurant's mulled wine (NT$150 for a cup) is available between November and March. It was a pleasant way to end a meal, but should have been made with more spices and served hotter. Other drinks include non-alcoholic Malzbier, Warsteiner and King Ludwig dark and wheat beers.
Publication Notes
Oma Ursel 歐嬤烏蘇拉
Address: 9, Ln 6, Yongkang St, Taipei City (台北市永康街6巷9號)
Telephone: (02) 2392-2447
Open: Lunch 11:30am to 2pm, tea 2pm to 5pm, dinner 5:30pm to 10pm (kitchen closes at 9pm)
Average meal: NT$400 to NT$700 for set meals; lunch specials are about NT$200 to NT$300
Details: Chinese, German and English menu, credit cards accepted (minimum charge NT$500)
On the Net: www.oma.ecdiy.com.tw
Comments will be moderated. Keep comments relevant to the article. Remarks containing abusive and obscene language, personal attacks of any kind or promotion will be removed and the user banned. Final decision will be at the discretion of the Taipei Times.