FESTIVAL: Tribal gathering
What better way to blow off some steam and reengage with your primordial self than a quasi-tribal evening of drumming and dancing around a large fire?
Sun Son Theatre (身聲劇場) will offer just that with its Fire and Drum Festival (火鼓音樂祭) tomorrow night in Tamsui (淡水).
The group, known for its exploration of ancient musical practices from different cultures, hosts the event at least twice a year, inviting participants to dance and play drums around a bonfire as a way to get in touch with their inner selves, release some of the stress caused by modern urban life and simply have fun.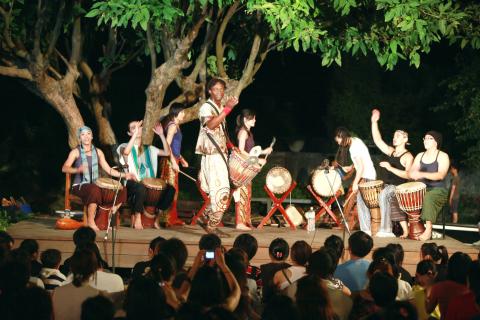 Sun Son Theatre holds its fire and drum festivals at least twice a year.
Photos courtesy of Sun Son Theatre
"It's all about creating natural energy and being simple, spontaneous and improvisatory. To me, it feels like being part of an urban tribe," said Leonson Ng (吳忠良), the troupe's artistic director.
Those who haven't attended one of Sun Son's more recent events may recall the short-lived Fire Drum Circle (火鼓祭) at Huashan 1914 Creative Park (華山1914) in 2002, which was forced to shut down after it was slammed by two Taipei city councilors for being an "ecstasy party." The revived series of events is designed to be accessible to all types of people and not just for "alternative and marginalized" characters, to use Ng's phrasing.
For each edition, the troupe picks a theme — such as flamenco or the Sabah gong — and invites artists and musicians from home and abroad to perform at the festival. The atmosphere is amicable and relaxing, and the event attracts families and members of the troupe's neighborhood.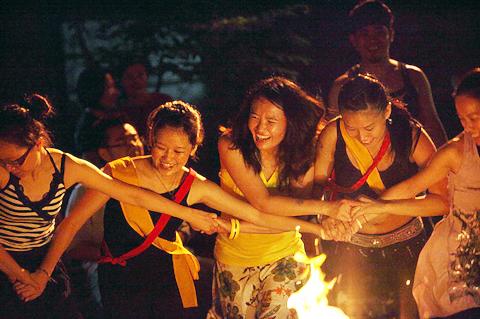 Photos courtesy of Sun Son Theatre
"Kids are actually more alternative than adults. They can get into a state of trance much more easily," Ng said.
Coromandel Express will open tomorrow's festival with a 90-minute performance. Consisting of four musicians from Taiwan, Japan and the US, the group creates a fusion of Indian sounds using sitar and tabla (a percussion instrument from northern India) and southern India's flute and kanjira, a type of drum.
The party begins after the performance with Indian snacks, a small Indian arts and crafts fair and a henna tattoo artist who will paint delicate designs on your body for free. Participating urban tribespeople will be encouraged to have a go at drumming using all the traditional, novel and unusual musical instruments Sun Son Theatre has collected from around the world during its travels over the years.
Malaysian-born Ng said the bonfire revelry could end at midnight or continue until after daybreak, depending on the vibe.
"People are always very excited and spirited at the beginning. But in the end, it will become tranquil and meditative. The whole process really feels like a ritual," Ng said.
Sun Son Theatre is a five-minute walk from Zhuwei MRT Station (竹圍捷運站). Walk out Exit 2, turn right and follow the MRT line until you see the entrance on your left.
Publication Notes
FESTIVAL NOTES:
What: Fire and Drum Festival(火鼓音樂祭)
When: Tomorrow at 7pm
Where: Outside Sun Son Theatre's Tribal Sound Music Room (身聲大地樂器館), 39, Ln 88, Jhongjheng E Rd Sec 2, Taipei County (台北縣中正東路二段88巷39號)
Admission: NT$450 in advance and NT$500 at the door. Call (02) 2809-5885 for booking
On the net: blog.roodo.com/firedrum
Comments will be moderated. Keep comments relevant to the article. Remarks containing abusive and obscene language, personal attacks of any kind or promotion will be removed and the user banned. Final decision will be at the discretion of the Taipei Times.