Day in and day out
Crowd Lu, the 'musical genius who was run over by a bus,' brings his corny sense of humor and bowl cut to the Taipei Arena next weekend
Fans of indie icon Crowd Lu's (盧廣仲) zany humor and musical musings on the trials of daily life are in for a double helping of the star on Dec. 18.
The singer/songwriter makes his Taipei Arena debut with an indulgent, daylong event titled Good Morning and Good Evening Crowd Lu Taipei Arena Concert (Good Morning & Good Evening 盧廣仲台北小巨蛋演唱會). Lu will perform a two-part gig, the first segment beginning at 10am, the second at 7:30pm.
"I usually get up early, so I figured I would try a concert in the morning," Lu told the Taipei Times earlier this week. "This show is going to burn a lot of calories. I'm planning to run around the oval running track."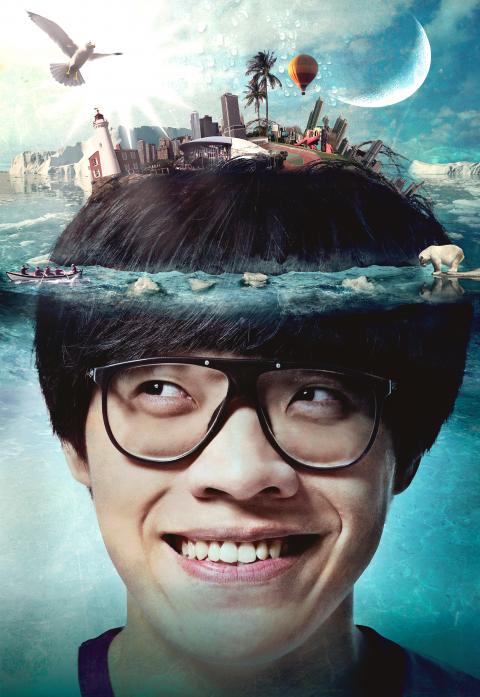 Get inside the brain of Crowd Lu at the Taipei Arena on Dec. 18.
Photo Courtesy Of Team Ear Music
In addition to the performances, there will be a 2pm screening of the movie Little Miss Sunshine, which he says he chose because it's "full of positive energy."
Lu captured the public's imagination in the past few years with two folk-rock albums that explore the joys of everyday life. His hits include Good Morning, Beautiful Dawn (早安晨之美) and Seven Days (七天).
"I listen to blues music that describes common things like 'my car is broken' or 'I'm down on my luck,'" Lu said. "That's the kind of music I like."
His celebration of the ordinary is enhanced by his geek chic look — trademark bowl cut, black-rimmed glasses and glaring white socks. The 25-year-old promises to ignite the stage with his infectious, self-deprecating sense of humor.
"I'm an easy-going but polite person," Lu said. "I don't want to make fun of other people, so I make fun of myself."
His career began after he was seriously injured in a car accident when he was a freshman at Tamkang University.
"I had to stay home for six months," Lu said. "I took up playing guitar and songwriting and started pursuing music."
Lu released his much lauded debut album 100 Ways of Life (100種生活) in 2008 and went on to win the Best Newcomer Award and the Best Composer Award for the album's title track at the Golden Melody Awards last year.
Veteran pop producer Tiger Chung (鍾成虎) has dubbed Lu "a musical genius who was run over by a bus" (被公車輾過的音樂鬼才).
Although acclaimed for his oeuvre of folk-rock gems, Lu also boasts a powerful voice, as witnessed when he delivered a ravishing rendition of Karen Mok's (莫文蔚) Oh Lonely Lover (寂寞的戀人啊) at Riverside Live House this March. Lu, who names Western superstars Whitney Houston and George Michael as influences, plans to push the envelope with next weekend's performance.
"I will tackle even more different styles of music with these four hours of performing," Lu said.
Publication Notes
PERFORMANCE NOTES:
What: Good Morning and Good Evening, Crowd Lu Taipei Arena Concert (Good Morning and Good Evening盧廣仲台北小巨蛋演唱會)
WHEN: Dec. 18, concerts start at 10am and 7:30pm
WHERE: Taipei Arena (台北小巨蛋), 2, Nanjing E Rd Sec 4, Taipei City (台北市南京東路四段2號)
ADMISSION: Tickets are from NT$400 to NT$2,800, available online at www.tickets.books.com.tw or through 7-Eleven ibon kiosks
ON THE NET: www.wretch.cc/blog/sus7
Comments will be moderated. Keep comments relevant to the article. Remarks containing abusive and obscene language, personal attacks of any kind or promotion will be removed and the user banned. Final decision will be at the discretion of the Taipei Times.