RESTAURANTS: Han Chi Tiger Noodles 韓記老虎麵食館
With cold weather gradually settling in, thoughts turn to a good hot pot, particularly the sharp heat of chili and the tingle-inducing Sichuan pepper (Zanthoxylum piperitum).
Chili hot pots, or indeed any kind of hot pot, are best enjoyed in the company of three or four people, but such social gatherings are not always possible when the yen for fiery food hits.
One solution is a visit to Han Chi Tiger Noodles (韓記老虎麵食館), an establishment that opened nearly two decades ago and last year relocated to Jinhua Street on the fringes of the Yongkang Street shopping district.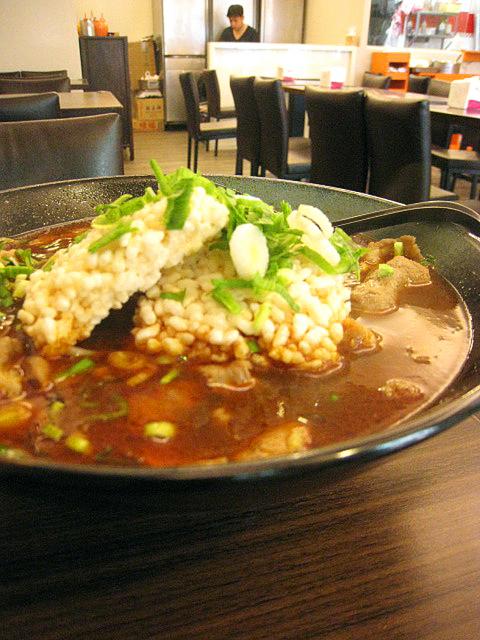 Some like it hot.
Photo: Ian Bartholomew, Taipei Times
Han Chi's tiger noodles (老虎麵), the house specialty, are appropriately named: they have a fierce bite.
The tiger noodles come in beef, chicken, mutton or pork, and are served with lamian (拉麵), vermicelli noodles (冬粉) or crispy rice (鍋巴), and in four levels of spiciness.
Whatever your choice, the bowl is NT$180.
I picked the third level of spiciness, expecting a lively number, but previous experience with spicy food in Taiwan prevented expectations from soaring too high.
Lashings of hot but otherwise flavorless chili oil and over-salted preserved chili sauce are the quick and easy way many a restaurant spices up its fare.
A mouthful of soup is often enough to see through the sham, for while the bowl of noodles is red and burns the tongue, there really isn't that much going on flavorwise.
Han Chi's tiger noodles are quite another proposition. The dish certainly lit a fire in my mouth, but beyond the burning there was a depth of flavor and layers of spiciness.
The quality of a good chili stock is like a fine wine, with the characteristics of different types of peppers working their way to the fore as you eat.
Having sampled tiger noodles in a number of combinations, the pork seems to work best as the meat is able to draw in the chili and impart some of its own flavor as well.
The quality of the noodles is excellent, but for something a little unusual, one version is served with blocks of crisp rice — something like savory Rice Krispies treats — that are excellent for soaking up rich sauces. Tiger noodles are served with jellied duck blood and tofu skin, both classic accompaniments. (The former can be omitted on request.)
Han Chi's third level of spiciness exceeds anything in the "medium hot" category of many local restaurants — the fourth level should only be chosen by masochists. Sweat-soaked collars — even when the mercury dips — are far from a rare occurrence at Han Chi.
The restaurant offers many other dishes, not all of them so hot. Its clear beef broth (清燉湯麵, NT$90, or NT$150 with added beef, 清燉牛肉麵) is full of flavor, and its Sichuan-style fried sauce noodles (川式炸醬麵, NT$75) and shaoshao noodles (紹燒麵, NT$75) — a variation on the more typical dandan noodles (擔擔麵) — are both toothsome. Both rely for effect on the high quality of the noodles and a careful preparation of condiments, rather than on a chili bite.
The side dishes at Han Chi should not be neglected, with abalone mushrooms stewed in soy (NT$50) and stewed pig's intestine (NT$100) deserving special mention for outstanding flavor and texture. A sweet mung bean soup is offered free of charge and is ideal for bringing down the internal temperature.
Publication Notes
Han Chi Tiger Noodles 韓記老虎麵食館
Address: 203 Jinhua St, Taipei City (台北市金華街203號)
Telephone: (02) 2391-3483
Open: 11:30am to 2:30pm and 5:30pm to 9pm (closed Sundays)
Average meal: NT$300
Details: Chinese menu, cash only
Comments will be moderated. Keep comments relevant to the article. Remarks containing abusive and obscene language, personal attacks of any kind or promotion will be removed and the user banned. Final decision will be at the discretion of the Taipei Times.