From Taiwan to Israel, in just a few steps
Two years after graduating from Taipei National University of the Arts, Lee Chen-wei hit the big time when she became a dancer with Tel Aviv-based Batsheva Dance Company
Dance fans have been anticipating the Taipei debut of Israel's acclaimed Batsheva Dance Company this weekend at the National Theater for the chance to see the work of its artistic director, Ohad Naharin. However, there are several dozen people — at least — who are more interested in one of the dancers.
Lee Chen-wei (李貞葳) was recently promoted from the junior troupe — the Batsheva Ensemble — to the main company. When she was in Taipei in August as part of the National Theater's promotions for its Dance in Autumn series, we met to talk about how a young woman from Yilan County ended up living in Tel Aviv and working for one of the world's best-known contemporary dance companies.
Sitting in the coffee shop on the ground floor of the theater, Lee — who turns 25 in December — made the transition from being a member of Yilan's Lan Yang Dance Group (蘭陽舞蹈團) to majoring in dance at Taipei National University of the Arts (國立台北藝術大學) to moving to Israel sound very easy, though she admitted that adjusting to life there has been a challenge.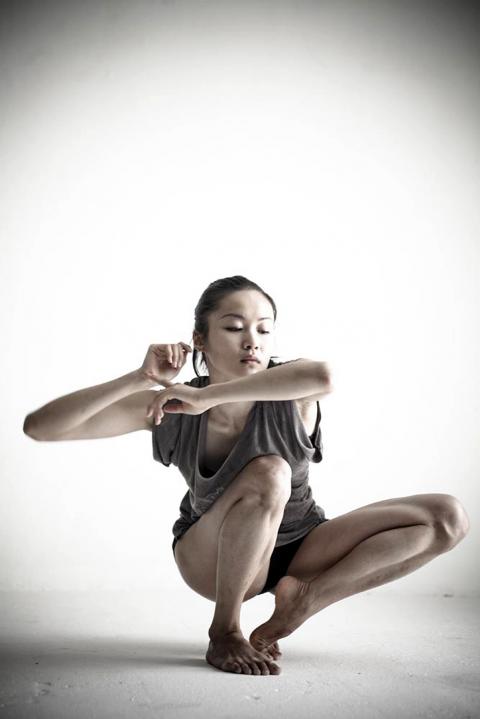 Taiwanese dancer Lee Chen-wei will perform with the Batsheva Dance Company at the National Theater this weekend.
PHOTO COURTESY OF LEE CHEN-WEI
"There aren't enough 7-Elevens," she said.
Lee graduated in 2008 and traveled to Europe last year, thanks to a Lo Man-fei (羅曼菲) dance scholarship and a European Foundation for Culture and Arts Dance grant. Chance led her to an audition in Sweden, which led to a job offer in Israel and opportunities not only to perform, but to choreograph; a piece she did with fellow ensemble dancer Christopher Peterson earlier this year, Elephants, received good reviews.
"I auditioned for a project to tour Sweden for several months doing Batsheva repertoire [a piece called Kamuyot]. It was a three-day audition and I survived to the third day. We warmed up in the morning, than learned the repertoire, then improvisation. They were picking 20 dancers," Lee said. "After the audition finished, they gave me a private interview. I told them I didn't know who Ohad [Naharin] was, I only knew the name of the company and that it was from Israel."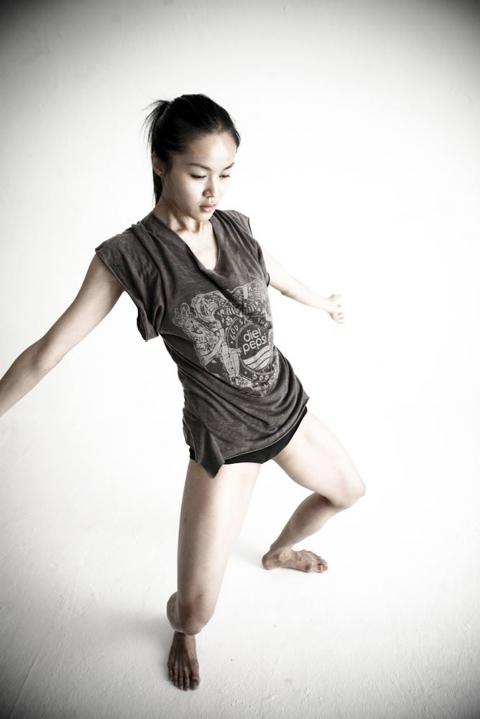 Taiwanese dancer Lee Chen-wei will perform with the Batsheva Dance Company at the National Theater this weekend.
PHOTO COURTESY OF LEE CHEN-WEI
She wasn't picked for the Sweden project. Instead Naharin wanted her to join the ensemble. She told him she needed time to think, since she had auditioned previously for a small Danish company and had also been offered a job.
"I came back home, checked out Ohad [Naharin] and found out he was a famous guy, so I immediately sent an e-mail to say yes," she said with a laugh.
Her family in Yilan supported her decision, despite reservations about the dangers of living in Israel.
"My mom really supported me. I have been studying dance since I was five and she has supported me whatever I chose. I told her Batsheva was a famous company," she said.
Lee is the first Taiwanese to dance with the company, although there have been Japanese members before, as well as dancers from the US, Australia and Europe. She has had to make big adjustments, not only to a new country, but having to learn two new languages simultaneously — Hebrew and then Gaga, the movement technique developed by Naharin.
"The biggest difference is Shabbat — having Friday and Saturday as the weekend and working on Sunday — and seeing all the Haredi [ultra-orthodox Jews]," she said. "They don't have a lot of Asians there, so a lot of people stare at me. Now I'm used to it. I am always saying 'I work with Batsheva and I'm from Taiwan.' I had to learn very quickly how to say in Hebrew: 'I'm a dancer with Batsheva.' As soon as people hear that, they are very excited and supportive."
"I've been in the junior company and we tour schools doing the same piece that I auditioned for in Sweden, sometimes two or three shows a week. If we travel to the north, we have to leave at 5 or 6am. For the show we sit in a square, right next to the audience and as we walk around the kids shaking hands I can hear them say 'China,' 'Japan,' 'Thailand,' and I say 'No. Taiwan!'" she said. "Israelis really like to watch the company. I'll meet someone and they'll say 'I saw the company two months ago,' or whenever. They are really proud of Batsheva."
Learning Gaga has been challenging, she said, because it's so different from what she's done before and because it requires more personality than she's used to showing.
Naharin describes Gaga as daily training in the connections between efficacy of movement and habit, between effort and pleasure, and says it is designed to realize the explosion of power, skill and groove that dancers need to go beyond what they know how to do.
Lee said it's like improvisation, not just doing certain combinations of steps.
"You create your own style. He [Naharin] gives a lot of freedom. It's very different from other modern dance forms. It develops from your own body. Each dancer is unique. He doesn't want everyone to look the same," she said. "In the beginning, I could see that everyone was moving differently, so I wondered who was right ... I wasn't used to being so free when learning repertory — I always wanted to know exactly what I should do. Now my body is getting freer and freer," she said.
Going from the ensemble to the main troupe in just one year is pretty unusual, but Lee said it was part of a big shake-up.
"Usually dancers stay in the junior company for two years. This time there has been a big change. Ohad [Naharin] fired four dancers from the main company and promoted three dancers from the ensemble, kept two ensemble dancers who were in their second year and fired everybody else, so the dancers had a big fight with him ... During warm-up in the morning no one would talk to him," she said.
For Lee, however, the promotion meant the chance to return home with the company, something she was really looking forward to.
"When Ohad [Naharin] promoted me I already knew the company was going to tour Taiwan, so I was really happy. In Israel I have no fans or friends to come see me after the performances. Here I have had to arrange for 50 tickets already," she said, almost bouncing in her chair.
Asking how long she envisions herself staying in Israel elicited another big smile.
"Moving into the main company is one more step in my development. I can see staying maybe two or three years. I like Europe, I'd like to try living there, but for now I prefer Israel," she said. "I do miss ballet, though. I've had maybe just 10 classes in 11 months and I sometimes I worry that I'll forget my training."
"When Ohad [Naharin] promoted me to the main company he told me that when I moved to Batsheva I would have to forget everything I knew before. He said 'Gaga doesn't always look so beautiful. You're too clean,'" Lee said.
When she told him of her doubts about letting go of what she knew, his advice was succinct: "You're learning something new, you're not losing anything."
Lee will be on stage — letting go — when Batsheva opens its three-performance run of Decca Dance 2010 tomorrow night.
Comments will be moderated. Keep comments relevant to the article. Remarks containing abusive and obscene language, personal attacks of any kind or promotion will be removed and the user banned. Final decision will be at the discretion of the Taipei Times.