[RESTAURANT REVIEW] KGB: Kiwi Gourmet Burgers
There is a distinctly homemade quality about KGB, a new burger joint that has set up in a tiny alley off Shida Road near the Guting MRT station, across from the Wellcome (頂好超市) supermarket. This goes not just for food, but for the decor as well. The stripped down interior has a couple of nice touches — a small corner sofa is remarkably popular, and the two outdoor tables are likely to be in considerable demand.
The burgers themselves are homemade, in the best possible way. The beef patty tastes of meat (rather than salt, which is the dominant flavor at many burger establishments), and the blue cheese burger (NT$255) had a pleasantly robust savor of blue cheese. The bun does not stick to the roof of your mouth and the fries are crisp. The presentation is the opposite of slick, and you're not quite sure that you're getting value for money until you take your first bite.
There's a selection of chicken burgers, with the option of having the chicken grilled or crumbed and deep-fried. The C4 Heaven (a chicken burger with soft cheese and cranberry sauce, NT$280) is simple and the cranberry sauce tasted fresh and tart. The chicken breast was firm and juicy and utterly devoid of the super-saturated succulence that is so popular among Japanese influenced deep-fried outlets in Taiwan.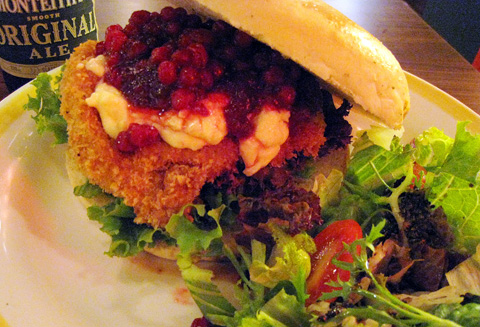 KGB is not your average burger joint, mate.
PHOTO: IAN BARTHOLOMEW, TAIPEI TIMES
For really hearty eaters, there's the aptly named Double Happy (NT$330), with two patties, bacon and Colby cheese. And the full horrors of antipodean cuisine are boldly presented with the Kiwi Mate's (NT$230) fried egg, beetroot and pineapple.
The effort that has gone into KBG can also be seen in small things like the side salad, which goes beyond the usual iceberg lettuce. (The side salad can be swapped for a serving of fries.)
For those who really want to ditch the meat, there are two salads entrees, in addition to two vegetarian burger options — one with a walnut and lentil patty served with lettuce, tomato, onion and a yogurt sauce (NT$200); the other a straight-up vegetable burger with eggplant, mushroom and zucchini served with various green leaves and a ginger lime aioli (NT$260).
KGB scores highly with its unusual selection of beer. Apart from brews such as VB, which are aimed squarely at the antipodean crowd, local beer is represented by the fine products of Northern Taiwan Brewing (北台灣麥酒) — a private local brewery that makes handcrafted beer — and there is also a range of boutique Monteith beers from New Zealand. Once again, these are stylish choices that show KGB wants to do its own thing, not just follow the herd.
KGB opened just a month ago and is clearly still finding its feet, but what it lacks in slickness is made up for by the relaxed atmosphere and the solid food.
Publication Notes
KGB: Kiwi Gourmet Burgers
Address: 5, Ln 114, Shida Rd, Taipei City (台北市師大路114巷5號)
Telephone: (02) 2363-6015
Open: Noon to 11pm Monday through Fridays; 10:30am to 11pm Saturdays and Sundays
Average meal: NT$200 to NT$400
Details: English menu; no credit cards
Comments will be moderated. Keep comments relevant to the article. Remarks containing abusive and obscene language, personal attacks of any kind or promotion will be removed and the user banned. Final decision will be at the discretion of the Taipei Times.