[TECHNOLOGY REVIEW] Language-learning technologies
In four years of learning Chinese and attaining a solid "intermediate" standard, I have ploughed through a broad range of language-learning products and services. New technologies have the ability to tune the learning process and make it more relevant, easy, convenient and — crucially — fun. More than that, they can help build motivation and splice the lessons into everyday communication.
For me, language-learning technologies can be grouped into three key areas: computers, cell phones, and online services. Each has its relative strengths and weaknesses compared to traditional learning techniques. This week, we begin by looking at computers.
Setting up a Windows PC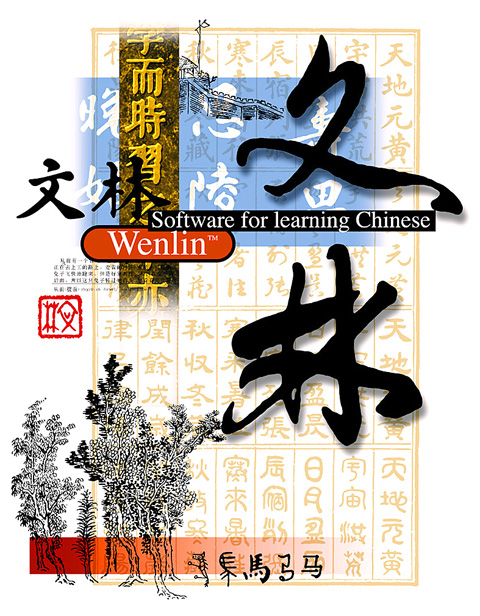 Wenlin is the Chinese language tool of choice for academics and professional translators.
PHOTO COURTESY OF WENLIN
Windows Vista is far more savvy at working in Chinese than Windows XP, and all but the most basic versions can now display and write characters. The Web site pinyinjoe.com offers fantastic step-by-step guides for Windows users. XP users take note: you may need your original installation disk to get up and running.
Several input method editors, or IMEs, are available from Microsoft, including methods for Hanyu Pinyin (漢語拼音) and Taiwan's Zhuyin Fuhao (注音符號, commonly known as Bopomofo). However, Google's pinyin input system trumps them all (tools.google.com/pinyin). In a move that will irk Chinese teachers across the island, tones are not required, and the system is able to predictably construct long sentences leaving the user free to happily bash away at the keyboard without a care in the world.
On the negative side, it's not good if you want to practice your tones, and it does choose the wrong character occasionally as you race along — according to my Chinese tutor, this is not a valid excuse for mistakes in my homework. In summary, perhaps not the best study aid, but for those diving into MSN Messenger or sending a quick e-mail, it makes typing Chinese fun, and it is a pretty liberating experience to feel as if you are no longer completely illiterate.
Apple Macintosh computers are able to work in Chinese straight out of the box.
PHOTO COURTESY OF APPLE
Setting up an Apple Mac
For many, learning the ancient system of Chinese characters is as much an aesthetic endeavor as an intellectual one, and Mac OSX's text-tendering capabilities make interacting with the beautiful characters a pleasure. Their prevalence in education also means there is a good range of software available, and for those setting up and optimizing their systems an excellent guide is available at yale.edu/chinesemac. All Macs are able to work in Chinese out-of-the-box.
Apple also has its own homegrown IME's, but again the best ones out there come from third parties. Much like the Google IME above, QIM (glider.ismac.cn/RegQIME US$19.99) also offers pain-free text entry and the ability to present the characters for selection at a size that does not require a magnifying glass to see.
Dictionary for study:
Wenlin, wenlin.com, US$249, Mac OS, Windows
Wenlin is the language tool of choice for Chinese language academics and professional translators — although novices should not be put off by that. The interface is a little archaic in appearance, but it packs the most powerful and fully researched dictionary available for users of Hanyu Pinyin. The key to the software is that it allows the user to read characters in context of other characters, rather than either giving either a one-hit translation or one-by-one word delivery. For example, once you copy and paste a newspaper article into the system, you read away normally, and upon reaching a word you don't recognize simply moving the mouse pointer over the character reveals the meaning and pronunciation. Ultimately, it allows you to work "above your own level," and for people really serious about learning Chinese, Wenlin is a potent element in the armory.
Dictionary for the office:
Dr Eye 8.0, dreye.com, US$99, Windows
Dr Eye is the most popular dictionary for native speakers of Chinese and it is often the standard software installed in Taiwanese offices. As such, it is less tailored to the needs of foreign learners, but it is worth getting to grips with if you work in that environment. It's probably to blame for much of the hilarious translation results that we have come to love and are featured on Web sites such as engrish.com (in the interest of fairness, poor application of Chinese characters by Westerners can be found at hanzismatter.com).
Basic dictionaries:
WordLookup: lindesay.co.nz, US$14, Mac OS
Pablo: ehaton.blogspot.com, free, Windows
The CEDICT project (mandarintools.com/cedict) is a collaborative project that aims to provide a complete English/Chinese dictionary for free in the form of a text file, and other programs then access this and make it searchable. Because of its "open" nature, the word list is continually evolving.
WordLookup is a simple dictionary for the Mac that can read this vocabulary list and is elegantly designed for quickly checking meanings without much fuss. It also has the advantage of being able to load multiple-language dictionaries from other projects that are similar to CEDICT, such as the highly regarded HanDeDict German-Chinese dictionary.
Pablo is a CEDICT reader for Windows that is set-up for learners of Chinese. For many of the most popular characters, it also includes animated strokes — a boon to those choosing to undertake learning to write the language, as well as type.
It must be said that while these tools have helped me build a strong vocabulary and ability to recognize characters, they probably have not assisted with everyday spoken fluency and ability to form complex sentences. For these elements, there has been no substitute for hitting the books and working with an experienced language teacher.
Next week: We take a look at mobile devices that help with Chinese study.
Comments will be moderated. Keep comments relevant to the article. Remarks containing abusive and obscene language, personal attacks of any kind or promotion will be removed and the user banned. Final decision will be at the discretion of the Taipei Times.