[RESTAURANT REVIEW] Saffron (番紅花)
Tucked down an alley behind the Shin-Kong Mitsukoshi Department Store in Tianmu and just two doors away from the Spice Shop, another Indian restaurant, is a jewel box of a restaurant, Saffron. It's fine Indian dining, but in a very elegant yet comfortable atmosphere.
Sandra, one of the owners, said they spent six months before the restaurant opened just working out the design, decor and menu. That attention to detail clearly paid off. Open just under a year (mid-March is the anniversary), Saffron quickly became a favorite of Tianmu residents and word-of-mouth has ensured that plenty of downtown denizens are willing to make the trek north to try it.
While not an extensive menu, there are between four and eight options each for appetizers (averaging NT$170), tandoori chicken and lamb dishes (ranging from NT$290 to NT$540), vegetable dishes (average of NT$250), breads (NT$75 and up) and rice dishes (around NT$200). The drinks include a small wine selection (NT$200 a glass), beers, soft drinks, lassis, juices and teas.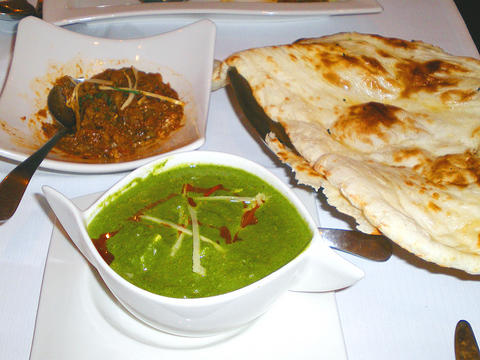 At Saffron, the chef has a light hand with the oils and ghee.
PHOTO: DIANE BAKER, TAIPEI TIMES
The chef has a very light hand with the oils and ghee; even the fried appetizers such as samosas and pakoras are crisp without being greasy. Diners can watch the tandoor chef at work because his glass-enclosed cubicle is at the front of the restaurant, which is a great way to keep the children entertained while they are waiting for their food or after they eat as well as a good advertisement for Saffron.
I have never had a bad meal at Saffron, but must-tries for anyone would have to include the methi pakora as an appetizer (feenugrek, onion, potato and green chiles all finely diced and mixed together into small patties, which are then deep fried) or the punjabi tikki (a mix of ground lentils and potato deep fried in a small patty); the baigan bharta (charcoal-flamed eggplant, which is diced up and mixed with garlic, coriander and onion), the sak paneer (a fine rendering of the classic creamed spinach and cheese dish) and the tikki masala (chicken marinated with herb-nut mix and cooked in the tandoor oven).
The dessert list is short, just two dishes, but I can't make a recommendation. I'm sure they are both good, but despite best intentions, we have always been too full to actually order them.
While reservations are not required, they are recomended for both lunch and dinner on weekends because Saffron fills up quickly.
Publication Notes
Saffron (番紅花)
Address: 38-6 Tianmu E Rd, Tianmu, Taipei City
(台北市天母東路38之6號)
Telephone: (02) 02871-4842
Open: 11:30am to 2pm for lunch (closed on Mondays); 5:30pm to 10pm for dinner
Average meal: NT$500 to NT$600 per person
Details: Chinese and English menu; credit cards accepted
Comments will be moderated. Keep comments relevant to the article. Remarks containing abusive and obscene language, personal attacks of any kind or promotion will be removed and the user banned. Final decision will be at the discretion of the Taipei Times.