In Russia, it is all in the name
In Russia, the children of wealthy politicians dominate gossip pages and set trends. Some even mimic Western celebrities by creating brands carrying their surnames
Americans who love celebrities follow the escapades of Lindsay Lohan and Angelina Jolie. The British consume themselves with the romantic lives of their royals. But in Moscow, where raw political power and big money hold sway, it is the children and grandchildren of politicians and oligarchs whose love lives, fashion tastes and socializing are widely chronicled and followed.
They are women like Dasha Zhukova, 26, a doe-eyed brunette, who is the daughter of a Russian tycoon and reportedly the girlfriend of another, Roman Abramovich, 40, the billionaire who owns the Chelsea soccer club in London. She might turn up at a reception at Spasso House, the residence of the US ambassador here, or in Los Angeles with Abramovich to watch his team play David Beckham's.
And they are women like the sisters known as "the Gorbachev girls," Anastasia and Ksenia Virganskaya, 20 and 28 respectively, who are granddaughters of Mikhail Gorbachev and who recently appeared at a party here with Donatella Versace in gowns chosen by the designer.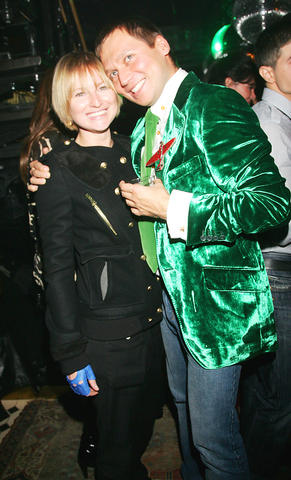 Next year, British tabloid Tatler will publish its first foreign edition in Russia. The children of politicos, such as Dasha Zhukova,top left, Nina Gomiashvili, above, and Ksenia Chilingarova, top right, are likely to feature in its pages.
PHOTO: NY TIMES NEWS SERVICE
These and other well-connected beauties are the It Girls of Moscow, part of a transnational jet set that shows up from Monaco to Ascot.
Entertainment programs on Russian television interview them. Local glossy magazines register their every heartbreak and hemline. And beginning next year, Tatler, the UK society magazine, plans to start publishing its first foreign edition here, to focus on Russian socialites who, like Paris Hilton in the West, influence the handbags, the lap dogs and the taste in boyfriends to which other trend-conscious people aspire.
"We don't have our own Angelina Jolie or our Britney Spears with the resources to wear fancy clothes," said Ksenia Chilingarova, a poet and magazine editor. Chilingarova, 25, is an It Girl herself, the daughter of Artur Chilingarov, a deputy speaker of Russia's lower house of parliament and a polar explorer. (He gained international notoriety last summer for claiming a chunk of seabed under the North Pole for Russia.)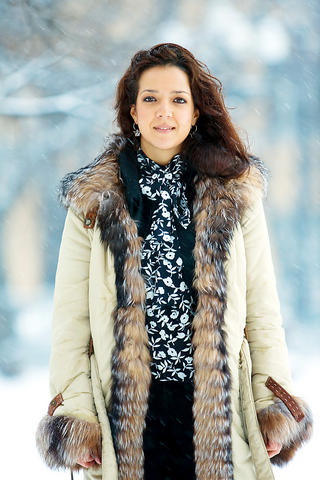 Ksenia Chilingarova
PHOTO: NY TIMES NEWS SERVICE
At 11am on a recent Friday, Chilingarova was dressed in evening attire - a common sight in Moscow because constant traffic jams prevent people from going home to change at the end of the day - for a party that night to be given by the crystal purveyor Nadia Swarovski.
"The reality is that the children of famous people are so popular because they have the money to dress up, wear jewelry, travel to Paris and London and be photographed doing it," Chilingarova said.
Indeed, the party pages of Russian editions of Harper's Bazaar, Hello, OK!, Viva! and GALA are so popular that readers flip to the back to read them first, and to check out what local socials are wearing, said Shakri Amirkhanova, the editor in chief of the forthcoming Russian-language Tatler. Ten years ago, the wives of successful businessmen who spent a lot of time and money getting gussied up in flashy clothes served as role models, she said.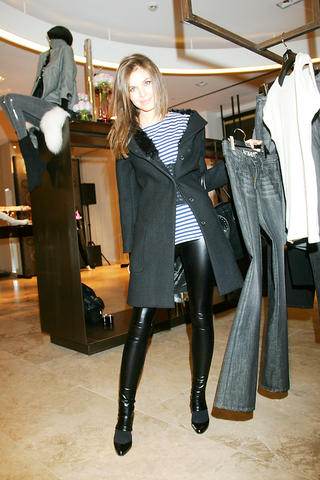 Dasha Zhukova
PHOTO: NY TIMES NEWS SERVICE
"But now it is a new generation - I call them 'the children of' - who have influential lifestyles," said Amirkhanova, 29.
Amirkhanova, who is the granddaughter of Rasul Gamzatov, a well-known poet, used to date Boris Yeltsin Jr, the grandson of the former Russian president, and has attended Paris fashion shows with Zhukova and other It Girls. "If they work in fashionable jobs, if they wear a mix of designer and high street clothes, if they go on spiritual retreats in Tibet and drink green tea and do yoga and have iPhones, other people will follow," she said.
There is some historical precedent for this phenomenon. In czarist times, members of the nobility followed the doings of the ruler's entourage. And in some ways, the new Moscow high society replicates the social structure of the old Soviet caste system, in which children of the nomenklatura attended the same elite schools and social events (although without blog coverage).
"Russia has always been a monolith state and Russians have always been obsessed with people in power," said Nina Khrushcheva, an associate professor in the international affairs program at New School University in New York. Khrushcheva, a Nabokov scholar, is a great-granddaughter of Nikita Khrushchev, the Soviet premier who was ousted in 1964. "So now it is a monolith state with tall, blond leggy girls who promote themselves as the children of power," she said.
Like Tinsley Mortimer, the Manhattan socialite with her own handbag line, some of the young Russians are seeking business ventures that are essentially brand extensions of their famous family names.
Zhukova designs a casual clothing line called Kova & T together with Christina Tang, a friend with whom she attended the University of California, Santa Barbara. The clothes sell at Fred Segal in Los Angeles and at Harvey Nichols in London.
One evening in November, Zhukova invited a reporter to her father's town house in a historic district of the capital dotted with mansions that house embassies. She had lit a fire in a discreetly opulent living room scattered with antique silk carpets. Just back from a trip to Asia, she made a pot of green tea. The first shipment of her clothing line, which had just debuted here at the TSUM department store, had sold out in five days, she said.
"It's for people who don't need a loud piece to make them look fashionable," said Zhukova of her pared-down jeans line, which eschews complicated stitching and logos. She was casually dressed in a striped bateau top, black leggings and ballet flats.
Zhukova said she also owns a gossip Web site - www.spletnik.ru - a kind of Russian answer to Gawker, with another friend, Polina Deripaska, the wife of the billionaire Oleg Deripaska.
That Zhukova lives mainly in London, where she said she is studying homeopathic medicine, and appears in Russia once or twice a month only increases her cachet among local society chroniclers.
She and Amirkhanova of Tatler were leaving the next morning for Tel Aviv to attend a match between the Russian and Israeli national soccer teams (Russia lost). But Zhukova was loath to acknowledge that her jet-set lifestyle makes her an object of popular fascination.
"I guess any young girl who is more or less in society and who does a clothing line may become a style influence," she said.
The Gorbachev granddaughters, both of whom work as editors at the lifestyle magazine Grazia, are also increasingly chronicled. They came to international attention several years ago when they attended a Paris debutante ball at the Hotel Crillon, one wearing Versace, the other in Dior. But the young women aren't entirely at ease in their public roles.
"I feel uncomfortable in this dress," said Ksenia Virganskaya, standing in the stairway of the Versace boutique late last month in a black tuxedo dress with white cuffs that she said Versace had chosen. She turned to show the back view of the outfit, which had originally been backless but was now patched with a large oval of white cloth. "I made them close it up before I would wear it," she confided.
Ksenia Virganskaya said she was about to leave for St Petersburg to interview Catherine Deneuve for Grazia. Her younger sister, meanwhile, was preparing to fly off to an event in Versailles.
"It was not my goal to become a trendsetter," said Anastasia Virganskaya. "But now people write, 'Look at the Gorbachev girls, even their dog is a trendsetter.'" Other Muscovites have terriers, but the sisters have a toy dog called a papillon, she said.
Other It Girls inhabit the role more comfortably. Nina Gomiashvili, 35, a former child actress and the daughter of Archil Gomiashvili, a well-known comic actor and businessman, met a reporter at Gostinaya, a home-style cafe she owns that is decorated with hardwood floors and bird cages. At her new photography gallery, Pobeda (Victory), she presides in high style over the art openings dressed in Carolina Herrera or Loris Azzaro. The fashion photographers Ellen von Unwerth and Michel Comte each attended the openings of personal shows this year at her gallery, as did the Moscow A-list.
"I am a little bit privileged, I am from a good family," said Gomiashvili, who has a blond pageboy hairdo. "But I don't think your last name should work for you. I think you should work to make your last name memorable."
Chilingarova, the daughter of the polar explorer, is also working on her brand. Next week, she plans to introduce her own magazine, called Pride, for and about the Russian jet set.
"It's called Pride, not like Pride and Prejudice, but like a pride of lions because, in Russian, our name for people who go out is social lions," she said, using the Russian term for a social animal.
It was 1am on a Monday morning at the Hotel Metropol, in the VIP section of the after-party for a national fashion design competition called the Russian Silhouette awards. Chilingarova was lounging on a sofa by a coffee table laden with platters of smoked fish, red caviar and bottles of Champagne. Next to her sat another Moscow It Girl, Nadezhda Mikhalkova, an actress whose father, Nikita Mikhalkov, is an Oscar-winning film director and whose grandfather, Sergei Mikhalkov, wrote the lyrics to both the old Soviet and the new Russian national anthems.
"We are not all dumb, we are not all blond, but it's a hard job actually to go out and be photographed all of the time," said Chilingarova, who was leaving later in the week for Paris to attend a charity fund-raiser called the Louis XIV ball. "You can get tired of being photographed."
Comments will be moderated. Keep comments relevant to the article. Remarks containing abusive and obscene language, personal attacks of any kind or promotion will be removed and the user banned. Final decision will be at the discretion of the Taipei Times.