Hip-hop heroes bite the bullet
Jam Master Jay's murder made him part of the trinity of high-profile hip-hop stars senselessly slaughtered by gunmen who escaped legal retribution
The mother of rap icon Jam Master Jay knows the truth: The people who brazenly pumped a bullet into her son's head remain on the street. So do the witnesses - some of them her dead son's friends - who can identify the killers.
Law enforcement knows it, too, as do the influential DJ's frustrated friends. Five years, a substantial reward and a lengthy investigation have not changed a thing when it comes to arresting the murderer of the Run-DMC turntable legend.
"The people who know something haven't talked,'' said Connie Mizell-Perry, who named her third and youngest son Jason Mizell.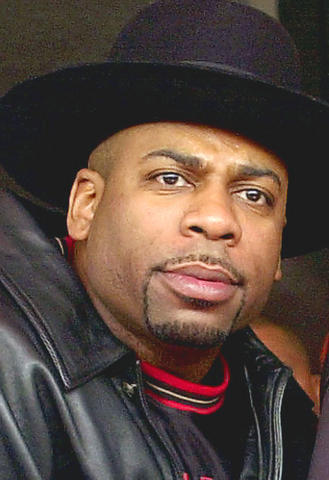 Jam Master Jay, aka Jason Mizell, a member of hip hop pioneers Run-DMC, is seen in Los Angeles in this Feb. 25, 2002, file photo. Five years after his death, the people who brazenly pumped a bullet into the rap icon remain on the street.
"They have to live with themselves. Whoever did it, let them live with themselves.''
On the night before Halloween 2002, the 37-year-old Mizell was in his recording studio in his neighborhood of Hollis, Queens, where the hip-hip star was as recognizable as Santa Claus at the North Pole. Two armed men were buzzed inside; according to some reports, Jay hugged one of the pair.
And then he took a single .40-caliber bullet to the back of his head.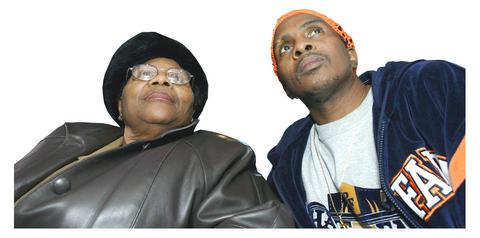 Connie Mizell-Perry, mother of the late Jason Mizell, the hip hop legend known as Jam Master Jay, and another son, Marvin Thompson, are seen in this Feb. 27, 2004, file photo.
While the homicide of the 37-year-old Mizell legend lingers as an open case, the identity of one suspect/eyewitness was made public this year by prosecutors: Ronald Washington, a career criminal and local zero. Washington, in the days before Mizell's slaying, was reportedly living on a couch at Jay's home.
The arrangement infuriated Mizell's family, since Washington was already linked to another rap slaying: the 1995 shooting of Randy Walker, a close associate of platinum-selling star Tupac Shakur.
Next month, Washington faces sentencing for a series of robberies that took place after he went on the lam following Mizell's death - a nomadic tour of Long Island motels as he dodged the police.
Washington, in a hand-written letter that surfaced during his trial, describes himself as a "childhood friend" of Jay, and complains that police were harassing him at Mizell's wake.
He denies any role in the murder at Jay's 24/7 Studio, and has not been charged in the case. But prosecutors detailed Washington waving a handgun and ordering people in the studio to lie on the ground while the execution took place.
The gunman "provided cover for his associate to shoot and kill Jason Mizell," said the court papers, filed by prosecutors opposing a defense motion to dismiss the federal gun and robbery charges against him. Prosecutors declined further comment.
Police identified at least other four people in the studio that night. There were two armed gunmen involved, including one suspect with neighborhood ties. In Hollis, it seemed everybody had heard something about Jay's death.
And still, nobody opened their mouth. And no one is charged in the death.
"There are people who may not be directly culpable, but they damn sure know who did it," said Bill Adler, a hip-hop historian and one-time Run-DMC publicist. "And they keep their mouths shut because they know they could be the next one to end up dead.''
His slaying made Jam Master Jay part of the trinity of high-profile hip-hop heroes senselessly slaughtered by gunmen who escaped legal retribution, along with Tupac and his East Coast nemesis, Christopher "Biggie Smalls" Wallace.
The investigations were all stunted by a lack of witness cooperation, part of the national "stop snitching" trend. More recently, the same thing happened when a bodyguard for rapper Busta Rhymes was gunned down during a Brooklyn video shoot on Feb. 5, 2006.
"Stonewalling has hurt these investigations, obviously," said Police Commissioner Ray Kelly, referring to the New York slayings.
"What makes it even more insidious is the profit motive. Stop snitching is all wrapped up in music sales, and the so-called 'street cred' in violence and keeping quiet about it."
Kelly said NYPD investigators were told by potential crime witnesses that cooperating with authorities could end their hip-hop careers. Among witnesses without star power, the concern about cooperating is more self-preservation than career preservation.
"Many people obviously know a lot," said David Kennedy, director of the Center for Crime Prevention and Control at John Jay College of Criminal Justice. "And they see people who have killed friends and family members walking around the neighborhood all the time."
The message is clear: They got away with one murder. What's another? Unlike the behind-the-scenes slaying of Jay, there was no shortage of potential - even star-studded - witnesses in the killing of Busta Rhymes bodyguard Israel Ramirez.
Ramirez, 29, was protecting Rhymes as about 500 people gathered at a ninth-floor soundstage for a video shoot to accompany a remix of the rapper's hit single, Touch It. Missy Elliot and G-Unit members, including Lloyd Banks and Tony Yayo, were on hand.
An argument involving Yayo's posse began inside before spilling out onto the street. Amid pushing and shoving, eight shots rang out.
Ramirez was struck once in the chest - a killing police suspect was witnessed by both closed-mouth rappers Rhymes and Yayo.
A lawyer-penned letter to prosecutors denied Yayo had any involvement and appeared to set the tone for the entire investigation.
"Please make sure he is not contacted and/or harassed by NYPD," it said. After Rhymes was arrested on an assortment of charges in the wake of the shooting, his attorney complained that the attention paid to the rap star was "payback from the NYPD."
Ramirez's killer remains at large.
Ryan Thompson grew up in Brooklyn with his cousin Jay Mizell, the two of them spinning records side by side as nascent DJs. Thompson was working two security jobs back in 2002, and finishing up his shift on one when his phone rang. It was a friend delivering an incomprehensible message: Jay was dead.
Thompson could not believe it then, and has trouble accepting it now - particularly the fact that no one has come forward to identify his cousin's killer.
"It's about snitching - people are supposed to live by that,'' said Thompson. "It's nonsense. There's no such thing as snitching when someone's been murdered that you love and care about. Did those people really respect Jay?''
Comments will be moderated. Keep comments relevant to the article. Remarks containing abusive and obscene language, personal attacks of any kind or promotion will be removed and the user banned. Final decision will be at the discretion of the Taipei Times.