The vinyl word
This weekend, three of the country's biggest promoters are throwing some huge Halloween parties. So, after a summer of weekend typhoons and seemingly endless pool parties, Halloween offers the chance for some ego-free partying, save for those desperate to win the best costume competition.
Tomorrow in Taichung, Swank is holding Gore on the Floor. "Swank has been doing Halloween in the middle city for five years now. People can expect the same madness that has always hit the Swank dance floor! Costumes and energy have always been nothing short of brilliant! It will be the place to be on the 27th in Taichung," said head Swanker, Gareth Jones, in an e-mail exchange earlier this week.
The lineup includes ScottyBaller, Gareth Jones, Matty D, Kriz and 3b. Entrance is NT$300 before 12am, NT$400 afterward. Tickets will be sold at the door only. Drink specials are NT$150 for highballs and beer. Best costume competition winners will receive two bottles of vodka. The bash, at Liquid Lounge, 98 Chungming S Rd, Taichung (台中市忠明南路98號), starts at 10pm and finishes at 6am.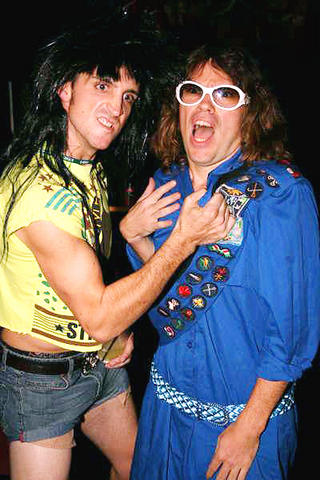 Matty D, left, and 3b are giving Halloween more gore this year.
PHOTO: COURTESY OF SWANK
In Kaohsiung, Rob Solo and Stu from Frisky Productions will throw Freak It 2 at Roof Park tomorrow. Rob says the "atmosphere is what sets this party off from all the others. I think it can be said that Roof Park is easily the nicest looking club in Kaohsiung right now. If you want to spend your Halloween in comfort and style, this is the place. The view of the city doesn't hurt either. This Halloween will be great music, good people, fun times, nuff said."
Rob Solo, Junior and Megan and Glenn will man the decks. Entry is NT$500 and includes two Heinekens or one Red Bull and vodka. There will be prizes for best male and female costumes. Roof Park is open from 10pm until 5am and is located at 15F, 165 Linsen Rd Sec 1 Kaohsiung (高雄市林森路路一段165號15樓).
Entering the proceedings fashionably late are newcomers to the promotion scene Angus Yeates, Dallas Waines and Matt Barker, who comprise Frog In a Sock Productions. After only one summer in Taipei they've thrown some of the biggest and wettest pool parties under the Summer Swank banner and with Tricks or Treats on Nov. 3, that success looks set to continue. The crew has rented out the Sunworld Dynasty Hotel's presidential suite, and this party promises much with an 11-strong DJ lineup including Jimmy Chen, Saucey, Fratzuki, Reason, Yoshi, Junior and Megan and ScottyBaller.
"Tricks and Treats is a completely unique destination … with some of Taipei's hottest DJs … [playing] for 10 glorious hours," Yeates said. "The suite has been out of use for a while and we've made it the perfect special place to party. There are two dance rooms and when you need a rest we have several other places to chill and chat. The people truly make the party, so pick out a costume then get your scare on."
Tickets are NT$600 in advance, available at Ocean Blue and On Tap, or NT$800 at the door. All drinks are NT$100, apart from Absinthe. Best costume wins guest list for life at all Frog in a Sock parties. Tricks and Treats is Nov. 3 from 8pm until 6am. The Sunworld Dynasty Hotel is located at 100 Dunhua N Rd, Taipei (台北市敦化北路100號).
Comments will be moderated. Keep comments relevant to the article. Remarks containing abusive and obscene language, personal attacks of any kind or promotion will be removed and the user banned. Final decision will be at the discretion of the Taipei Times.