Which way is love?
Set on a South American island, Amour-Legende begins with Oshima (Yowusuke Kubozuka), a Japanese man, waking up in a middle of a desert, unable to remember anything. A multilingual woman who calls herself Coco (Rachel Ngan) fills in his memories by telling him her version of what has happened.
It seems that Oshima, a married man caught having an affair, fled Taipei with his paramour, May, and crossed the desert to reach Snow Mountain. After an accident, May goes for help but never returns. Coco decides to help Oshima find May, but as he grows increasingly lost in the girl's story, Oshima starts to question his own existence and destiny against the backdrop of an alien terrain where reality seems improbable.
Like director Wu Mi-sen's (吳米森) two previous features, Fluffy Rhapsody (起毛球了) and Drop Me a Cat (給我一隻貓), the film draws the audience into a near-hypnotic state. In the dreamlike landscape, reality is fragmented and identities blurred. Characters murmur lines - and deception - in Spanish, English, Japanese and Mandarin.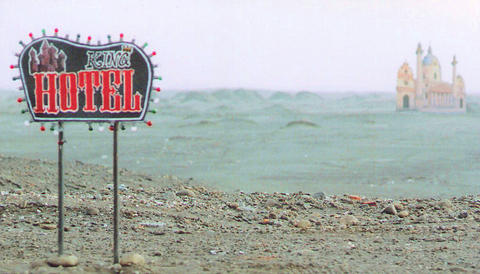 PHOTO: COURTESY OF RYE FILMS
But to director Wu, what seems like a dream is rooted in reality. The polyglot screenplay, for example, is a reflection of the way phrases are often borrowed from other languages, and reflects the difficulties of communication.
As a romance, the film can be approached as a study of relationships. With its web of deceptions, the movie seems to suggest that lying is the rule of thumb to secure affection.
From another perspective, though, the film can be seen as a treatise on identity. The protagonist's amnesia, the mysterious disappearance of his passport and credit card satirize the way identity is defined. It's that loss, though, that makes Oshima's loss of memory possible, which in turn opens him to the possibility of reconstructing his own history.
The unrecognizable landscapes raise questions about nationality. The backdrop is "an island that may not even exist," says Coco. By raising seemingly nonsensical questions, Wu challenges viewers to question the perception of nations as historical and cultural constructions.
The commercial release of the film, aided by doyen of local cinema Hou Hsiao-hsien (侯孝賢), comes one year after its completion. The film's indefinable nature presented distributors with a marketing headache and delayed its release. Though film festivals in Europe have hesitated to recognize the work, Amour-Legende stands out as a resonant and unique contribution by a member of Taiwan's new generation of filmmakers.
Film notes:
Amour-Legende
(松鼠自殺事件)
DIRECTED BY: Wu Mi-sen (吳米森)
STARRING: Yowusuke Kubozuka (Oshima); Rachel Ngan
(顏穎思as May and Coco)
RUNNING TIME: 118 MINUTES
Language: In Mandarin, Japanese, Spanish and English with Chinese subtitles
TAIWAN RELEASE: TODAY
Comments will be moderated. Keep comments relevant to the article. Remarks containing abusive and obscene language, personal attacks of any kind or promotion will be removed and the user banned. Final decision will be at the discretion of the Taipei Times.