God has spoken
'I Saw a Beast' is a sermon on homosexuality that is keen to point sinners on the right path to redemption
Rife with controversy, I Saw a Beast (我看見獸) is expected to generate bitterness and anger. Based on a true story and directed by Christian television director Liu I-hung (劉議鴻), it hits a raw nerve in both the homosexual and Christian communities.
The film purports to be a sermon on homosexuality, which it portrays as a sin that will only find forgiveness in the love of God, which, according to the movie, is the answer for all sinners, regardless of sexual orientation.
In I Saw a Beast, Jane, a Christian lesbian radio show hostess struggles to reconcile her faith and sexuality. She stops going to the church when church members judge her. She comes out believing that this will provide freedom, but ends up feeling trapped in a tormenting relationship with Patty, a married woman with a wealthy husband and a son.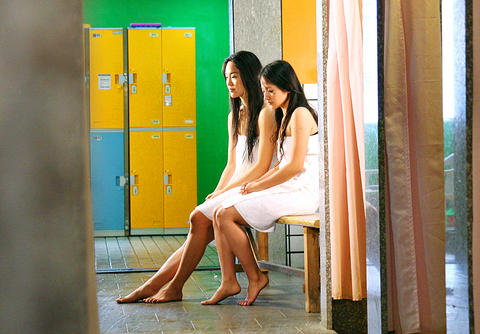 The star-crossed lesbian lovers in Liu I-hung's I Saw a Beast.
PHOTO: COURTESY OF TAI HUNG CO
As her sense of anguish and guilt mount, Jane is petrified by a vision she has at a T-bar, in which debauched lesbians are possessed by a licentious beast. With help from sisters Lin and Chen, Jane returns to the embrace of God.
Meanwhile, Patty decides to confront her husband and leave her secure home to be with Jane, the love of her life. Little does she know that Jane's newly found faith would push her into despair, leading to a spiral of revenge and destruction.
Cinematically speaking, the film can be described as mediocre at best. What intrigues and repels is its blunt exposition of the Christian view of homosexuality told through a true story. To homosexuals and liberals, it's a tough work to digest. But the film's merits lie in its close look at a struggling believer and the chance she has to face up to opposition to her sexuality. The film promotes rational conversation, which may lead to mutual understanding and respect.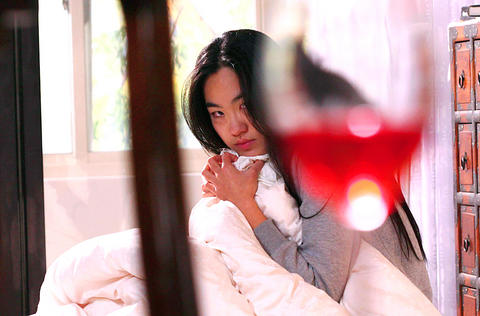 PHOTO: COURTESY OF TAI HUNG CO
Publication Notes
Film Notes
I Saw a Beast (我看見獸)
DIRECTED BY: Liu I-hung (劉議鴻)
STARRING: Chang Chia-jung (張嘉容) as Jane,
Kuan Yuan-fen (官苑芬) as Patty, Liu Yu-pu (劉玉璞) as sister Lin, Hu Hsiao-ching (胡曉菁) as sister Chen
Language: In Mandarin with English subtitles
RUNNING TIME: 94 MINUTES
TAIWAN RELEASE: TODAY
Comments will be moderated. Keep comments relevant to the article. Remarks containing abusive and obscene language, personal attacks of any kind or promotion will be removed and the user banned. Final decision will be at the discretion of the Taipei Times.