For Taiwanese lesbians, out is in
Hidden from the eyes of the media, Taiwan's lesbian community has sprouted into a diversity of groups that operate services and activities geared towards expressing identity through lifestyle choices
On a Thursday night at Mango nightclub, groups of young women drink and sway to a pounding techno beat while a chic hostess invites members of the all-female crowd onto the dance floor to French kiss for a free drink. This no-man's land is the second installment of the first weekly lesbian party night organized by the bar Lez's Meeting. Since June last year, the same organizers have been running popular lesbian parties held every three to four months.
"I've been to lesbian parties in Hong Kong and the US and wondered why Taiwan didn't have quality entertainment venues where gay women could have fun and make friends easily. I think the time is ripe for such spaces as the younger generation of gay women is more open and confident," said Hsiao An (小安), the brains behind the night.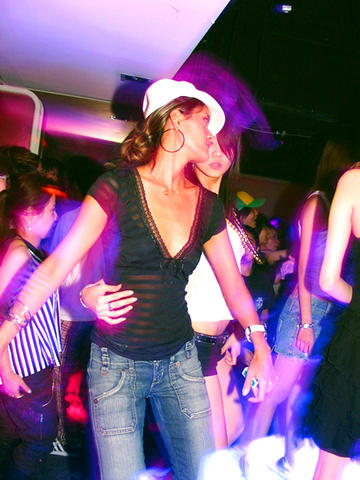 Thursday night at Mango nightclub.
PHOTOS: COURTESY OF LEZ'S MEETING
A silent community
Compared to the thriving gay male-oriented businesses in Ximending and the East District, or the flourishing party culture that is simultaneously demonized and celebrated by mainstream media, the lesbian community has kept a relatively low profile.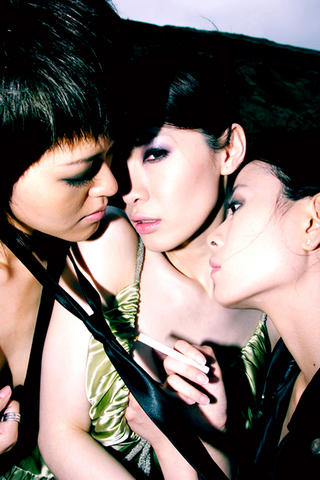 Flyers for parties organized by Lez's Meeting.
Wang Ping (王蘋), secretary-general of the Gender/Sexuality Rights Association in Taiwan (GSRAT, 台灣性別人權協會), believes the socialization of gender roles and economic disparity - the average female worker's salary is less than 70 percent of the average male's - account for the community's inconspicuousness.
"To some extent, media coverage reflects a group's economic power and its level of consumption. Gay-related news is often related to consumerism, that is to say, you shop and you gain visibility. It is, therefore, not surprising to note the absence of the lesbian community in the media. And on a cultural level, gay women's invisibility is also part of the gender socialization process that tells women not to express themselves in a conspicuous way," Wang said.
A similar view is shared by Hsiao An, who notes that even though the fashion lez (時尚拉) [jargon for members of the community's urban-hipster group] dresses, dines and entertains in the style of glossy magazines, their purchasing power is below that of gay men with a similar lifestyle.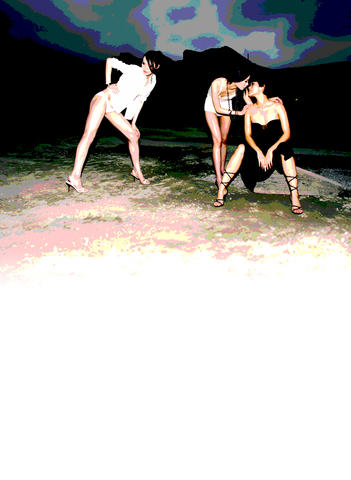 "Take Ts [T for tomboy, a term for butch lesbians] for example. They are expected to take up the traditional male role and take care of their partners, but most of them don't make as much money as men do," said Hsiao An.
During their heyday from 1990 to 2000, lesbian bars, also known as T-bars, provided a much-needed social space for the community. The growth of lesbian-focused Web sites cut into T-bars' client base as members of younger generations went online to make friends rather than frequent the old-school, karaoke-type bars on Linsen North Road that were popular with older generations.
"Every year you see two or three T-bars open and close down in a matter of months ... . Lesbians nowadays don't just go to gay-specific places. They spend their disposable income on nightclubs, movie theaters, Cash Box KTV and other forms of entertainment just like straight people do. And if they want to make new friends, they can just go online," said Sharon Hsu, owner of Taipei's oldest T-bar, Jail House (搖滾看守所), which is located near National Taiwan University (國立台灣大學) and opened 10 years ago.
Besides Jail House and Taipei's longest-running lesbian dance club, Esha, many gay women don't stay in contact with the community through nightlife. Online groups offer different types of services including counseling, relationship advice and travel information.
A vibrant underground
Local Web sites cover a wide range of topics and activities, such as the information portal www.2girl.net (女子拉拉學園), LaLaInfo Workshop (拉拉資推工作室), mostly noted for hosting Les Cup (雷斯盃), the annual ball-games championship and LaMa News (拉媽報), an online newsletter addressing diverse family issues. Also operating online, the LesHand Association (拉拉手協會) runs a counseling service while Lez Radio (拉子三缺一) has built a solid audience base not only in Taiwan but other countries, especially in China, according to Serpent Baby (蛇寶貝), a radio show hostess and the association's founder.
The gay and lesbian movements in the 1990s paved the way for the emergence of diverse groups, particularly on the Internet.
"While the lesbian community may be largely absent from the media, there exists a vibrant energy, which is evident in the burgeoning agenda-specific online communities that are closely related to everyday life experiences and lesbian publication houses like Must Muster Publisher (集合出版社) and North Light (北極之光)," said GSRAT's Wang.
Some commentators, however, hold a less optimistic view of the Internet's power to boost social cohesion and foster a sense of identity.
"The Internet does solve some people's problems and enables them to reach out to others, but there are also a lot more gay women who are held back by the fear of being deceived and the dangers that may lurk in the virtual sphere," said Serpent Baby. "I think a supportive social network is a much more important aspect in the lives of lesbians. Internet resources are good, but they aren't equal to life experiences. Gay women need friends, real human attachments and emotions, knowing that if they need help, they have a group of people behind them."
Before the LesHand Association established itself as a credible online group, many community members were reluctant to get involved in the activities it organized, said Serpent Baby.
Against the odds
The desire to live in a gay-friendly environment is evident at Taipei's first, and only, exclusively lesbian store, Love Boat Lesbians Fashion Shop (愛之船拉拉時尚概念館), which opened around three years ago. "When we first opened the store catering only to gay women, many thought we wouldn't last ... . But over the years, people have come up to me and said it feels great to shop in a real store instead of on the Internet," said shop owner Vivi Li.
For young lesbians like Hsiao An, the image of a fervent gay-rights advocate may come from the not-so distant past as many members of the younger generation prefer to express their lesbian identities through lifestyle choices.
Individualism is said to be one of the driving forces behind the budding diversity of lifestyles and expressions of identity as traditional familistic ways of life fade, a process that fosters greater social acceptance of gay men and women.
"As lots of parents of gay children grew up in a time when society began to break away from its conservative fetters, I believe we will see a more tangible change in the next generation," said veteran gay activist Wang.
Comments will be moderated. Keep comments relevant to the article. Remarks containing abusive and obscene language, personal attacks of any kind or promotion will be removed and the user banned. Final decision will be at the discretion of the Taipei Times.