'Christmas cakes' and 'New Year's Eve noodles'
No matter how successful, beautiful and intelligent they may be, unwed women in Asia have to contend with derogatory stereotypes and epithets such as "Christmas cake," a reference to the cake Japanese eat on Dec. 25 and throw away on Dec. 26, and "New Year's Eve noodles," which refers to bachelorettes aged over 31.
At weddings they are matched up with potential partners by well-intentioned friends and at other family gatherings are questioned as to why they've remained single.
Yan Mei-chen (顏美珍), the creator and director of Flora, has been on the receiving end and feels that other single women can relate to her experience. The assumption that single women are always on the lookout for potential partners is one of many misperceptions that Yan addresses in her latest production being staged by Workshop in Heaven Theater (黑門山上的劇團) this weekend at the National Experimental Theater.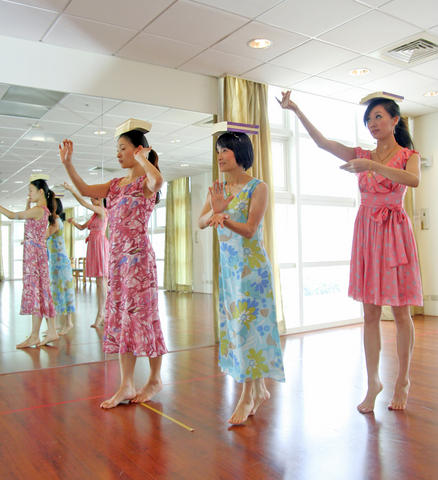 Flora uses gestures, but not words, to investigate what it means to be a single female urbanite.
PHOTO: COURTESY OF WORKSHOP IN HEAVEN
"People living in the city have a particular image of women," said Blanca Chung (鍾欣怡), the production's promoter. It is an image, Chung says, that many women often feel uncomfortable with.
The play is directed to those 20- and 30-somethings who place career over relationships and the frustration often felt because they are expected to "get married, have a family [and] stay at home."
Yan, a career-minded women over 35, who is unwilling to compromise her freedom of creativity for a relationship, dispensed with words for her performance and focuses on gestures - movements that Chung says will speak to Taiwanese women.
"In European or American modern dance, they have different body language because of culture and history. And in Japan, there are even several different modern [styles of] dance within that culture," she said.
Chung said Yan drew inspiration from the work of respected European choreographer Pina Bausche.
However, whereas Bausche, who will perform in September at the National Theater, employs a combination of snippets of dialogue with action, the creators of Flora forgo dialogue altogether. Doing so, says Chung, enables the audience to become totally engrossed in the actors' movements.
Focusing on movement also has its practical purposes; it appeals to a wider audience.
"The last time we were in Bengal for a theater festival, we performed a play in Chinese that seemed to be lost on most of the audience," Blanca said.
The performance has separate plots; the first tells of a country girl who moves to the big city and matures through her experiences.
The second reveals the ways in which men pick up women and how the movement of men changes in the presence of women. The third investigates the relationship between a mother and daughter.
"Usually, a dance group finds dancers and [teaches] them how to act. But this time, because we are a theater group, we are teaching actors how to move," she said. "Our director is not a choreographer [but] a theater director."
To perfect the motions on the stage, Yan invited movement director Chou I-wen (邱怡文) and dancers from Cloud Gate Theater (雲門舞集) to help produce the play.
Publication Notes
Theater notes:
What: Flora (種一個女人)
Where: National Experimental Theater, Taipei
When: Today and tomorrow at 7:30pm and tomorrow and Sunday at 2:30pm
Tickets: NT$400 and are available through NTCH ticketing or online at www.artstickets.com.tw
Comments will be moderated. Keep comments relevant to the article. Remarks containing abusive and obscene language, personal attacks of any kind or promotion will be removed and the user banned. Final decision will be at the discretion of the Taipei Times.