Going to 'hell'
At the Temple of Joyful Beneficence, Taiwanese use a ritual called 'guanlingshu' to visit their deceased relatives in the hope of influencing their future
Chou Huang-rong (周晃榮) peers into the small temple while Taoist priests (fashi, 法師) dressed in gray uniforms move back and forth chatting to worshippers. The 32 year-old computer programmer from Neihu came to Temple of Joyful Beneficence (無極慈喜堂) to undergo a ritual that saw him attempt to enter the spirit world (靈界) - a place where gods, ghosts and deceased ancestors are believed to roam.
"This is my third time here," Chou said, "and it's the third time I've failed to enter."
Along with roughly 30 other people, Chou has just finished a ritual called guanlingshu (觀靈術), or visiting the spirit world. More commonly known as guanluoyin (觀落陰), or visiting hell, the temple has changed the ceremony's name - though the ritual's purpose and significance remains the same.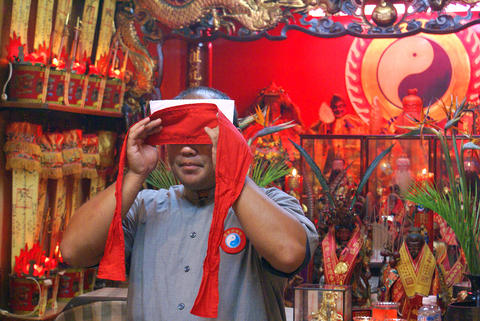 A Taoist priest demonstrates one way of blocking out the material world.
PHOTOS: NOAH BUCHAN, TAIPEI TIMES
The ritual's importance stems from the prevalence of ancestor worship in Taiwanese culture. Perceived fortune or misfortune is partially linked to how much respect is paid to the dead; demonstrations of concern for a relative's well-being in the spirit world translates into gains in the material world.
An impossible journey?
The journey to the spirit world consists of four sessions, each taking 20 minutes, with 10-minute breaks in between. Every session follows the same pattern: accompanied by the meditative tick-tock of a small wooden drum, a priest begins the ceremony by chanting to attract the god.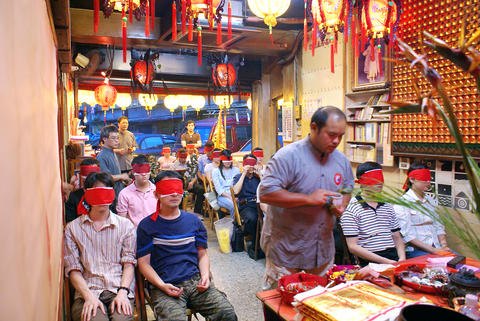 Blindfolded participants wait as a Taoist priest performs the guanlingshu ritual.
"For many [participants] it's their first time here so they often have to spend the first few sessions getting used to it," said Amanda Chao (趙怡貞), a volunteer at the temple who helps believers register before the ceremony begins. "By the fourth session people feel more relaxed and in a state of mind to cross over into the spirit world."
But as Chou can attest, four sessions rarely translates into admittance to the spirit world.
"Some temples claim a 30 percent to 40 percent success rate," says Chao. "That is far too high. Typically, between 10 percent and 20 percent of participants [at Temple of Joyful Beneficence] are able to enter the spirit world."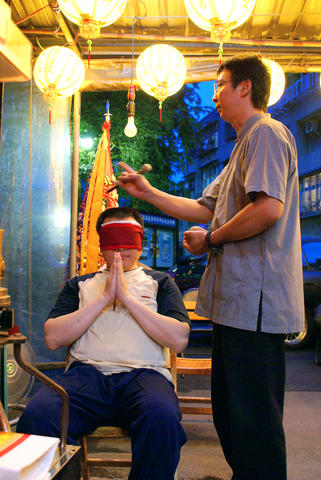 A Taoist priest, right, helps a believer preparing to enter the spirit world.
When participants arrive at the temple they register by filling out a pink form that indicates the purpose of their visit. They have two choices. The first is communicating with a deceased ancestor.
"They need to write down his or her name, when she passed away and where she passed away," says Chao. In addition to the dead relative's information, participants write down their own personal information.
Participants can also choose to visit their house in the spirit world. According to the religious influences that spawned guanlingshu - a mixture of Taoism, Buddhism and folk religion - every living person, past and present, has a home in the spirit world, known as yuanchengong (元辰宮), where the condition of each room is symbolically related to a tangible aspect of the believer's life.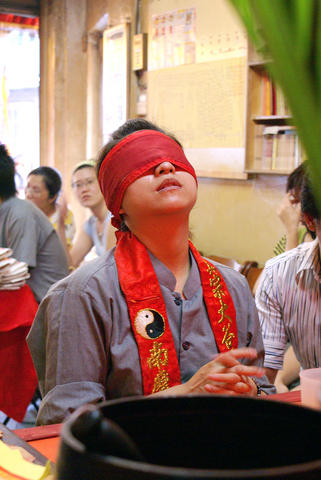 Lin Mei-yu, a Taoist priest, gestures as she performs a daiguan ritual.
"For example," said Lin Mei-yu (林美玉), a Taoist priestess who helps participants enter the spirit world, "the condition of the living room represents a person's fortune and shows a connection with certain gods." Lin said that the bedroom represents one's love life - a closed door means no amorous meetings are likely in the near future. An open door signifies that love is on the horizon.
Observing the condition of their houses in the spirit world gives participants an idea of their current and future situation in the real world. By entering their house, participants have the opportunity, with the help of a god, to alter its condition - watering a plant here, cleaning the kitchen there - and thereby change their fate.
"Though everyone usually goes directly to their own house, sometimes the god will send you somewhere else first," Chao said.
She tells the story of a woman who was first brought to her husband's house.
"His house was a total mess," Chao says. "So we took care of the business there first."
Chao says the husband's business had just gone bankrupt, and the god sent his wife to her husband's house in an effort to change his fortune in the material world.
After registration, participants take their place on one of the 30 chairs lined up in rows facing the temple's inner sanctum, where a shrine with statues of various gods is located. Draped over the back of each chair is a red blindfold that believers wear during the ceremony.
Participants arrive early because seating is limited. At the appointed time, a Taoist priest introduces the ritual and urges believers to have courage when entering the spirit world.
"You will make it back from the spirit world," he says, "but many of you won't make it in." The priest tells participants to empty their mind of all worldly cares.
"If you see something, raise your hand and a priest will guide you," he says as he begins to chant and beat a small wooden drum. Three other priests follow suit chanting hypnotically to the drum beat.
Moral dimension
In between sessions, Tai Chieh-chang (戴傑璋), a 48 year-old insurance salesman who has come from Beitou with a friend, says he wasn't able to enter the spirit world, though he believed that he did see something.
"During the ritual I think I saw The Old Man of the South (南極仙翁, the god who governs the length of a person's life)," he said.
Chao asked him if he called over a priest.
"I didn't want to for fear that it was nothing," Tai replied.
Chao gently chastises Dai for not calling over the priest because, she says, they are the only ones who can help participants enter the spirit world.
"We need you not to judge the thing you see by yourself," she says, "when you [rationalize] what you are seeing, your sensation will be brought back to your body."
Leaving your conscious mind in this world, says Chao, is an integral part of entering the spirit world, the primary reason for wearing the red blindfolds.
"If you are preoccupied, you won't see anything and your conscious or unconscious will keep popping up," Chao said.
It is believed a person's ability to leave their body and enter the spirit world is tied to leading a moral life; the righteous face fewer temporal distractions.
Yeh Chuen-rong (葉春榮), an associate researcher at the Academia Sinica's Institute of Ethnology, calls guanlingshu a kind of moral education.
"These things establish a cosmology to show people there is life, a world, after this world," he said.
Can't enter the spirit world? try a 'Daiguan'
Another option is open to participants like Chou and Tai who fail to enter the spirit world.
Rather than enter the spirit world themselves, a substitute can enter on their behalf. Known as daiguan (代觀), a Taoist priest takes the place of a believer and relays the condition of their house or a message sent by a deceased relative.
Those wanting to participate in daiguan have to make an appointment in advance. Chou waited around to catch a glimpse of the ritual. Before leaving, he made a reservation for the end of the month because all the earlier slots had already been filled.
"It's a while to wait," he said. "But daiguan will help me to communicate with my ancestors."
Comments will be moderated. Keep comments relevant to the article. Remarks containing abusive and obscene language, personal attacks of any kind or promotion will be removed and the user banned. Final decision will be at the discretion of the Taipei Times.