Strauss in full-stage magnificence
This is the first time that Taipei has seen the great opera presented in all its sumptuous settings, a fitting farewell show for NSO's musical director Chien Wen-pin
The arrival of Richard Strauss's Der Rosenkavalier ("The Knight of the Rose") in Taipei next weekend marks the culmination of many things. It ends the National Symphony Orchestra's (NSO) Strauss Cycle, it concludes the same orchestra's 20th anniversary celebrations, and - being the first NSO opera to be mounted fully-staged, and in the National Theater rather than the National Concert Hall - it forms a fitting climax to the series of operas, beginning with Tosca in 2002, that conductor Chien Wen-pin (簡文彬) has caused to be produced here. But above all, it marks the end of Chien's own pioneering seven years as Music Director of the NSO, a term which expires at the end of the month.
The production can be viewed as a product of Chien's long association with Deutsche Oper am Rhein in Dusseldorf. The singers, scenery and costumes, plus 32 members of the technical team, are all being brought in by the German company. But Chien will conduct, and the orchestra will be the NSO.
Der Rosenkavalier is one of the West's greatest operas - it will certainly be in every connoisseur's top 20. But it's nonetheless very much a product of its era. When it was premiered in 1911, two streams were struggling for operatic supremacy in Europe, the massive, orchestra-dominated works of Wagner and the tuneful verismo ("realist") operas of the young Italians, led by Puccini. There was a third force in operation as well, the memory of Verdi's last opera, Falstaff (1893), which had single-handedly revived the Mozartean comic tradition with music of dazzling inventiveness and brilliance.
Der Rosenkavalier brings together some of Richard Strauss's most memorable music with sumptuous stage settings and the inventiveness of romantic comedy.
PHOTOS: COURTESY OF NSO
Richard Strauss had achieved enormous success as a wunderkind with his two previous operas, Salome (1905) and Elektra (1909), works that shocked and hypnotized audiences with, respectively, sadistic eroticism and razor-sharp dissonance. Both had been written along Wagnerian lines. But what Strauss opted to do in his new opera was to combine all three traditions - the oceanic Wagnerian orchestra, verismo lyricism, and the comic spirit of Mozart. The result was a work that seemed to incorporate the entire operatic world, yet also sound unlike anything audiences had heard before.
Amalgamation had clearly got into Strauss's soul because he also opted to ransack much of Western history. The action is set in 18th century Vienna, but into this he introduced a whole string of waltzes (in reality unknown until the following century, there to be popularized by the other Strausses, the waltz kings). And on top of this he added a tingling modernity and dissonance, enough to set your teeth on edge, where necessary.
Words might have presented a problem for such a grand undertaking, but in securing the services of Hugo von Hofmannsthal, one of Germany's leading poets (who had also provided the libretto of Elektra), mastery on all fronts was assured.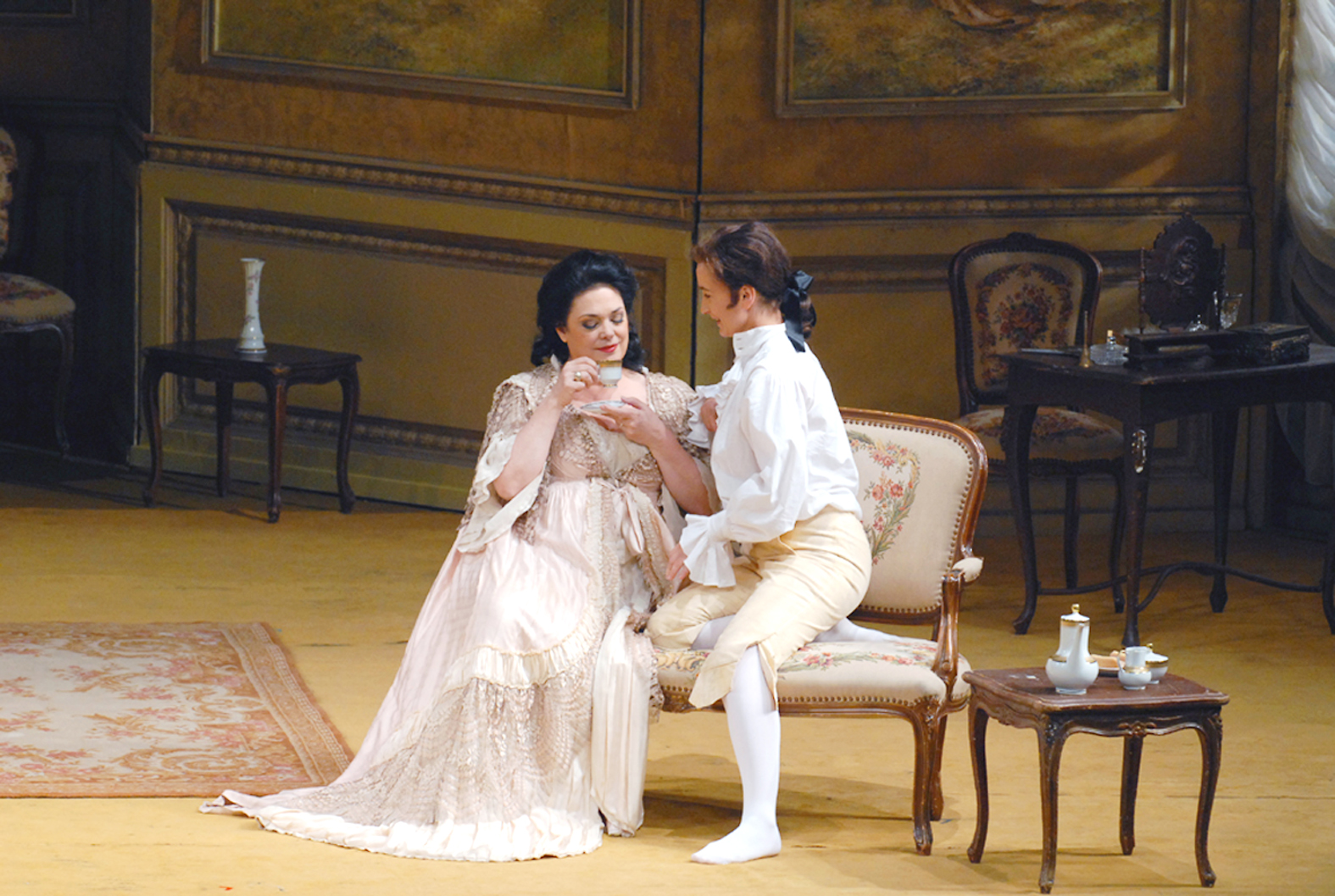 Augmenting this spirit of fantastic make-believe, Hofmannsthal invented a tradition - that of a man sending his beloved a silver rose to mark their engagement, with the person who delivers the rose called the Rosenkavalier. Historically totally bogus, this nevertheless forms the keystone of the plot.
The no-longer-young Marschallin (wife of a field-marshal), victim of a loveless arranged marriage, is conducting a passionate affair with a teenager, Octavian. Meanwhile, her rustic relation, the lecherous Baron Ochs, is planning to marry Sophie, the daughter of a rich merchant called Faninal. Ochs believes he has to send Sophie a silver rose, and it's Octavian who's chosen to take it. At the presentation ceremony, however, Octavian and Sophie fall in love. Subsequently the Baron is made to look the fool he is, and the Marschallin has to face the reality that she's lost Octavian to a younger woman.
"I never expected to see a lesbian sex-scene in an opera-house!" an Australian friend whispered to me as the curtain went up on Act One some years ago in Hong Kong. Octavian and the Marschallin are shown at the end of a "passionate embrace" (what went before being vividly evoked in the strenuous orchestral introduction), and the misunderstanding came from Octavian being played by a woman.
Following a tradition that goes back to Cherubino in Mozart's Figaro, and before that to the castrati (castrated singers) who were the stars of European opera-houses until the mid-18th century, Strauss wrote the part of Octavian for a young soprano. And Rosenkavalier as a whole is a protracted showcase for the female voice, something to which Strauss was to remain devoted throughout his career. This is shown not only in the Marschallin/Octavian scenes, but in the Octavian/Sophie ones as well. And then, at the very end of the opera, Strauss writes an incredibly beautiful trio for all three of them together.
This trio is characterized by the bitter-sweet. Indeed, despite all the boisterous waltzes, bitter-sweet is the prevailing tone of much of the opera. The Marschallin knows she will lose Octavian even when he goes off to deliver the rose at the end of Act One, and she sings a memorable monologue that expresses this awareness. But in the Act Three trio Octavian too is deeply moved at having to say good-bye to her, only to be swept off his feet again at the thought of marrying Sophie. The Marshallin, for her part, finally brings herself to let him go, and to bless the young couple, albeit with tears in her eyes.
Another highlight is the music for the presentation of the silver rose - and the simultaneous falling in love of Octavian and Sophie - five minutes into Act Two. It's of a squeezed-lemon astringency, and how the effect is achieved was for a time kept secret. (It's done with the aid of very high violins and a celeste). This entire section is one of the most famous in all opera.
The Taipei production will be given four times, with two sets of soloists. Friday, June 29, and Sunday, July 1, will feature Jeanne Piland (Marschallin), Walter Fink (Ochs), Katarzyna Kuncio (Octavian) and Joanna Mongiardo (Sophie), while Saturday, June 30, and Monday, July 2, will see Carol Wilson, Lars Woldt, Annette Seiltgen and Anke Krabbe in the same four roles.
Direction is by Tobias Richter, based on an original by Otto Schenk. Its characteristics are a very high degree of sumptuous period realism, with no hint of experimentalism of any kind. Three massive stage sets are included. "This really is going to be Rosenkavalier as it ought to be produced," commented Taipei stage designer Donato Moreno last week.
The opera will be sung in German with Chinese subtitles, and with two intermissions will last four hours and 20 minutes. A free reception for holders of tickets priced NT$3,000 and above is offered in both intervals courtesy of Bonjour.
Schenk's highly realistic staging of the same opera for the Vienna State Opera can be seen on DVD (DGM 073-009/010-9). Meanwhile, one of the best opera CD sets ever issued, of any opera, is the Rosenkavalier conducted by Karajan in 1956, with Schwartzkopf, Edelmann, Ludwig and Stich-Randall (EMI 7-49355/6-2).
This is all set to be a great Taipei event, with all the visual gorgeousness that last September's quarter-staged Ring unavoidably lacked. That it will also be a fitting farewell to Chien hardly needs to be said.
Publication Notes
Performance notes
Der Rosenkavalier plays at Taipei's National Theater from Friday, June 29, to MOnday, July 2, beginning at 7pm (Friday, Saturday and Monday) and 3pm (Sunday). Ticket prices are from NT$500 to NT$3,600. For further information call (02) 3393-9888, or go to www.artsticket. com.tw
Comments will be moderated. Keep comments relevant to the article. Remarks containing abusive and obscene language, personal attacks of any kind or promotion will be removed and the user banned. Final decision will be at the discretion of the Taipei Times.