Restaurants: Korea House Village
Korea House Village (韓屋村)

Address: 3, Ln 105, Shida Rd, Taipei

(台北市師大路105巷3號)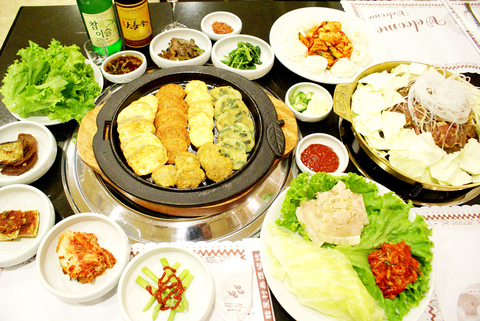 Korea House Village serves authentic Korean fare in a relaxed environment.
PHOTO: NOAH BUCHAN, TAIPEI TIMES
Telephone: (02) 2364-1980

Open: Daily from noon to midnight

Average meal: NT$1,000 for two, plus 10 percent service charge

Details: Chinese and Korean menu (English menu coming soon)
Proprietors of Korean restaurants in Taiwan often say the food they serve has been changed to suit local palettes, whatever that means. It sounds like some feeble excuse not to put the proper amount of effort into making the pastes and sauces, for which any Korean will tell you is as important as the meat or seafood it's served with, or slicing the meat used for barbecue so thin that it could only grace a hot pot.
Not so with the recently opened Korea House Village. Proprietor Zhao Yi-xian (趙懿憲) is unwilling to compromise authenticity to suite local tastes. Instead, he transplants 10 years of experience operating a restaurant in South Korea, where his mother-in-law grew the peppers and soy beans that go into making the pastes and sauces, to Shida. Three years in the planning, the tableware, the tables and chairs, even the cutlery is imported from South Korea. The walls are lined with tastefully finished traditional Korean art and glass display cases containing expensive ginseng alcohol.
Authentic Korean restaurants are worth a visit if only to sample the free appetizer dishes they serve before the meal. Korea House Village serves up six, and on the day we were there included asparagus, kimchi, pickled eggplant, mackerel and white radish marinated in light soy sauce, tofu in a light soy and ginger sauce topped with green onions and green vegetables marinated in sesame oil. Zhao says that aside from kimchi, the dishes change with the season.
Other specialties on the menu include tempura (NT$250) — a selection of white fish, squash, green onion mini pancakes and kimchi mini-pancakes — that is served with red-pepper paste infused with fresh garlic, hints of ginger and green onions. The exterior of each was crispy with the pancakes chewy on the inside and the fish light in flavor. The octopus and fresh cucumber salad marinated in hot sauce and surrounded by eight noodle nests (NT$300) was zingy.
A good deal for two is the bulgogi (NT$500), or marinated barbecue beef. Served with tofu, noodles, vegetables and seafood on a large iron plate, the mixture is then pan-barbecued and eaten straight up or with fresh lettuce leaves. The menu also offers an extensive selection of grilled barbecue dishes.
Comments will be moderated. Keep comments relevant to the article. Remarks containing abusive and obscene language, personal attacks of any kind or promotion will be removed and the user banned. Final decision will be at the discretion of the Taipei Times.