The hills are alive with the sound of hillbilly mutants
The sequel of the remake of Wes Craven's original horror film has mutated into a boring mess of a movie
Open to ridicule ... The Hills Have Eyes 2. They've also got one hell of a cheek, forcing this nonsense on us again: a sequel to last year's remake of the 1978 Wes Craven original. Once again, we are out in the middle of nowhere. It's an eerie, isolated stretch of New Mexico desert where nuclear testing half a century ago created a feral gang of mutant hillbillies hiding out in their own underground network of tunnels, killing innocent incomers and raping the womenfolk to perpetuate their deplorable race.
Now a group of US National Guardspersons, an elite group of the very best looking young men and women, are sent out there to accompany some civilian scientists: they arrive to find the brainiacs all dead and soon they too are being picked off, one by one. One of the group is pigheaded; another is a total babe; another has a temper; another is a bit of an anti-war pinko who thinks the president "lied" — leaving us to wonder who will turn out to have the most gutsy resourcefulness and military grit. The satirical content is more or less forgotten. Pure genre-pic boredom.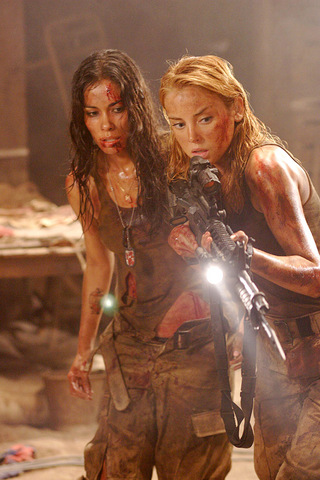 This sequel of a remake has more cliches than you can point a gun, slash a knife or swing an ax at.
PHOTO: COURTESY OF FOX
Publication Notes
THE HILLS HAVE EYES II
DIRECTED BY: Martin WeiszSTARRING: Michael McMillian (PFC David `Napoleon' Napoli), Jessica Stroup (PFC Amber ohnson), Daniella Alonso (PFC `Missy' Martinez), Jacob Vargas (PFC `Crank' Medina), Lee Thompson Young (PFC Delmar Reed), Ben Crowley (PFC `Stump' Locke)
Comments will be moderated. Keep comments relevant to the article. Remarks containing abusive and obscene language, personal attacks of any kind or promotion will be removed and the user banned. Final decision will be at the discretion of the Taipei Times.