As Red Sea hotels spring up, divers go down
As the pace of development picks up along Egypt's Red Sea coast, there are a few unspoiled destinations left to choose from
In the wilds of Marsa Alam, Egypt, nothing is familiar. Pastel mountains, a pink, green and yellow pointillist fantasy, soar overhead, scraping the shimmering curtain of the sky. Sand dunes fan out in orderly waves, orange-striped goats feeding between them, and flocks of blue parrots coast by above. Hamada el-Kawy, my guide to this strange land, taps his eyes and points to a purple unicorn grazing on a nearby mountain. Unicorns are famously wary of strangers, but this one hasn't noticed us yet, its horned head facing the other direction. We make our way toward it, silently, slowly, hoping for a closer look, but it's no good. It sees us and bolts.
Hamada taps his watch; our time here is limited. We rise, my head breaks through the shimmering curtain, and I inflate my jacket with a whoosh. Hamada pops up a moment later, pulls off his scuba mask and asks, "Good dive?"
Scuba diving is a bit like visiting another planet — in this Red Sea dive, the landscape of fluttering reef walls and pinnacles seemed as unfamiliar as the canyons of Mars. The fish, weird in their color and shape, have been given names that impose our frame of reference on theirs: parrotfish with their beaklike lips, goatfish sporting forked beards, and unicornfish that spar and horn-joust like the beasts of fantasy.
A sea turtle is seen during a dive in the Red Sea at Marsa Alam in Egypt.
PHOTO: NY TIMES NEWS SERVICE
The Red Sea, one of the world's premier diving destinations, can be reached from Europe by cheap charter flights. The climate is tropical; prices are reasonable. Unfortunately, the most popular resort areas, like Hurghada and Sharm el Sheikh, are also overrun with tourists, the reefs teeming with as many divers as fish. Marsa Alam is farther south, the newcomer on the scene, still offering the serenity and solitude lost by its neighbors to the north. An international airport opened there in 2001, and the area is developing rapidly, but right now it's at the traveler's sweet spot: sufficient infrastructure without too many people taking advantage of it.
"It's the Bahamas of Europe," said Philippe Natural, who runs Emperor Divers in Marsa Alam and who used to work farther north. Since 2001 he said, "you have one diving center developing after another" in Marsa Alam. "After five years, down here, you're not going to recognize it."
I took my scuba certification course in 2002 and hadn't done a dive since, but I wasn't worried. I did a refresher after arriving in Marsa Alam, and between the otherworldly trips to the reef, I spent most of the day calculating numbers off nitrogen tables and discussing air pressure's logarithmic properties. This wasn't a sport for daredevils. This was playtime for an accountant.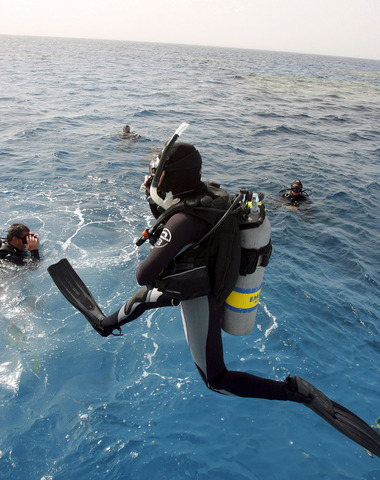 A diver jumps into the Red Sea at Marsa Alam in Egypt.
PHOTO: NY TIMES NEWS SERVICE
In contrast to the reef dive of my first day, the second day's site was shallow and offered no pretty landscape — only a 5cm layer of rubbery sea grass along the floor. But that was the draw: white-spotted guitarfish with the ripply heads of manta rays and the dorsal fins of sharks threshed by, hunting crabs that live in the grass. We came across a huge green turtle eating its lunch with what seemed like the grumpiness of a great-uncle who thinks everyone is ignoring him. It took a break from chewing and glided to the surface, two rubbery appendages clinging to its shell like misplaced fins. The turtle's apparent bitterness was justified; these were not fins but remora, primordial, textureless fish that hitch rides on larger sea dwellers without so much as a by-your-leave.
The other divers circled the turtle, examining him from all angles. But we were shallower than the previous day, and I couldn't control my buoyancy. I kept putting too much air into my jacket or too little, bouncing between ocean floor and ceiling in slow motion. Finally, when I had used up all my air with this basketball impersonation, the guide for that morning's dive offered me his extra breathing source. Mortified, I shared his air, clinging to his tank like a remora.
For the afternoon dive, Hamada led us out to a reef facing the open ocean, the sandy floor slipping away like an hourglass. Soon, we were 18m down, sea floor invisible in the indigo darkness, ceiling above a faint glow. The other divers peered into nooks of the monumental reef wall, showing one another sea slugs and eels. I, on the other hand, was deeply engrossed in figuring out which way was up. Panicking, I hyperventilated, quickly using up my air, and Hamada had to take me back to the boat early, leaving the others without a guide.
On the boat ride back to the hotel, the other divers discussed the fish they'd seen that day and waxed philosophic about their beloved sport. Naresh Ramarajan, 24, a Stanford medical student who has made more than 180 dives, said that after a while the underwater world began to feel normal. "You start appreciating the finer details," he said.
The trip to Marsa Alam, a couple of days before, had been another foray into the foreign. The first leg, a flight 482km southeast from Cairo to the city of Hurghada, had felt like leaving Egypt. Huge fortress-cities lined the coast, complete with pool complexes and crenellated turrets more appropriate to Disneyland than the modern Middle East.
From Hurghada, Marsa Alam was a ride of a two and a half hours in a cab — a leather-upholstered station wagon. It zoomed down straight, paved roads, stopping occasionally at police checkpoints, at one of which our driver was ticketed for his haste. Egypt has made a goal of turning the Red Sea into a new Riviera, and the signs of building are everywhere: half-built Moorish domes, fieldstone walls in progress and lonely, unopened hotels.
Before 2001, Marsa Alam was a fishing village, with no tourism to speak of. Then an airport was built an hour north of town, mainly served by European charter flights, and hotels cropped up nearby offering packages like five nights and round-trip flights from London for US$700.
These days the construction is in high gear, and a new Marsa Alam has appeared across the highway from the old, with shops offering stuffed camels and blown glass instead of the tea and hookahs offered at two coffee shops at the old village's heart. On the edge of town, the tourist shops rapidly give way to the concrete shells and new construction — goats run in the streets between the piles of bricks and lumber — and then, suddenly, desert.
For the reefs, the rapid development raises environmental concerns. In Hurghada and Sharm el Sheikh, divers report that some sites are already "dived out" — and with coral plucked for souvenirs, fish have left for more hospitable havens. Hamada, our guide for the first two days, began diving in the area in 1989 and makes special trips with other guides to clean the reefs. On our four dives together, he picked up a plastic bag, a piece of rubber and two weights that had fallen off divers' belts.
In a strange land, Hamada was a familiar type, the lifelong surfer or bearded Outward Bound guide. His face is dark and bright, with a full goatee and a receding hairline. "If you understand how the reef, the growing, it takes a lot of years," he said in his rough but serviceable English, pushing wraparound sunglasses up onto his sunshiny pate. "If you love diving, you will be care about that."
Comments will be moderated. Keep comments relevant to the article. Remarks containing abusive and obscene language, personal attacks of any kind or promotion will be removed and the user banned. Final decision will be at the discretion of the Taipei Times.