Home sweet home
With high costs and long assessment periods, the adoption of local children by foreign families can be a lengthy and stressful experience
Joyce (her name has been changed to protect her identity) never liked to stay at home. She first ran away from home when she was in grade four and would often cut classes. By 15, she was addicted to amphetamines and when she didn't have enough money to satisfy her habit she sniffed glue. Joyce's mother had disappeared from her life and her grandmother refused to have anything to do with her. By 18, she was married with a child but divorced three years later. She became pregnant again, and the father disappeared.
Like Joyce, Polly (her name has been changed to protect her identity) ran away from home when she was in her mid teens. Hating school and constantly fighting with her father and stepmother, Polly took refuge with some friends she made at a KTV and the drugs they introduced her to. She was then busted for possession and sent to a detention center and faces the prospect of jail time.
With over 200,000 abortions in Taiwan every year, it's surprising that — with a history of drug use and chaotic lifestyles — Polly and Joyce are planning to carry their children full term and give them up for adoption.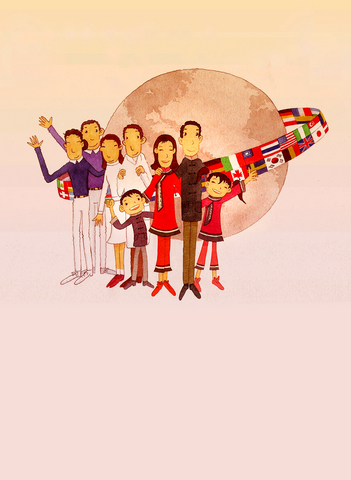 "There are very sad social histories involved in almost all of these cases," said Agnes Yang (楊東蓉), a supervisor at Christian Salvation Services (CSS), a non-profit social welfare organization that was established in Taipei in 1983, referring to women like Polly.
CSS is hoping to change Polly's "sad social" history by teaching her to better manage her life, providing her with drug rehabilitation treatment and schooling and helping to her find a suitable parent for her child, a child Polly knows that she is not in a position to take care of.
Though negative attitudes to adoption are changing in Taiwan, this doesn't hold true for children born to parents like Polly and Joyce. Polly was referred to CSS by local social workers because they know that it is unlikely a Taiwanese family will be interested in adopting her child because of the mother's high-risk lifestyle.
Additionally, children born to parents like Polly and Joyce, who have a history of substance abuse, are more likely to suffer from physical and mental problems, which make them less likely to be adopted.
According to statistics from the recently formed Child and Juvenile Adoption Information Center (兒童及少年收養資訊中心), an agency that keeps detailed records of adoptions in Taiwan, of the 3,500 children abandoned in Taipei City and Taipei County in 2004, 587 were adopted by local families and 258 by foreign families. The lack of countrywide statistics suggests that tracking adoption in Taiwan is still in its infancy.
Falling through the net
Up until the 1990s, the stigma surrounding unmarried pregnancy was an important factor in determining whether a mother would give up her child for adoption. Compounding the difficulty for young unmarried pregnant women was a lack of labor or medical insurance, so having a child out of wedlock was a costly venture, especially if the mother's family snubbed her.
But much has changed.
"It's a pretty smooth system," said Paula Voightmann, founder and executive director of CSS. "It's getting better all the time because the professionalism in the social affairs bureaus and regulations have increased so much. When I first arrived there was little being done, but now there is a lot being done. So we are looking for a crisis in a system that is already working fine. People who slip through the cracks."
Though independent adoptions are still possible in Taiwan, social welfare organizations like CSS, and Cathwel Services (天主教福利會) in Shenkeng (深坑), have turned to government-run organizations or non-profit agencies abroad to help find adoptive families.
"The one positive thing that most people say about international adoption is that it is further along in its cultural development so [the birth mothers] feel that children will be 100 percent 'the child' for the family and there won't be any stigmas about being adopted," said Voightmann.
According to Voightmann, people choose cross-cultural adoption because the availability of adoption in the countries where they live is non-existent.
"If you look at the Netherlands and Sweden, unwed mothers ... receive adequate support to raise their child and abortions are legal and birth control is readily available so there are fewer unwanted children," she said.
For those children that are unwanted, there is also a higher level of social services making relinquishment of the child unlikely, she added.
Prospective parents usually research their options and then begin the process of adoption, and find Taiwan is a suitable option. In the US, non-profit agencies — usually umbrella groups of large religious organizations — are responsible for the adoption process. Most other countries use government welfare groups.
According to Yang Ruey-ling (楊瑞玲), Cathwel's chief supervisor, the organization currently employs six agencies from the US that currently list 100 families which are seeking to adopt.
Where government organizations and non-profit agencies from abroad differ is in cost and time.
Prices from the US begin at US$10,000 (NT$330,000), though it often costs twice that much or more. With Australia, because the government is responsible for the adoption process, the price is usually around AU$9,500 (NT$265,000). Both exclude travel expenses and lodging in Taiwan.
A lengthy process
But regardless of which country the adoptive parents come from, the amount of time needed to adopt a child can often be a nerve-racking and frustrating experience, usually taking between 18 months and 4 years.
For example, from the time a family in Australia expresses interest in adopting a child to the home study period, which involves prospective parents leaning about parenting skills, may take up to a year. Before the home study, families who want to adopt are expected to have already read books and sit in on classes that explain cross-cultural parenting. This prepares the family for the home study.
Once the home study is completed and the government-appointed social worker determines the prospective parents' eligibility to adopt from another country, the government sends their file to Taiwan. "For a lot of the couples, it could be two years before we even get [the file]," Agnes Yang said
After CSS receives the file, it takes another six to 12 months to identify a suitable child. Then the adoption process can begin, which usually takes another eight months to a year.
If CSS allocates prospective parents a six-month old baby, they won't complete the process until the baby is already over one year old and they have waited several years.
The process at Cathwel is the same, though it can often take far less time. Agencies in the US follow the same protocol as their government counterparts in other countries except the cost is higher and the process shorter.
At both Cathwel and CSS, the birth mother is allowed to choose the adoptive parents after a screening process is done. The organizations first choose those families that they feel would be most suitable and present those families to the birth mother who then chooses one.
After the parents receive notice, they travel to Taiwan to finalize the legal documents, meet the birth mother and bring their child home. In addition to caring for the child, CSS and Cathwel expect adoptive parents to send the birth mother "post-placement" letters and photos.
And what about Polly and Joyce? After being referred to Cathwel, Joyce entered a drug rehabilitation program and is living a relatively stable life. She has yet to choose a parent for her child but says that she is looking forward to sharing a healthy relationship with the adoptive parents and her child.
Polly is now out of jail and has chosen a family from Australia to adopt her child. She has received drug rehabilitation and counseling from CSS and looks forward to hearing about her daughter's future.
Comments will be moderated. Keep comments relevant to the article. Remarks containing abusive and obscene language, personal attacks of any kind or promotion will be removed and the user banned. Final decision will be at the discretion of the Taipei Times.