Step into the spotlight
Hundreds of bands have played at Riverside's open-jam nights, many of which left lasting impressions
When Geddy Lin (林正如) heard the American woman's voice during open-jam night two summers ago at Riverside Music Cafe (河岸留言), he knew he was experiencing something special.
"Wow," recalled Lin, who owns Riverside and is also a sought-after guitar teacher and session musician, "the expression of the voice was so mature." He remembers thinking he wanted to form a band with whoever owned that voice.
Much to his surprise, when he swiveled on his bar stool to look at the stage he didn't see a 30-year-old jazz singer, but elfin-faced 15-year-old Joanna Wang (王若琳), who was smiling, eyes half-open, as she sang an Elton John song.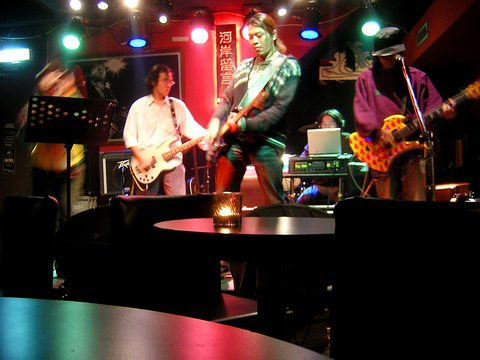 Five-piece rock band Xsanity break out their electric guitars for the last of a three-song set Monday at Riverside Music Cafe.
PHOTO: RON BROWNLOW, TAIPEI TIMES
Lin has been presiding over open-jam nights every Monday since he opened Riverside six years ago, but it's nights like this that make it worthwhile. He's seen hundreds of young bands turn up here to get experience playing in a live setting. Musicians frequently seek him out for advice after their sets, and he's happy to oblige. But on the rare occasion that Lin really likes your music, he'll go to you.
"When this happens I think to myself, 'That's why I opened this place,'" said Lin, 38, glasses peaking out from between his chin-length hair, his voice gravelly from teaching guitar lessons all day.
Open the entertainment section of any Taipei newspaper on any given Friday and you'll find that many of the performers listed have a connection with Lin. He's taught the guitarists from Black Out, Bone (骨頭), Spring Sun (春日), What Mulan (花木蘭), Relax One (輕鬆玩), Rock Bang (洛客班) and pop-rock sensation May Day. Other well-known groups, including Soda Green (蘇打綠) and Back Quarter (四分衛), practiced at Riverside's open-jam night before they were ready for the pub circuit.
Lin, a former rock singer and guitarist with two albums to his credit, opened Riverside after the 921 earthquake forced cancellations of tours by pop singers he was working as a backup musician for. At the time he also had regular gigs in pubs, mostly playing covers of top 40 hits.
"That really drove me crazy," he said. "I didn't feel respected. You couldn't play too loud. You couldn't play blues."
"I needed a stage where I could let musicians play their own thing," he continued, one like the jazz clubs he frequented while studying guitar at the Musician's Institute in Los Angeles.
The result is Riverside and its Monday night open-jam. The bar opens at 7:30pm and the jam starts at 9:30pm. Anyone can come, provided they buy one drink, and everyone who brings an instrument gets their turn to play.
Foreign musicians in town for rock concerts or jazz festivals have also been known to turn up. If Lin knows they're coming, he'll invite his friends, many of them experienced studio and backup band musicians like himself. If they get a groove going, the night might not end until 2am or later.
Musicians who have played recent gigs at Riverside say they like the club's laid-back atmosphere and state-of-the-art sound system. Lin estimated he's spent more than NT$1 million on the equipment, which is hand-wired and has been updated five times since Riverside opened. "I reckon the bar is great," said Dave Archdall, formerly of Australian rock band The Sailors. "Its one of my preferred venues in Taipei because the sound system's so good." (Archdall's new band Special Friends will play an improvised noise-punk rock, folk and blues set next Saturday at Underworld.)
Last Monday, which Lin said was an off-night, around 20 people gathered to watch two obviously inexperienced bands get much-needed experience playing on stage. Most present were members of the bands or their friends. The second act, three mullet-coiffed guitarists, a synth player, and a singer in black tights and a foam-front trucker hat who called themselves Aurora (極光), exuded confidence and had brought along an agent and video photographer.
The singer and bass player were good, but the guitars were weak and everything was drowned out by the discordant trumpet sounds emitted by the synthesizer, which were louder than the rest of the band and often sounded out of tune. "They probably got together for one purpose: to get famous or to make an album. So they're trying to go from the outside to the inside."
Lin has seen dozens of bands like this. He said most break up in a couple of years. "To succeed you need to have a passion for the music. You need to spend a lot of time on your instrument, writing good songs first, and finding good members who can communicate, become like family. Then you have to rehearse a lot."
Joanna Wang seems to be following this formula. Now 18, she's performed at six open-jam nights over the past two-and-a-half years, released an EP, and has an album scheduled to come out next year. Interviewed Wednesday night after a performance at Riverside that saw her play acoustic guitar and cover jazz classics and rock songs, Wang said she enjoyed performing at open-jam night because the atmosphere "isn't uptight."
"Depending on my mood, I actually prefer open-jam night because there's no pressure. There's no audience you need to please," she said. "You really don't need to call and make an appointment. You just have to stand in line and wait your turn. You go in there thinking there's not going to be an audience. You just go there to be in your own spotlight. That's what open-jam is about."
Publication Notes
For your information:
What: Riverside hosts an open-jam night each Monday, starting at 9:30pm. Admission is NT$150 with one drink. Anyone who brings an instrument can jam with other artists and play a three-song set on stage.
Where: Riverside is located at B1, 2, Lane 244, Roosevelt Rd Sec 3, Taipei (台北市羅斯福路三段244巷2號B1). For details, call (02) 2368 7310. Or log on at www.riverside.com.tw
Comments will be moderated. Keep comments relevant to the article. Remarks containing abusive and obscene language, personal attacks of any kind or promotion will be removed and the user banned. Final decision will be at the discretion of the Taipei Times.