Theater and its mission of social reform
In front of a packed audience at Huashan Cultural Park last weekend, a dozen or so actors playing the parts of Filipino maids, Chinese brides, labor brokers, police officers and politicians sang and danced to live music provided by the Black Hand Nakashi (黑手那卡西工人樂隊).
The Corruption Opera (敗金歌劇), a satire on recent government corruptions scandals, is how the Assignment Theater (差事劇團) has chosen to celebrate its 10th anniversary. This new work a miniature of the troupe's decade-long endeavors.
Poet and novelist Chung Chiao (鍾喬) had a specific object in mind when he founded Assignment Theater in 1996. A member of the tangwai (黨外) dissident movement working on left-wing publications in early 1980s, Chung discovered how to mix social activism and a passion for art at a people's theater workshop held by Asian Council for People's Culture (ACPC) in the Philippines in 1989.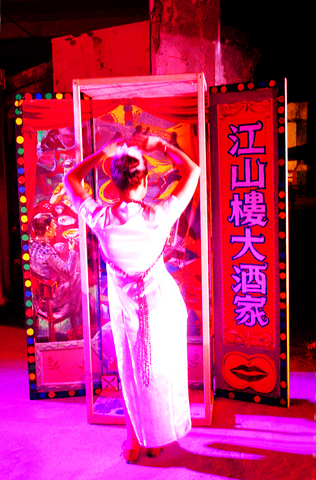 The Corruption Opera epitomizes Assignment Theater's birth, transformation and growth for the past decade.
PHOTO COURTESY OF ASSIGNMENT THEATER
This commitment to people's theater was first embodied in Taiwan People's Theater Studio (台灣民眾戲劇工作室), the forerunner of Assignment Theater. In this way, Chung began a long-term collaboration with theater groups across Asia who wanted to take charge of telling their own history and address post-colonial sociocultural and political issues through collaborative performance.
But to Chung, this collaborative effort as a fatal flaw. "By making a pan-Asian movement, there is a danger of pandering to exoticism and Orientalism of the Western imagination," Chung said.
Assignment Theater was born out of an effort to build a grassroots base in Taiwan and escape the trap of exoticism. It has since become one of Taiwan's foremost political theater groups, and works closely with the community through workshops, while also continuing its affiliation with theater groups in neighboring Asian countries.
Assignment Theater's collaboration with The Moon of the Battlefield marked a turning point in its development. The Japanese troupe is dedicated to left-wing activism and sees performance as a kind of combat, and often took temporary control of society's marginal spaces as a stage from which to voice its social criticism.
Since then, Assignment has performed in marginalized spaces such as Huashan and Treasure Hill (寶藏巖). Chung developed the troupe's style to create a mix of social realism and magic realism, which he hopes can appeal to a wide audience.
Recent Assignment Theater performances have addressed topics such as the Iraq war and Taiwan's migrant history.
It is no surprise to learn that The Corruption Opera has drawn inspiration from Bertolt Brecht's The Threepenny Opera. It makes use of Brecht's alienation techniques, and challenges the audience by directly addressing them and makes use of incongruous songs and dance numbers designed to sustain an intellectual distance and force the viewer to make their own reflections on social reality.
Chung remains embroiled in people's theater, and believes the outlook is hopeful. "Ten years ago, it was even harder to have a theater like ours, because cultural activities were deemed to be appendages of social movements. But now the day of street protests is over and social activists turn to culture as a new source of strength," said Chung.
Publication Notes
Performance notes:
What: The Corruption Opera(敗金歌劇)Where: Huashan Cultural Park (華山文化園區), 1 Bade Rd Sec 1, Taipei (台北市八德路一段1號). When: Tonight through Sunday at 7:30pm
Ticket: NT$400 at the door or available through NTCH ticketingON THE NET: www.crossborder.org.tw/assign
Comments will be moderated. Keep comments relevant to the article. Remarks containing abusive and obscene language, personal attacks of any kind or promotion will be removed and the user banned. Final decision will be at the discretion of the Taipei Times.