Live fast, die young. Fast and live longer
Calorie-restricted diets have been shown to extend animals' life spans. Could the same be true for humans?
How depressing, how utterly unjust, to be the one in your social circle who is aging least gracefully.
In a laboratory at the Wisconsin National Primate Research Center, Matthias is learning about time's caprice the hard way. At 28, getting on for a rhesus monkey, Matthias is losing his hair, lugging a paunch and getting a face full of wrinkles.
Yet in the cage next to his, gleefully hooting at strangers, one of Matthias' lab mates, Rudy, is the picture of monkey vitality, although he is slightly older. Thin and feisty, Rudy stops grooming his smooth coat just long enough to pirouette toward a proffered piece of fruit.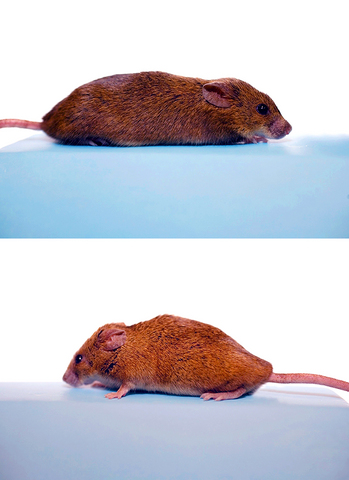 In a longevity study at Southern Illinois University, the top mouse was fed a calorie-restricted diet, and the one below a normal diet. Both are 28 months old.
PHOTOS: NY TIMES NEWS SERVICE
Tempted with the same treat, Matthias rises wearily and extends a frail hand. "You can really see the difference," said Ricki Colman, an associate scientist at the center who cares for the animals.
What a visitor cannot see may be even more interesting. As a result of a simple lifestyle intervention, Rudy and primates like him seem poised to live very long, very vital lives.
This approach, called calorie restriction, involves eating about 30 percent fewer calories than normal while still getting adequate amounts of vitamins, minerals and other nutrients. Aside from direct genetic manipulation, calorie restriction is the only strategy known to extend life consistently in a variety of animal species.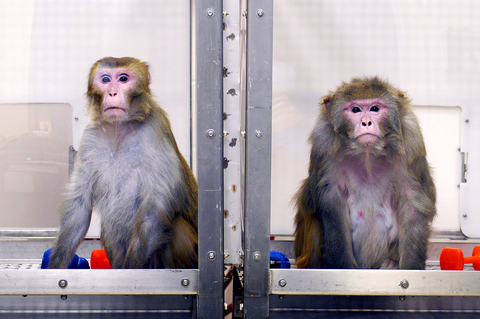 Canto, left, and Owen, two rhesus monkeys. Canto, on a calorie-restricted diet, is aging fairly well. Owen, who is fed a normal diet, is frail and moves slowly.
How this drastic diet affects the body has been the subject of intense research. Recently, the effort has begun to bear fruit, producing a steady stream of studies indicating that the rate of aging is plastic, not fixed, and that it can be manipulated.
In the last year, calorie-restricted diets have been shown in various animals to affect molecular pathways likely to be involved in the progression of Alzheimer's disease, diabetes, heart disease, Parkinson's disease and cancer. Earlier this year, researchers studying dietary effects on humans went so far as to claim that calorie restriction may be more effective than exercise at preventing age-related diseases.
Monkeys like Rudy seem to be proving the thesis.

A mutant roundworm that lives six times as long as a normal worm.
The findings cast doubt on long-held scientific and cultural beliefs regarding the inevitability of the body's decline.
"Calorie restriction has the potential to help us identify anti-aging mechanisms throughout the body," said Richard Weindruch, a gerontologist at the University of Wisconsin who directs research on the monkeys.
Aging is a complicated phenomenon, the intersection of an array of biological processes set in motion by genetics, lifestyle, even evolution itself.
Still, in laboratories around the world, scientists are becoming adept at breeding animal Methuselahs, extraordinarily long lived and healthy worms, fish, mice and flies.
In 1935, Clive McCay, a nutritionist at Cornell University, discovered that mice that were fed 30 percent fewer calories lived about 40 percent longer than their free-grazing laboratory mates. The dieting mice were also more physically active and far less prone to the diseases of advanced age.
McCay's experiment has been successfully duplicated in a variety of species. In almost every instance, the subjects on low-calorie diets have proven to be not just longer lived, but also more resistant to age-related ailments.
"In mice, calorie restriction doesn't just extend life span," said Leonard Guarente, professor of biology at the Massachusetts Institute of Technology. "It mitigates many diseases of aging: cancer, cardiovascular disease, neurodegenerative disease. The gain is just enormous."
For years, scientists financed by the National Institute on Aging have closely monitored rhesus monkeys on restricted and normal-calorie diets. At the University of Wisconsin, where 50 animals survive from the original group of 76, the differences are just now becoming apparent in the older animals.
Those on normal diets, like Matthias, are beginning to show signs of advancing age similar to those seen in humans. Three of them, for instance, have developed diabetes, and a fourth has died of the disease. Five have died of cancer.
But Rudy and his colleagues on low-calorie meal plans are faring better. None have diabetes, and only three have died of cancer. It is too early to know if they will outlive their lab mates, but the dieters here and at the other labs also have lower blood pressure and lower blood levels of certain dangerous fats, glucose and insulin.
"The preliminary indicators are that we're looking at a robust life extension in the restricted animals," Weindruch said.
Mike Linksvayer, a 36-year-old chief technology officer at a San Francisco nonprofit group, embarked on a calorie-restricted diet six years ago. On an average day, he eats an apple or some cereal for breakfast, followed by a small vegan dish at lunch. Dinner is whatever his wife has cooked, excluding bread, rice, sugar and whatever else Linksvayer deems unhealthy (this often includes the entree). On weekends, he occasionally fasts.
Linksvayer, 182cm and 61kg, estimated that he gets by on about 2,000 to 2,100 calories a day, a low number for men of his age and activity level, and his blood pressure is a remarkably low 112 over 63. He said he has never been in better health.
"I don't really get sick," he said. "Mostly I do the diet to be healthier, but if it helps me live longer, hey, I'll take that, too."
Researchers at Washington University in St. Louis have been tracking the health of small groups of calorie-restricted dieters. Earlier this year, they reported that the dieters had better-functioning hearts and fewer signs of inflammation, which is a precursor to clogged arteries, than similar subjects on regular diets.
In previous studies, people in calorie-restricted groups were shown to have lower levels of LDL, the so-called bad cholesterol, and triglycerides. They also showed higher levels of HDL, the so-called good cholesterol, virtually no arterial blockage and, like Linksvayer, remarkably low blood pressure.
These studies and others have led many scientists to believe they have stumbled onto a central determinant of natural life span. Animals on restricted diets seem particularly resistant to environmental stresses like oxidation and heat, perhaps even radiation. "It is a very deep, very important function," Miller said. Experts theorize that limited access to energy alarms the body, so to speak, activating a cascade of biochemical signals that tell each cell to direct energy away from reproductive functions, toward repair and maintenance. The calorie-restricted organism is stronger, according to this hypothesis, because individual cells are more efficiently repairing mutations, using energy, defending themselves and mopping up harmful by-products like free radicals.
Some ethicists believe that the all-out determination to extend life span is veined with arrogance. As appointments with death are postponed, says Leon Kass, former chairman of the President's Council on Bioethics, human lives may become less engaging, less meaningful, even less beautiful.
"Mortality makes life matter," Kass recently wrote. "Immortality is a kind of oblivion — like death itself."
Comments will be moderated. Keep comments relevant to the article. Remarks containing abusive and obscene language, personal attacks of any kind or promotion will be removed and the user banned. Final decision will be at the discretion of the Taipei Times.