Time to take a forest shower
A short trip from Taipei lies a dream park for twitchers and ramblers
Living in Taipei it's easy to forget there's countryside outside the city with mountain ranges and parks that are among the most beautiful in the world. So why not swap the smog for a forest shower this coming weekend?
Nantou County's Xitou Forest Park (溪頭森林遊樂區) is a straightforward three-hour drive from the capital and a fine example of the benefits that preservation of the natural environment can bring.
The park includes the "experimental forest" established 105 years ago by Tokyo Imperial University and administered since 1950 by National Taiwan University to test conservation and land use methods.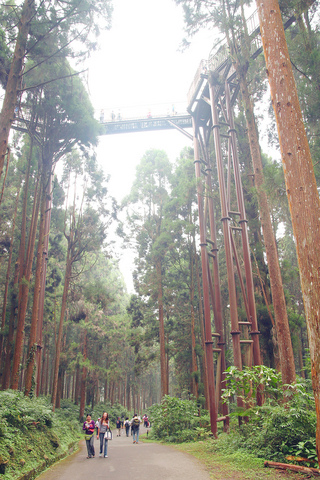 A view of the skywalk through the tree canopy in Xitou Forest Park, Nantou County.
PHOTOS: JULES QUARTLY, TAIPEI TIMES
It covers approximately 32,781 hectares, ranging in elevation from 220m by Choshui River to 3,952m on the summit of Mount Morrison. It encompasses four climatic zones — tropical, subtropical, temperate and boreal.
As such, the park is incredibly diverse in terms of its flora and though you won't see much fauna except birds there is plenty to do. Most visitors take walks ranging in length from 4.6km to 20km, depending on fitness and time.
It's advisable to arrive early so you can enjoy the hike and get back to your car before it's dark. Near the University Building entrance there is a "shopping street" selling souvenirs and provisions for the journey ahead.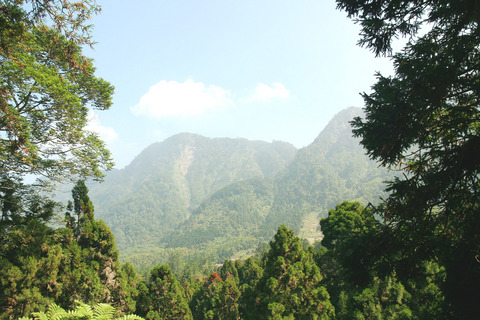 The scenic paradise of Xitou Forest Park, Nantou County.
A map comes with the price of entry so you can plot your own route. Trails are well marked and there's not much chance of getting lost unless you stray off the beaten track, which is not advised.
Typically you will set off with dozens of other visitors, but as you get further into the park there will be fewer people. Most take the main path to Riverside Park. It looks like a cross between Switzerland and Holland, with its blooming gardens and a faux windmill.
Further up is the landmark University Pond, which has a wooden bridge stretching across the water and sways when you walk over. This is a popular place for painters to hang out and you can also enjoy coffee and snacks at a nearby pavilion.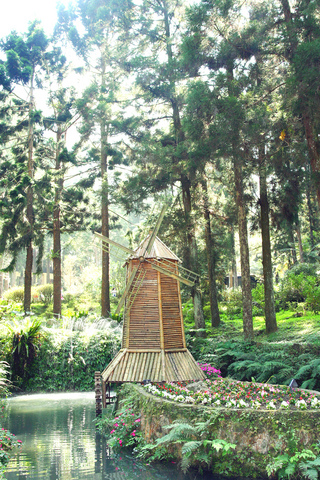 The scenic paradise of Xitou Forest Park, Nantou County.
Afterward there is a 3km ascent through heavily wooded areas where the benefits of a forest shower will be felt. Though disputed, forests and waterfalls are said to generate negatively charged particles of air that are claimed to accelerate cellular metabolism, clean the blood, relieve fatigue and increase the appetite.
There are plenty of "vitamins in the air" — as these anions are sometimes called — if you take the skywalk, which is a spectacular construction of giant metal pillars supporting a bridge that takes you through a section of the forest canopy.
It's a unique experience and great for a bird's eye view of the forest, but it's not suitable for young kids or those who fear heights.
A little further along the trail is a giant rock that fell off the mountain during the 921 earthquake, in 1999. Nantou County was hardest hit by the temblor and the boulder is a reminder of nature's power.
After this there is a near-6km hike to the Astronomical Observatory, which passes by the divine tree (神木), a giant cypress that is said to be over 1,000 years old.
At the top of the trail is a bird-watching area. Xitou Forest Park is a popular destination for twitchers, who will be able to log up to 108 species of birds. Though there are plenty of mammals in the park, ranging from Formosan black bears to leopard cats and pangolins, you will be fortunate to see them as they generally avoid tourists.
Nevertheless there are 105 kinds of butterflies, which aren't so shy, plenty of amphibians and of course reptiles, including tree lizards and snakes. So take care because some of them, such as the hundred-pace viper, are deadly.
The walk back is a little easier, since it's mostly downhill, and takes in the gingko plantation and a few bridges. An alternative trail passes Third Gully Debris Park, which is full of boulders, and the nearby bamboo and conifer arboretums.
There are guesthouses in the park which cost around NT$4,000 for two at the weekend. This includes entry as well as parking. Call (04) 9261-2588 for further details and to book. There are also various restaurants on site.
Entrance to the park is NT$200 and there are concessions for youngsters, pensioners and students. It opens at 7am and closes at 10pm. Call (04) 9261-2106 or check out www.exfo.ntu.edu.tw for more information.
To get to Xitou in central Taiwan, take National Highway Number 1 from either Taipei or Kaohsiung. Provincial Road 3 will take you into the mountains and onto Country Road 151, which goes to Luku (鹿谷) and eventually Xitou.
Comments will be moderated. Keep comments relevant to the article. Remarks containing abusive and obscene language, personal attacks of any kind or promotion will be removed and the user banned. Final decision will be at the discretion of the Taipei Times.