The many faces of a nobody
Peter Sellers is regarded as one of the great comic geniuses of our time; he attributed his success to having no personality of his own
Peter Sellers once famously declared that behind the many masks he wore, there was once a real person, but that he had had it surgically removed. The ultimate role-player, the mercurial Sellers danced on a razor's edge of a fantasy world of his own creation. Real people, who he could charm with his wit, would suddenly find themselves the subjects of the most vicious abuse.
The 2004 HBO and BBC collaboration based on the Roger Lewis book The Life and Death of Peter Sellers looks at the manic personality that lay behind the comic genius. It sports a stellar cast, and is a chance for Geoffrey Rush to put on a bravura performance, not only as Sellers, but also as Seller's mother Peg, his wife Anne, and even as Stanley Kubrick, who directed him in the classic Doctor Strangelove. This reference to Sellers' own multiple roles is one of many devices that the film successfully uses to convey the shifting sands upon which the Sellers image was built.
The Life and Death of Peter Sellers moves in and out of Sellers' fantasy world. Rush morphing into the characters around him show is a way of exploring how Sellers could manipulate the world around him to suit his fantasies. Another scene shows him voicing over documentary footage to make the past more to his liking. These devices also serve as a counterpoint to the meticulous, almost manic way in which Sellers worked himself into a role. A sequence showing Sellers exploring how he would perform Inspector Clouseau while on a commercial flight, causing utter confusion to the stewardess, is almost more hilarious that the original scene in the Pink Panther.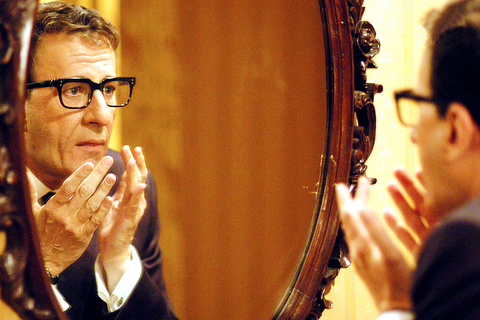 Geoffrey Rush takes on a multitude of roles in The Life and Death of Peter Sellers, including the late comedian's mother, wife and Stanley Kubrick.
PHOTO COURTESY OF HBO
Director Stephen Hopkins pulls no punches in revealing the dark side of this comic genius, and finds most of the fault lies with Sellers' mother, brilliantly portrayed by Miriam Margolyes, at turns suffocatingly affectionate and heartlessly pushy. She gets her comeuppance, as the film tells it, when Sellers refuses to leave the film set for her deathbed, stating, in her persona, that "stars cannot afford tears."
Rush does a splendid job in creating a sense of the intense emotional insecurity of Sellers, and his relationship with his first wife Anne (Emily Watson) and subsequently with Britt Eckland (Charlize Theron), are splendidly nuanced, always alive with the sense of fear and inadequacy that he felt about himself and his talents. The enormous price that he paid for his success, which to all intense and purposes cost him his sanity, is ever present. Despite the lavish houses, fast cars and fame of his later years, the terrible pathos of not knowing who you are never diminishes.
Redemption is found in the making of the film Being There, arguably his greatest achievement. It is seen as the great revelation for Sellers, who sees the novel as an articulation of his understanding of his personality and its deficiencies. While the making of the Pink Panther and its sequels are shown to be the result of a desire for fame and money, this was something that Sellers actively sought to make. Sellers was making his own salvation. It ties up the story nicely, giving the film, which is so full of the chaos that Sellers made of life, a clear, defined shape.
The Life and Death of Peter Sellers is interesting from a number of perspectives. It provides some lovely details of Hollywood history, is a subtle psychological study, is interesting in the methodology of its presentation, has a soundtrack wonderfully evocative of the era and has much fine acting. It won a slew of awards after it was released, including two Golden Globes for Best Motion Picture Made for Television and also Best Performance for Rush. It is only a pity that we have had to wait so long before it has been brought out in Asia.
Publication Notes
Film Notes:
The Life and Death of Peter Sellers
Director: Stephen Hopkins
Staring: Geoffrey Rush (Peter Sellers), Charlize Theron (Britt Ekland), Emily Watson (Anne Sellers), John Lithgow (Blake Edwards), Miriam Margolyes (Peg Sellers), Peter Vaughan (Bill Sellers), Sonia Aquino (Sophia Loren), Stanley Tucci (Stanley Kubrick), Stephen Fry (Maurice Woodruff)
Running Time: 122 minutes
HBO Asia Premiere: Tonight at 10pm on HBO
Comments will be moderated. Keep comments relevant to the article. Remarks containing abusive and obscene language, personal attacks of any kind or promotion will be removed and the user banned. Final decision will be at the discretion of the Taipei Times.