For Chang Shih-tsung, education is child's play
Education in Taiwan often involves cramming children full of as much information as possible, but there may be a revolution in the offing, one fueled by fun
Chang Shih-tsung's (張世宗) pupils stand in a circle, lock hands with the students opposite them and weave under their classmates' outstretched arms, forming a human knot. "Come on, you can do it," says Chang, as he urges his 18 giggling students into ever more difficult contortions. "I can't hold on," one screams. "I'm losing my grip," squeals another, as her classmates bend and stretch to let her circle between them. Then someone lets go, another trips, and the knot disintegrates, sending the group spiraling to the ground in a chorus of helpless laughter. Just like little children.
This is not your average class for teachers seeking a graduate degree in education, but then Chang — an energetic 55-year-old who favors sandals and rounded glasses, likes figure skating and always wears two belt-packs — isn't your average professor. While many university instructors see summer school as a chance to lecture for easy money, Chang works hard to teach his students how to make toys and games themselves from whatever's readily available: plastic straws and paper clips, toilet paper, even their own bodies. This isn't just because Chang likes toys — he owns thousands — or because he likes to play — it's what he does for a living. It's because Chang, who originally studied architecture so he could build a children's museum, is trying to change the way Taiwanese students are educated.
"Educators have forgotten that children learn in different ways," Chang said in a recent interview. "When children are passive they are being taught, when they are active they are playing. The purpose of meaningful play is self-motivated learning."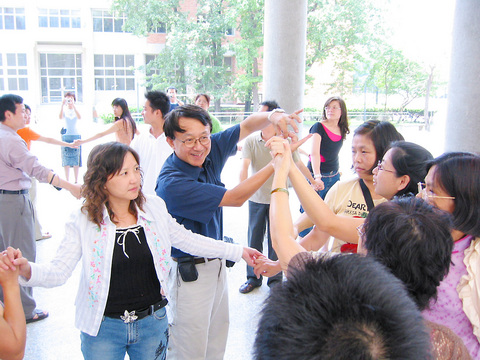 Students in Chang Shih-tsung's graduate education class at National Taipei Education University form a human knot, as part of a class that teaches them how to create their own toys and games. Chang believes that play, which he calls ?ctive learning,?is key to reforming Taiwan's educational system.
PHOTOS: LIAO CHEN-HUEI, TAIPEI TIMES
There is an urgent need for education reform in Taiwan, said Ni Ming-hsiang (倪鳴香), a professor at National Chengchi University's Graduate Institute of Early Childhood Education, who met Chang in 1989 when she was the director of a progressive kindergarten. Students are being robbed of their childhood by a system that emphasizes raw academic performance. Teachers and students are under intense pressure to cram as much information as possible, while other aspects of education, such as personality and character development, are ignored.
Chang is creating an educational environment that children can enjoy themselves in, a rarity in Taiwan, she said. "He's combining pleasure and fun with analysis and learning in a systematic way. And he's training other teachers to do this."
But reforming the educational system isn't just about helping children lead happier lives; it's also essential for Taiwan's economic development. To this end, Chang is working to change the system's focus from passive to active learning, said Wang Ding-ming (王鼎銘), chair of the Institute of E-learning at National Hsinchu University of Education, who collaborates with Chang as a researcher in digital learning technology.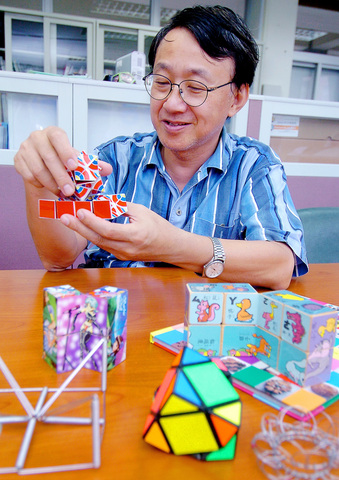 Chang Shih-tsung, chair of the Graduate School of Toy and Game Design at National Taipei Education University, has been collecting traditional toys and games since high school. "I'm not promoting traditional toys. I'm promoting the toy-making tradition. You make, you play," he said. Inset: Some of the toys made by Chang.
PHOTO: LIAO CHEN-HUEI, TAIPEI TIMES
"Taiwan is very strong in the manufacturing department, which needs very disciplined people, so our education system just trains people to be good at following the rules," Wang explained. "Now the trend has become design-oriented, so we need a lot of people who … have the imagination and the creativity to make something new."
At the core of Chang's imagination is his childlike fascination with traditional toys and games, like the repeat-firing rubber band gun he keeps in his office at the National Taipei University of Education. The man who has been called "The Big Child" and "The Pied Piper of Taiwan" now heads the university's Graduate School of Toy and Game Design. The rubber band gun's design is reminiscent of a crossbow from China's Three Kingdoms period. Taiwanese children born before the age of television and mass-produced toys made it from old chopsticks.
Similar objects fill drawers and crannies in Chang's office, which seems as much a playpen as it does a workplace. Lanterns made from drinking straws and an origami crane share space with books with titles like Living by Design, Plastic Kinetic Art and The Mathematics of Games. "This is a flexible cube," he says, producing a colorful box that opens to reveal another box of the same size. Chang unfolds the cubes and manipulates them into different shapes, before collapsing them back together. "This cultural toy teaches the concept of yin and yang," he says. "It teaches lateral thinking. There's an active balance. …" Chang loses the thought and produces a coin, which vanishes behind his ear, before he pulls it out of his mouth. He then makes his finger disappear. "I learned this when I was playing with children in a village … ."
If you didn't meet Chang in an academic setting, you might think he needed treatment for attention deficit disorder.
After studying architecture at Chung Yuan Christian University in Chungli, he moved to New York to study for a master's degree in the same subject at Pratt University. He then realized that planning and content were more important for a children's museum than the actual design, so he continued his studies at Columbia University, where he earned a master's in education media and a doctorate in education.
Speech is too clumsy a tool to keep up with Chang's thoughts. While explaining why it's important that children play with traditional toys and make toys for themselves, his conversation wanders from his rubber band gun to origami — there's a paper crane on his desk — to the children's museum he wants to build, then to a story a mother tells her child with the aid of a newspaper. As he tells the story, Chang folds a piece of newspaper into different hats — a fireman's hat, Robin Hood's cap, a Mexican sombrero — before ripping a hole in the paper and pulling it on like a vest.
"He's very hyper," said Shari Shang (尚孝純), who met Chang while she was a graduate student in New York. "But we have no problem following what he's saying" because "he's very passionate about what he's doing. He's very honest and has a pure heart."
Fragments of Chang's theories emerge as he plays with his toys: Schools educate children using words and pictures, but children use all of their senses to learn. "A child's first response to something new is often to put that object into his mouth," he notes. Children use all of their senses when they play, and Chang has found that learning through play can make a child want to continue learning about something through a more formal course of study.
Traditional toys are important because children make them for themselves. "I'm not promoting traditional toys. I'm promoting the toy-making tradition. You make, you play," he explains. "These days, people don't have many things to be proud of, because they don't make things for themselves. When I make something by myself, it's the one and only. I feel a sense of self-confidence. I feel I'm somebody. A child motivated by this feeling may not become a paper-folding technician or an engineer, but he's motivated … . That motivation can last a lifetime."
Chang believes that encouraging students to play and manipulate objects and information is key to reforming Taiwan's educational system for the Information Age. Under the current system, children are passive recipients of information. "But knowledge is not power anymore," he says. "Only people who can screen useful data from useless data, who can combine bits of data into meaningful information, only these people will be the winners."
Of course, play is also fun. And Chang, the fifth son in a family of eight, has never stopped playing. As a young man he was shy around people his own age and preferred the company of children. In his third year of architectural school at Chung Yuan Christian University, a classmate asked why Chang had never spoken to any of the three women in the program. The reason was that Chang spent all his free time playing with children at the local elementary school or traveling to remote villages to play with children there. "We worried he would never get married," Shang said. But 10 years ago Chang found someone who loved children as much as he does — a kindergarten teacher. They now have three children.
In the villages, where he was known as "Big Brother," Chang would perform magic tricks, record and screen movies, and teach children how to make their own toys. "From there, I could teach them whatever they wanted to learn, whether it was mathematics or science," he recalls.
One of those children, Chang Li-fun (張麗芬), now 37, sounds like a child when asked about "Brother Chang." Her parents were living abroad at the time, and when Chang found out he took a special interest in her and her siblings, taking them on trips to Taipei, treating them to their first steak dinner, and showing them how to make toys and games out of random objects, such as blades of grass.
She recently took him to a family reunion. When the family gathered for dinner the children refused to eat because they wanted to play with Chang. "He has the heart of a child," Chang Li-fun says. "He hasn't been corrupted by the world."
Chang, who says he's befriended thousands of children, realized at an early age that small acts of kindness could have a big impact on children. In grade school he was asked to participate in a painting competition in what is now Taipei's 228 Memorial Park. After the competition he ran into an artist who asked him to pose for a free sketch. "The whole day I was happy," Chang recalls. "He gave me something without asking anything in return." The experience is at the root of Chang's philosophy: "They gain, I gain too."
You would need an entire book to list Chang's accomplishments, which range from museum exhibitions on toy and game design in Europe, the US and Asia, to the creation three years ago of his university's Graduate School of Toy and Game Design. He still wants to build a children's museum, a mobile museum based on his doctoral dissertation that could deliver what he calls an "edutainment learning experience" to remote areas. He's currently in discussions with the Hsin-yi Foundation's (信誼基金會) Early Childhood Educational Research Center, which may provide funding for the project.
He has followed his calling, and is now seeing recognition for his pioneering efforts.
"Before my college classmates would laugh at me and ask why I wasted my time playing with kids while they were earning lots of money in architecture and real estate," he says. "Now they envy me because I play."
Chang's Web site can be found at www.artofplay.net
Comments will be moderated. Keep comments relevant to the article. Remarks containing abusive and obscene language, personal attacks of any kind or promotion will be removed and the user banned. Final decision will be at the discretion of the Taipei Times.