Bump, grind and cha-cha-cha
Antonio Banderas turns unruly high schoolers into dancers in 'Take the Lead' and mixes up a few genres along the way
A successful dance film need not abide by the rules of commercial moviemaking as long as it delivers the coup de grace. The transformation of a gawky duckling into a swan who glides you out of the theater on a cloud of vicarious grace can excuse myriad faults. When a dedicated magician transforms an entire duck pond into Swan Lake, as Antonio Banderas does in Take the Lead, shouldn't that magic multiply exponentially?
Not necessarily.
Banderas plays Pierre Dulaine, a European ballroom dancer who not only turns a group of unruly detention students at a South Bronx high school into budding Astaires and Charisses but also gives them lessons in self-mastery, self-restraint and, as the song from Camelot puts it, How to Handle a Woman. In real life, Dulaine was a prime mover behind the movement, celebrated in the hit documentary Mad Hot Ballroom, to bring ballroom dancing to New York City public schools.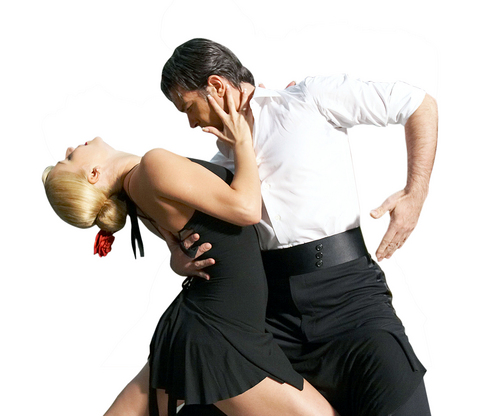 The crucial difference between this terpsichorean pop fairy tale and its dozens of screen predecessors is that Take the Lead goes out of its way to put hip-hop culture on an equal artistic footing with traditional pop music and dance. Athletic, beat-charged dancing, it insists, is as challenging as the tango, rumba, fox trot, merengue and waltz. It assumes the same equality between hip-hop music and the kind of pop-jazz embodied in the movie by Lena Horne singing I Got Rhythm. (It's directed by Liz Friedlander, who comes from the world of music video.)
Because it is anti-elitist and anti-snob, Take the Lead should touch a chord among urban teenagers for whom even a popular television show like Dancing With the Stars is old folks' stuff. Shrewdly timed, it fictionalizes the world of Mad Hot Ballroom and eroticizes it by raising the dancers' ages from 10 and 11 to high school age. Banderas, with Valentino eyes and gleaming jet-black hair, suggests a mythically idealized younger version of Dulaine, and the movie's one genuinely thrilling dance sequence shows him (and a svelte blond partner) wowing his students with a tango exhibition as steamy as any music-video bump-and-grind.
But Take the Lead, despite its nifty concept and fiery leading man, feels sloppy and rushed. Dianne Houston's screenplay crams together so many sketchy subplots that none has time to build to a satisfying payoff; the most care is devoted to the romance of LaRhette (Yaya DaCosta) and Rock (Rob Brown), teenagers from dysfunctional
families on opposite sides of a gang war. Their self-esteem
develops with their ballroom skills, and their hostility melts into a trusting partnership.
Variations of the usual stock characters are all in place. In one subplot, an overweight South Bronx teenager ends up squiring a rich plain Jane to her cotillion, where the interracial duo's sudden appearance shocks the girl's monstrously snooty mother. Alfred Woodard plays the hard-bitten high school principal who reluctantly agrees to let Pierre teach dance in her school and is gradually won over to the cause. Cliches all.
Take the Lead is very disappointing in other crucial respects. By the end of the movie, the teacher should have stopped outshining his students. Even LaRhette, for whom the world disappears in one dreamy dance floor moment, never reaches full swan status. One reason she doesn't is that the movie refuses to relax and let itself float into dreamland. The lack of an (I've Had) The Time of My Life moment (Dirty Dancing) or a How Deep Is Your Love? moment (Saturday Night Fever) leaves a big hole in the film.
On a conceptual level, Take the Lead fails to realize its most ambitious goal: to show that hip hop and traditional pop-jazz can be fused in a musical double-
exposure. The overlaying of two genres ultimately makes for cluttered, confusing production numbers that add up to less than the sum of their parts.
Publication Notes
Flim Notes
Take the Lead
Directed by: Liz Friedlander
Starring: Antonio Banderas (Pierre Dulaine), Rob Brown (Rock), Yaya Dacosta (Larhette), Dante Basco (Ramos), John Ortiz (Mr. Temple). Laura Benanti (Tina), Marcus Paulk (Eddie)
Running Time: 108 minutes
Taiwan release: Today
Comments will be moderated. Keep comments relevant to the article. Remarks containing abusive and obscene language, personal attacks of any kind or promotion will be removed and the user banned. Final decision will be at the discretion of the Taipei Times.