Restaurant: Sit-Fun Shih Tang 喫飯食堂
Address: 5, Lane 8, Yong Kang Street, Taipei (台北市永康街8巷5號)
Telephone: (02) 2322 2632
Open: Everyday from 11:30am to 2pm and 5pm to 9pm
Average meal: NT$300
Details: No English or Chinese menu. Credit cards not accepted. No service charge
Yong Kang Street in Daan District (大安區) is an amazingly fun place, where many Taiwanese intellectuals like to hang out and enjoy a decent meal. The Sit-Fun Shih Tang, hidden in a small lane off the main street, features Taiwanese food, but has been made over to appeal to health-conscious patrons.
Every weekend, long queues form outside the restaurant but few customers seem to mind. The fare is popular with Japanese visitors.
The restaurant's secret, according to owner Lu Wen-yung(呂文勇), lies in the fact that it offers lighter versions of Taiwanese delicacies. Comparatively less sugar, salt and oil is used in cooking this Taiwanese cuisine than is the case with more traditional restaurants.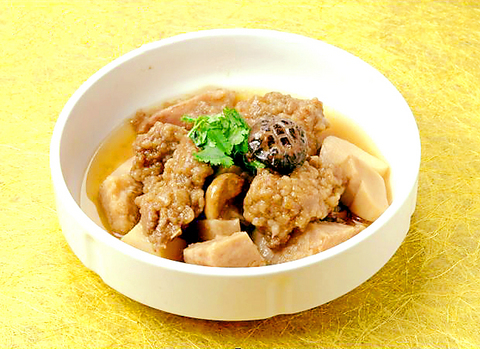 Steamed spare-ribs with taro is a knock-out at Sit-Fun Shih Tang.
PHOTO COURTESY OF SITFUN SHIH TANG
Lu has been in the restaurant business for over 20 years. Every morning at 6am, he shops at a local market for the day's supplies. He likes to stock ingredients in his kitchen that are fresh and seasonal, which is why no menu is on offer, as the dishes often change. Moreover, Lu never uses imported vegetables or meat from China, so as to minimize the risk of using poor ingredients.
The restaurant, decorated with a Japanese colonial flavor, counts many big-name stars, singers, TV talk-show hosts, writers and politicians as its regular customers. Former premier Yu Shyi-kun has asked Lu to cater at the premier's nearby residence quite a few times.
A typical Taiwanese dish, steamed spare-ribs with taro(芋頭排骨), was a favorite at the ex-premier's dinner parties. Lu picks ribs with soft bones and Dajia (大甲) taro, which is famous for having a crisp texture on the outside but has a chewy center. After being coated with flour, corn starch and other seasonings the ribs are fried.
Lu prefers his restaurant to stay quieter than other Taiwanese restaurants. So he rejects the idea of selling alcoholic beverages, except beer. Even so, he asks beer drinkers not to be too noisy. At a time when the streets of Taipei are flooded with Hong Kong-style dim-sum delicacies and Italian pasta restaurants, Lu feels very lucky that his restaurant can stand out among others and claim "a place in the sun" for Taiwanese cuisine.
Comments will be moderated. Keep comments relevant to the article. Remarks containing abusive and obscene language, personal attacks of any kind or promotion will be removed and the user banned. Final decision will be at the discretion of the Taipei Times.