South Korea's authoritarian past is withering away
Despite democratization, Seungsook Moon claims the effects of South Korea's painful transformation after World War II are still being felt today
Militarized Modernity and Gendered Citizenship in South Korea -- what a title! The subject matter is relatively simple when you separate it out, however, which is not to say the book itself is easy reading.
What it sets out to show is how the post-Korean War state on the south of the peninsula established itself as modern, that is to say industrialized, and at the same time became a bulwark against Communism. This involved the maintenance of strong military forces and the suppression of a large number of human rights.
In the process the expected roles of men and of women became polarized. Men were encouraged, some would say forced, to be dominating, overbearing, "courageous" and frequently disdainful of the other sex. Once out of the forces, they were told they were Nature's breadwinners. Women, on the other hand, were taught to be docile and family-centered, even though various campaigns to encourage birth-control also characterized the post-war era.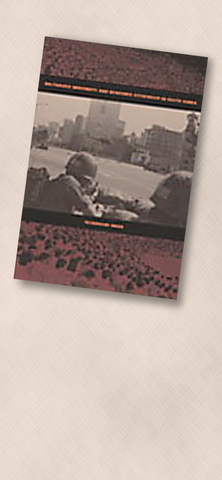 Militarized Modernity and Gendered Citizenship in South Korea By Seungsook Moon 253 pages Duke University Press
This period following the end of the Korean War in 1953 was also a time of cruel authoritarian repression in South Korean society. Protesters were fired on and suspected Communist-sympathizers trailed and sometimes disposed of. But a period of democratization and freeing-up followed. The continuing effects of the earlier repressive style of government is one of the things examined by Seungsook Moon, an Associate professor at the US' prestigious Vassar College.
What is exceptionally interesting for readers in Taiwan is how closely Taiwanese conditions, in our case from 1949 to 1987, mirrored those of South Korea, but how extravagantly different the two societies are today. Indeed, one of the most extraordinary features of the modern history of East Asia is how quickly and apparently easily Taiwan shook off the vestiges of authoritarian rule and became, almost overnight, a flourishing libertarian democracy. South Korea is also now a democracy, but if this book is to be believed conditions there remain rather different from those in Taiwan.
The first thing that will strike someone picking up this book may well be the photos. One of these, for instance, shows 10 male figures face downwards on the ground, with their hands tied behind their backs, supporting themselves on the tips of their toes and the crown of their skulls. The caption reads, "Military-style punishment on a college campus, 1995." A college campus? In 1995? That anything remotely similar could have happened in Taiwan at that date is laughable.
Other pictures show "military confrontation between riot police and unionized workers of Daewoo Automobile Co, 2001" where there are approximately the same number of military as there are workers in the photo, one side pushing against a steel barrier, the other resisting. Another shows "the first Women Workers Festival in Seoul, 1988," with six women standing on what looks like the stage of a smallish school. Just imagine the gaudy display that would have attended any such gathering in Taiwan, even at that date!
This is an academic book and as such unlikely to be read by even quite enthusiastic Korea-watchers. It is not addressed to them, however, but to the author's fellow-academics interested in refining such concepts of modernity and evolving gender-roles. Even so, there is much interesting material here if the reader has the patience to unearth it.
During the 1970s, for instance, long hair for men and short skirts for women were forbidden, and police went around with scissors and tape-measures, cutting the offending men's hair in public as a lesson to others. Middle-managers in the Hyundai factories were subjected to kicks to the knee by their superiors for perceived faults. Dissidents were subjected, in this author's words, to "extremely violent punishment" by intelligence agencies prior to 1987 (as significant a year for South Korea as it was for Taiwan). And author Hwang Sok-yong was sentenced to solitary confinement for five years for attending a conference in the North as recently as 1993.
Even so, the country has in the last decade experienced many of the developments seen in Taiwan. During that time South Korea, according to Seungsook Moon, has witnessed a decline in the kind of confrontational, anti-capitalist agitation provoked by former hard-line policies, and the growth of such things as legal organizations pursuing improvement in the quality of everyday life, and the education of the public in such things as rights for workers, women, rural farmers, migrant laborers and sexual minorities, and the pursuit of peace (and eventual reunification) on the peninsular, together with environmental protection and opposition to nuclear weapons.
It is probably taken for granted by most observers that one day North Korea will collapse and the Korean peninsula will be reunited, if only because the model of Germany is inevitably in everyone's mind. Things may not be that simple, however. China is not showing the signs of weakness that the Soviet Union did in the late 1980s, though it appears to be pioneering the resolution of the issue of North Korea's nuclear weapons, something that makes the North a potentially more belligerent hornet to deal with than East Germany ever was.
This book, however, does not concern itself primarily with such issues. Its interest is historical and sociological. It wants to demonstrate that there are more ways than one in which modernization can take place and gender consciousness be manipulated -- in South Korea's case as part of a military state that could on occasion massacre its citizens in a way that in Taiwan, whatever other abuses existed, didn't happen after February 1947.
Comments will be moderated. Keep comments relevant to the article. Remarks containing abusive and obscene language, personal attacks of any kind or promotion will be removed and the user banned. Final decision will be at the discretion of the Taipei Times.