Restaurant: CO2 Cafe Odeon opus II
Address: 11, Ln 86, Xinsheng S Rd, Sec 3, Taipei (台北市新生南路三段86巷11號)
Telephone: (02) 2362 1358
Open: 11am to 1am, 2am on weekends
Average meal: NT$400
Details: Menu in English and Chinese, credit cards accepted
Odeon means "house of song" in Greek and is thus a popular name for cultural venues and restaurants that want to give off a classy, artsy vibe. It's the name of a cinema chain in the UK, an events center in Saskatoon, Canada, a restaurant on New York's Broadway Avenue and a student district cafe in Taiwan.
Though the Cafe Odeon opus II (now known as CO2) on Xinsheng Road probably doesn't have much on the US$20 entrees at The Odeon on Broadway, it does a respectable job of creating a culture-friendly atmosphere. The theme for both the food and the decor is European, with an emphasis on Belgium. Picture albums on a bookshelf by the door chronicle owner Arvin Cheng's (鄭承偉) travels in Brussels, Paris, Barcelona and more.
The cafe's location in an alley across from National Taiwan University works well to heighten the sense of artsy academia CO2 strives for. Written in chalk on a blackboard sign by the door is an explanation of how Cheng chose the name Odeon: "Odeon is the name of a stop on the Paris subway in an area where the arts and humanities flourish ... we hope that Odeon can provide a similar cultural space."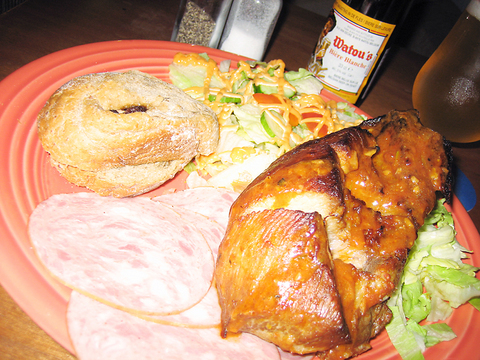 Slabs of meat and a lot of salad at CO2.
PHOTO: MEREDITH DODGE , TAIPEI TIMES
But CO2 is better known for providing a wide selection of Belgian beer, and that is not a bad thing. From the light to the dark to the positively fruity, CO2's beer fridge has what you're looking for. After walking around in the hot sun I decided to order a Watou's witbier (Flemish for "white beer") -- refreshing with a hint of jasmine.
The meal I ordered to go with it, a stack of pork ribs with beer wurst, wasn't exactly refreshing, but it certainly was replenishing. The salad was an unnecessarily large pile of lettuce and a few tomatoes criss-crossed with thousand-island dressing -- I only ate about a quarter of it. That's because I was thoroughly engaged with the hunk of meat sitting next to it.
The rib meat was tender and juicy and accompanied with an appropriate layer of tasty fat. Though the steak knife they gave me cut the meat easily off the bone, I worked up a sweat eating the ribs. Luckily I had saved some witbier to quench my thirst. I say luckily because the lame salad and the bone-dry raisin toast (they could have at least given me some butter) did nothing to counteract the ultra-heavy meatiness of the ribs. Overally, however, CO2 is a great place for a beer and a chat
with friends. Food is served till late.
Comments will be moderated. Keep comments relevant to the article. Remarks containing abusive and obscene language, personal attacks of any kind or promotion will be removed and the user banned. Final decision will be at the discretion of the Taipei Times.