Features Briefs
■ Olive oil good for headaches
A stroke of good luck has helped scientists explain one of the mysteries of the Mediterranean diet, a world-famous regime credited with promoting cardiac fitness and longer life. Olive oil, one of the diet's mainstays, contains a painkilling compound similar to an ingredient found in over-the-counter anti-inflammatories, they say. The compound has been found to inhibit cyclooxygenase (COX) enzymes, which play a key role in causing inflammation, they report in this week's issue of the British journal Nature. The widely-used painkiller ibuprofen has a similar pharmacological action. The discovery came accidentally, thanks to a trip to Italy by US-based biologist Gary Beauchamp, of the Monell Chemical Senses Center at the University of Pennsylvania.
■ La Tomatina revellers see red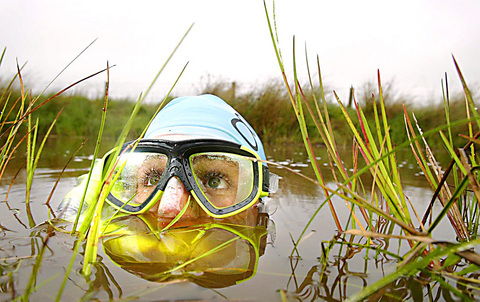 A bog snorkeler's point of view.
PHOTO: EPA
Some 40,000 people crowded into the southeastern Spanish town of Bunol this week to take part in its annual tomato fight. The event, La Tomatina, drew tourists from Asia, Australia, Britain and the US who helped themselves to ammunition from trucks parked in the main square loaded with 130 tonnes of the ripe fruit. Hostilities lasted an hour, leaving the streets running with juice and facades stained red before combatants headed to the river or municipal showers to clean up. The festival, held on the last Wednesday of August, has its origins in a battle between friends in the 1940s.
■ Soweto stages its first wine festival
Soweto, South Africa's most famous township staged its first ever wine festival this week, challenging racial perceptions and aiming to popularize the drink in a society more traditionally associated with beer, organizers said. For the first time ever, South African township residents had direct access to some of the country's finest vintages, including those produced by 12 black wine producers, said organizer Thami Xaba. "We want to change perceptions that only whites drink wine and what better place than have it in Soweto," Xaba said at the announcement of the festival.
■ Mayor plans skirt restrictions
A district mayor in Budapest has proposed a dress code for City Hall employees under which only women with "pretty legs" can wear short skirts, the Hungarian press reported this week. Gyorgy Mitnyan, the conservative mayor of the city's 12th district, is also seeking to ban skirts that are shorter than 2cm to 3cm above the knee. Under his proposal, both male and female employees would have to wear blazers or suits and leather shoes all year long.
■ Turkmenistan aims for heaven
The ex-Soviet Central Asian republic of Turkmenistan claims to have joined the ranks of the world's space powers by sending a container into Earth's orbit carrying a spiritual guide written by the country's idiosyncratic leader, newspapers reported. "The book that conquered the hearts of millions on Earth is now conquering space," said the official daily Neitralnyi Turkmenistan. President Saparmurat Niyazov's work Rukhnama was launched this week in a container aboard a Russian rocket that blasted off from Baikonur in Kazakhstan on a mission to place two Japanese research satellites into orbit.
■ Firefighter gets down and dirty
A firefighter burnt up the competition at the World Bog Snorkeling Championships this week in one of Britain's most bizarre sporting events. Iain Hawkes, 26, beat off the challenge of nearly 200 hardy souls who braved the driving rain and miserable cold at the 20th annual event in Llanwrtyd Wells, central Wales. Hawkes snorkeled through two lengths of the dirty 55m long trench cut through the murky Waen Rhydd peat bog, overcoming mud, weeds and creepy crawlies, egged on by a 300-strong crowd. After four years of trying, his one-minute, 46-second thrash through the stinking trench earned him the world title which he vowed to defend next year.
Comments will be moderated. Keep comments relevant to the article. Remarks containing abusive and obscene language, personal attacks of any kind or promotion will be removed and the user banned. Final decision will be at the discretion of the Taipei Times.