Art in the flesh
Interactive art takes on a whole new meaning this weekend, as Taipei hosts only its second ever Taiwanese Tattoo Convention, in the Xinyi district near the Warner Village complex, outside New York New York department store.
Activities start tomorrow around 10am with a break-dancing competition. During regular intervals in the competition, the crowd will be treated to a cat-walk show of tattooed models. Expect to see quality work by local artists and, in particular, full-body tattoos of Daoist mythological gods and demons perfectly sculpted around muscles that in their movements make legendary battles seem vividly alive. "Life is art," the adage goes and there can be no better way to express such an ideal and to celebrate the human form.
For the rest of the day, until 8pm, the buzz of the tattoo gun will fill the air as a team of a dozen tattoo masters will be offering their services to anyone who decides to get inked. The convention will undoubtedly draw a larger crowd on Sunday and proceedings are set to start at 10am again with a similar line up to the day before.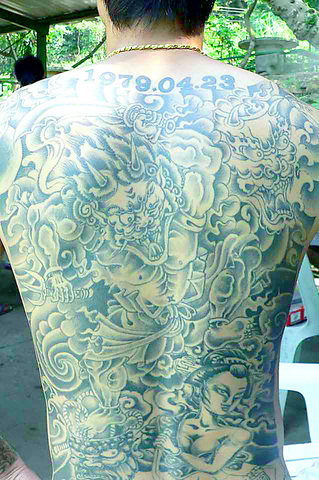 ``Life is art,'' they say.
PHOTO NICK WHEELER, TAIPEI TIMES
Since dynastic China, tattoos have been seen as the badge of criminal fraternities, so there is no surprise that in modern Taiwan, as in Japan, people with tattoos are still viewed in a negative light by a large segment of society. One of the principle organizers of the event Tsai Jong-da (蔡宗達) hopes to destroy such ingrained notions by showing that tattoos are the domain of anyone with an artistic temperament, not just those on the fringe of acceptability. This weekend he has helped to produce nothing less than a human museum of fantastical ink work designed to leave the public wondering how they could ever have appreciated a lifeless painting on canvas.
Two weeks ago in his studio, Tsai explained the importance of the quality of the inks used by tattooists. He uses either British or US products and, in the unlikely event that the colors should fade after only a few years, free touch-ups are provided. He then continued by saying a full back piece would cost a few hundred thousand NT$, as heavily shaded work demands a greater degree of attention and is extremely time consuming, not to mention energy draining for both customer and artist.
Books full of various images will be available at the convention for those unable to come up with an original design, but most people that choose to be tattooed spend time tailor-making something that is meaningful to them. All tattoo artists present will be more than happy to discuss ideas with the initiated and first-timer alike.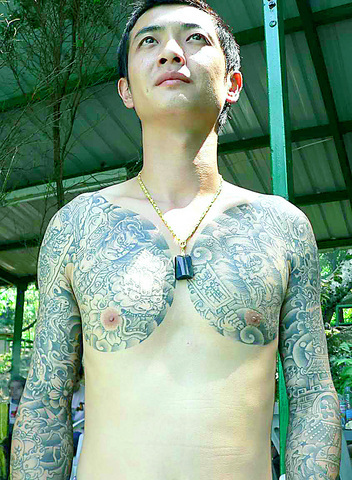 ?
Foreign tattoo enthusiast Andrew Braddock says, "If you are going to be marked forever, you have to think very seriously about something that represents you in a timeless sense." He also said that art should be as alive as possible and should always be fluid, ever-changing and never stagnant, just like the human body; hence he thought of tattooing as one of the highest forms of art. He concluded his interesting theory by drawing a comparison between tattooed people and martial artists: "Martial artists have overcome their emotions and their actions are solely based upon a philosophy. In much the same way, someone who wants to get tattooed has to overcome his emotions and, presuming he has chosen a design that reflects his own beliefs, must then live up to it."
There won't be another chance, at least not for another year, to see the transformation of the normal into the colorful and extraordinary with tattoo art.
Comments will be moderated. Keep comments relevant to the article. Remarks containing abusive and obscene language, personal attacks of any kind or promotion will be removed and the user banned. Final decision will be at the discretion of the Taipei Times.