'Taiwan Ware' instrumental in turning musicical objects into art
The tradition of applying natural lacquer to objects can be traced back thousands of years. In the West, laqueware oftern refers to lacquer articles made in a Japanese style, while people in China refer to lacquered chinaware and point out its distinctive features.
A group of artists from different fields in Taichung, led by renowned lacquer artist Lai Tso-ming (賴作明), are now attemp-ting to add a new category of lacquered ceramics (漆陶), which they are calling "Taiwan Ware" to the artistic community in the hope of gaining recognition. The hope is the this way the country can get a name for itself with this type of artwork.
From this week on, the Taichung County Seaport Art Center (台中縣立港區藝術中心) is holding a unique art show, called International Lacquer Art Exhibit 2005. On display are refined ceramics from Japan, South Korea, China and Taiwan.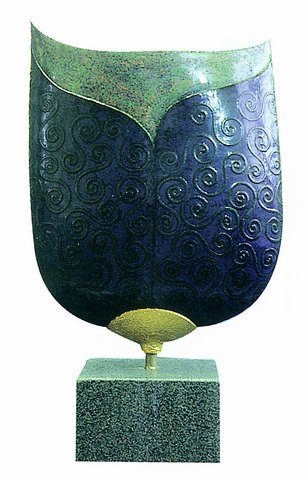 A lacquer flower design on a vase.
PHOTO COURTESY OF TAICHUNG COUNTY SEAPORT CENTER
The focus of this exhibition is to present the newest trends of artistic creation of this traditional craft. Out of a collection of nearly 300 pieces, two aspects of this exhibition deserve close attention.
First of all, the colorful and glistening traditional Chinese musical instruments decorated in natural lacquer make their world debut at this exhibition.
It is only a matter of time before popular Western instruments such as the guitar or the violin will be lacquered. The only barrier right now is the concern that Western instruments will be changed by the application of lacquer.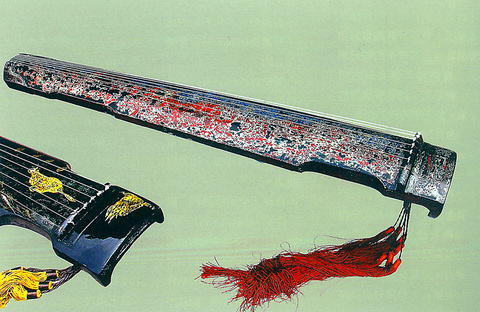 A lacquered traditional Chinese instrument.
PHOTO COURTESY OF TAICHUNG COUNTY SEAPORT CENTER
So far, the results of experimenting on Chinese musical instruments has been successful and it should be the same for Western instruments.
As Lai points out, professional instrumentalists such as Lin Wen-chi (林文吉) use natural lacquer to decorate their instruments, for example his flute, his zheng (箏) and his sheng (笙) -- a string instrument and a reed pipe wind instrument. He said the quality of sound is improved by the instrument being lacquered. Many of Lin's impressive artworks are on display at this exhibition.
Although there has been a long tradition of natural lacquerware art in Asia, the development of this particular type of artwork in Taiwan has been going on for around 100 years, although the style and forms were dominated by artisands in Japan and Fuzhou (福州) in China.
Nonetheless, the recent breakthrough in terms of applying ceramics and natural lacquer to create new objects has brought excitement to the artistic community in the Taichung area.
Taiwan Ware, as Lai and his colleagues have called it, presents artists with alternatives for artistic creation when it comes to applying glazes. From now on, they can use natural lacquer as a new medium to enrich their content of creation as many artists in Taichung have demonstrated so skillfully.
For further details get in touch with the Taichung County Seaport Center, www.tcsac.gov.tw.
Comments will be moderated. Keep comments relevant to the article. Remarks containing abusive and obscene language, personal attacks of any kind or promotion will be removed and the user banned. Final decision will be at the discretion of the Taipei Times.