A-kiang's opera set for CD
One of the nation's most forward thinking and respected directors of Taiwanese and Chinese opera is now contemplating an album
The persecution of those involved in Taiwan's early independence movement and the emergence of the Democratic Progressive Party (DPP) as a legal entity in the mid-1980s may seem far removed from the more placid world of Taiwanese opera, but for You Yuan-kiang (游源鏗), or A-kiang (阿鏗) as he's more commonly known, the nation's democratization and its traditional performing arts are inseparable.
Over the past decade A-kiang has become one of the nation's most forward thinking and respected directors of various forms of Taiwanese/Chinese opera. In 1992 he played an instrumental role in the establishment of the Lanyang Taiwanese Opera Troupe (蘭陽戲劇團).
The group is the only government funded classical indigenous opera troupe and, thanks to A-kiang's revolutionary ideas is considered by many to be one of the most influential modern Taiwanese opera troupes today.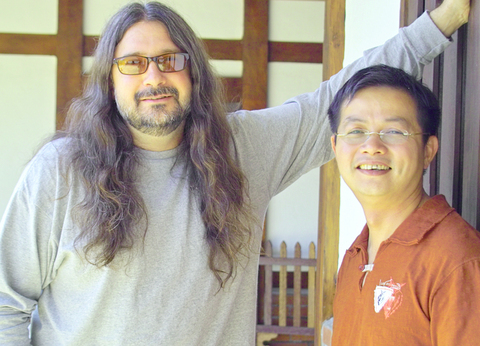 A-kiang, right, and award-winning environmental recording artist Matthew Lien have often collaborated together.
PHOTO COURTESY OF A-KIANG
"The climate of fear that I grew up with had a huge influence on the way I set out to modernize Taiwanese operas," said A-kiang. "The spirit of not following the norm and idea that to change something for the good is far better than killing it were once political ideals for me, but as I moved into opera they become intertwined with the way in which I set out to breathe new life into a once-fading art form."
Born in the sleepy Ilan farming township of Lichi (利澤), A-kiang was exposed to the traditional arts at a young age. His grandfather enthusiastically introduced the junior high school student to the world of Taiwanese opera and regularly took him to local temples to see troupes perform.
A-kiang's first encounter with the politics of the day was from secretly reading literature penned by democracy activist Lin I-hsiung (林義雄) that his father kept hidden in their house.
"My father told me not to talk about politics. He told me that the ideas about self-Taiwan rule were something that you could have at home, but never openly talk about outside of the family," he said. "He used to hide the tangwai (黨外) related literature from me in his room. I used to sneak in when he wasn't home and read it, though."
His father soon gave up trying to persuade him that politics was best avoided after the pair inadvertently ran into each other at a tangwai meeting in Ilan.
Shortly after graduation A-kiang took his new found political freedom to new levels and took a job as reporter and columnist at the short lived pro-democracy publication Progressive Weekly (民進周刊). After only three months on the job the government closed the publication down and its owner, Yu Hsiang-hui (吳祥輝) was sent to prison for sedition.
After his brief spell as a political columnist A-kiang decided to return to the theater and enjoyed a brief stint with Stan Lai's (賴聲川) Performance Workshop (表演工作坊), as well as several other contemporary theater groups. And while he continues to work closely with award winning environmental musician Matthew Lien, A-kiang remains more at home in the world of traditional Taiwanese opera.
Before embarking on a fulltime career in the traditional arts A-kiang decided to better his understanding of classical Taiwanese opera. In 1991 he joined the Hanyang Opera Troupe (漢陽歌劇團) and set out on a year-long operatic odyssey, which saw him touring the country with the troupe as both performer and artistic director.
"I might not have gone home for a year, but I was very lucky to have been able to learn from such a well-established and highly acclaimed troupe," he said. "Although some of the performers were very old, when I put my ideas forward in regard how best to develop opera they were very understanding. They realized how important it was to me and for the opera that it be able to develop."
During this time A-kiang learned first hand about the intricacies of the local operatic art form.
"Traditional Taiwanese opera is built around individual songs. Performers sang one song and there was a break before the next tune," A-kiang said. "I set out to bridge the gap between songs. Modern Taiwanese opera is more expressive, it moves at a less staggered pace and because of this I think it is accepted better by younger audiences, without whom the art form would have no future."
Although no longer politically active A-kiang's latest project sees him paying homage to one of his boyhood heroes. On July 31 a special one-off performance will take place in Ilan to commemorate the death 20 years ago of the pioneer of the tangwai and democracy movement, Kuo Yu-hsin (郭雨新).
The special performance might be musically different from his more operatic roots, with church music forming the basis for the concert, but the artistic director hasn't let his creativity slide. The church music will be amalgamated into various classical and orchestrated works and folk crooner Chen Ming-chang (陳明章) will also be adding his voice to A-kiang's latest hybrid musical concoction.
While A-kiang has been responsible for staging countless traditional Taiwanese operas and an equally impressive number of crossover operas over the past 15 years he has never released an album. All this is set to change later this year, however, when he enters the recording studio for the first time.
With backing from the National Center for Traditional Arts (國立傳統藝術中心) in Ilan and with help from the Taichung based National Taiwan Orchestra and several eminent members of Taiwanese opera troupes, he plans to create an operatic fusion of modern, classical and contemporary sounds. Recording and production dates have yet to be set, but according to A-kiang, Matthew Lien has shown interest in producing the work and is expected to take the helm later in the year.
"This is going to be a new line of thinking for me, as it is the first ever time I've recorded a CD. It will be different, but if it succeeds I think it will offer people the chance to hear something very different and original," he said.
Comments will be moderated. Keep comments relevant to the article. Remarks containing abusive and obscene language, personal attacks of any kind or promotion will be removed and the user banned. Final decision will be at the discretion of the Taipei Times.