Lighting up in the dark
Taiwan is locked in a public battle against smoking while many Taiwanese battle personally to quit. Despite successes on both fronts, the war against tobacco is being lost
By the end of the year, Lu Chien-guo (呂建國) will likely be dead. At least that's what his doctors have told him. It's a fate he's resigned himself to because, in his own words, it's what he deserves. In the four decades he's spent smoking two packs of cigarettes a day, the ashen-faced 58-year-old has wizened more than he has grown wise. He long ago felt the effects of cigarettes, but obstinance and the ease of smoking in Taiwan prevented him from ever quitting.
In a nation where over 47 percent of adult males smoke, there has not traditionally been any guilt associated with the pleasure. Nor has there been widespread awareness of the health risks inherent in tobacco smoke. That may be changing through ongoing campaigns to increase public awareness, but those campaigns may not be reaching the most vulnerable age group and gender. As a result, the growing awareness of smoking's ills is still being outpaced by the damage caused by tobacco.
Some 13,500 Taiwanese will succumb to a smoking-related illness in the remaining nine months of the year, according to the Department of Health, which makes nearly 18,000 each year, or two every hour. That is an increase of nearly 3,000 people in the past five years. The department's Cancer Registry shows that a new case of cancer occurs every nine minutes in Taiwan, a figure that has also risen in recent years.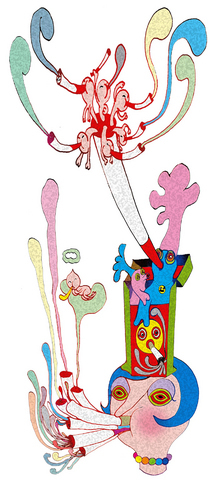 ILLUSTRATION: MOUNTAIN PEOPLE
In spite of its known risks, smoking is growing in popularity among Taiwanese, especially young women, a group that until recently has accounted for only a small percentage of tobacco users. The National Health Bureau estimates some 200,000 of the nation's young people will begin smoking this year, two thirds of them female. That's in contrast to the current 5 percent of adult women who claim to be smokers.
"In Taiwan, there has never been talk about smoking being bad for you," said Lu, who favored Taiwan's own Long Life brand cigarettes before being diagnosed last year to be in the advanced stages of cancer. "We Chinese considered smoking to be beneficial. It makes you stronger. I had been smoking for nearly 40 years before Jackie Chan said it was bad," he said, referring to a popular anti-smoking campaign featuring the film star.
CLEARING THE AIR
Recent years have seen a profusion of public awareness campaigns, many of them sponsored by the non-profit John Tung Foundation (董氏基金會), Taiwan's premier anti-smoking lobby: Jackie Chan breaking a giant cigarette over his knee in life-size cardboard stand-ups, commercials that run both on television and before film screenings, and numerous print and radio public service announcements that decry the dangers of cigarette smoke.
The most popular campaign by far has been the foundation's biannual "quit and win" contest that has challenged tens of thousands of smokers to register to quit for a month for a chance at over NT$1 million in cash. It is the only quit-smoking contest recognized by the World Health Organization (WHO).
But the campaigns are almost exclusively geared towards men. In addition to the Jackie Chan ads, a public service announcement that runs prior to film screenings depicts a man who struggles to kick the habit so he can enjoy life with his new child. The largest campaign aimed at young Taiwanese is the near-annual drive to get rid of cigarette smoking in the nation's military, in which young males are obliged to serve. None of the campaigns are targeted at females in their late teens and early 20s, the fastest-growing demographic of smokers.
Even the foundation's most effective program, the "quit and win" contest, may not have a long-lasting impact on its contestants, many of whom admit to kicking the habit for the required 30 days only to light up again weeks or months later.
"We have yet to see progress against smoking in Taiwan, even since the Tobacco Control Act (菸害防治法) was implemented in 1997," said Judy Lin (林清麗), chief of tobacco control at the John Tung Foundation.
The act she's talking about is one of a trio of documents that form the core of Taiwan's anti-smoking policy. The John Tung Foundation helped draft both it and the Tobacco and Liquor Tax Law (菸酒稅法), and lobbied the Legislative Yuan to ratify the third, WHO's Framework Convention on Tobacco Control, the world's first public health treaty which went into effect last month.
But victory is often followed by defeat. After the Tobacco Control Act went into effect, for example, smoking was prohibited in Taipei's domestic Songshan Airport. Then, last year, airport authorities opened an area inside the terminal where smokers could light up.
"We were shocked," Lin said. "Laws are enacted very slowly in Taiwan and often aren't enforced, but this was a policy reversal. The airport authorities argued that airports in other countries provided rooms for smokers."
It's a hard argument to counter because the foundation has worked to bring Taiwan more in line with international norms. That means both making the vice less visible in public and taxing tobacco at a higher rate. Proposed amendments to the Tobacco Control Act would raise the cigarette "health tax" from the current NT$5 to NT$10 per pack. The foundation sees that as not going far enough and this week proposed its own draft of the amendment that would raise the tax to NT$15.
Even with that price hike and more stringent prohibitions, locally purchased cigarettes are still far from prohibitively expensive. According to a 2003 survey by the Department of Health, the price of a pack of cigarettes sold in Taiwan, as a percentage of a worker's salary, was the lowest in the world. In India, in that year, a worker needed to work for 77 minutes to buy a pack of cigarettes, 56 minutes in China, 40 minutes in Singapore, 20 minutes in the US and 17 minutes in South Korea. The average Taiwanese had to work only 7 minutes.
UP IN SMOKE
Despite the low cost of cigarettes in Taiwan, tobacco is still big business and the tobacco industry is not surprisingly the biggest obstacle to reducing the number of smokers. Taiwanese spent some NT$31.5 billion (US$1.13 billion) on tobacco products in the year ending March 2004, according to the National Health Research Institute. Tobacco companies also generated more than NT$200 million (US$5.97 million) in advertising revenue for local publications in that same period, despite statutes restricting where advertisements can be placed.
Raising the "health tax" on tobacco seems a sensible solution. After all, according to the National Health Research Institute, for the billions of dollars smokers spend on their habit annually, tax payers must themselves cough up an average NT$18 billion a year to pay for the treatment of disease and illness caused by smoking or smoking-related activities. That's nearly 12 percent of the National Health Insurance program's annual expenditures.
But sensible solutions are seen differently in the eyes of a government that has, for six decades, been the nation's sole tobacconist. Where other governments earn revenue from taxes imposed on cigarettes, the state-owned Taiwan Tobacco and Alcohol Monopoly, as it was once known, has earned billions from the cigarettes themselves -- a source of revenue authorities have fiercely protected.
The government showed its own addiction to tobacco most notoriously on Feb. 28, 1947, when agents of the tobacco monopoly injured a woman selling illegal cigarettes in the streets and killed a bystander. Crowds demonstrated and an estimated 30,000 people were killed in what became known as the 228 Incident.
The monopoly has gone and Taiwan Tobacco and Liquor (TTL), as it's now called, is scheduled to complete privatization by the end of this year. As TTL changes, so too has the mind of its former boss. The government now sees increased taxation of tobacco as a means of bankrolling the nation's ailing health care system.
That's a victory in the public-policy battle. Other victories look close at hand with legislation on the rosters that would ban tobacco advertising and sponsorship and require cigarette packaging to be 60 percent covered with health warnings. But personal battles against tobacco are all too often lost, if they're fought at all.
BUTTING IN
Xiao Ling is a diminutive 18-year-old whose cigarette is sizably larger than any feature on her face. She's not surprised to learn that she's part of the nation's fastest-growing smoking demographic. Her friend, Ting-ting, smokes her same brand. They're two of hundreds of teens on a typical day in Taipei's trendy Ximending District who can be found strolling the streets chatting and smoking.
Asked what got them started, the girls both say spending time with friends who smoke and bumming an occasional cigarette. A short time later they were buying packs of their own. Both girls are aware of the dangers of smoking, but feel youth is on their side. Xiao Ling, for her part, says she plans "to quit when I have a baby or before I turn 30."
Asked why they don't quit sooner, the girls have difficulty coming up with an answer. Xiao Ling shrugs her shoulders and Ting-ting says there is no reason.
Is smoking cool? No, they say, it's not particularly cool.
Does it relax them? Neither girl considered the habit relaxing.
Do they like the taste? Yes. "And it makes my breath fresh," Ting-ting said of her menthol cigarettes.
Have they ever felt pressure to quit? Not from her parents, says Xiao Ling. They can't smell the smoke on her clothing from their own smoke.
And the influence of anti-smoking campaigns? Talking with Xiao Ling and Ting-ting leads one to believe these campaigns have no influence at all.
"Our best hope for reducing the number of teens who smoke is a total ban on advertising and sponsorship," Lin said, adding that cigarette advertising must be replaced with anti-smoking messages and health
warnings.
In this battle, the foundation has found its most effective strategy is informing smokers not only of the danger tobacco poses to their health, but to the health of those around them.
It's a lesson Lu wishes he'd have learned long ago.
"I have three daughters," he said. "I didn't know when they were young that I was putting them in danger. Now, they smoke. I hope that what's happening to me will be a lesson for them."
Comments will be moderated. Keep comments relevant to the article. Remarks containing abusive and obscene language, personal attacks of any kind or promotion will be removed and the user banned. Final decision will be at the discretion of the Taipei Times.