Short stories collectively create a worthwhile view
Donald Richie isn't a master narrator but his vignettes come together pleasantly and offer a keen perspective on modern Japanese life
Donald Richie has been writing books about Japan for longer than most people can remember. His 1971 book The Inland Sea (Weatherhill Press, Tokyo) was particularly highly praised, and in addition there have been seven books on Japanese film, plus works on literature, gardens, tattoos and the temples of Kyoto.
A View from the Chuo Line and Other Stories is a collection of 27 very short tales, few of them exceeding five pages. Indeed, some of them pursue the search for minimalism still further and are themselves mini-collections of even shorter narratives -- Three Stories about Mothers and Daughters, Four Stories about Love, and so on.
The Chuo Line is a rail line in Tokyo, and the opening story that gives the book its title consists of a dialogue between two characters about a point on the line where, in the view of one of them, a particular optical illusion occurs, or rather a moment of fleeting visual beauty. This concern with a brief moment of vision is very Japanese -- fragmentary views of Mount Fuji or of irises in spring sunlight are frequent occurrences in Japanese poems, films and graphic art.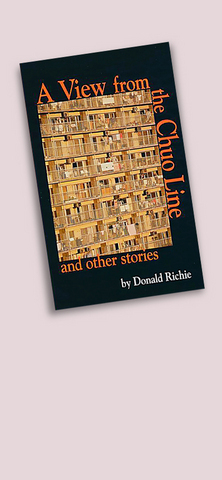 A View from the Chuo Line and Other Sotries By Donald Richie 127 Pages Printed Mattter Press
It's significant that Richie chooses to place this item first. It's as if he is, rather unnecessarily you feel, establishing once again his Japanese credentials. Almost all the other stories have plots, however slight. But here is the "pure" Japanese moment, deliberately placed in a non-traditional context -- the other passenger is absorbed in his Walkman -- in order to demonstrate that the experience of an "epiphany" has in no way been banished by modern social conditions.
The blurb on the back cover mentions James Joyce and epiphanies and also refers to Henry James's view of the short story as "a movement towards an understanding." Both of these imply major claims for Richie and his mini-fictions. My experience is that none of the stories here quite comes up to the level they aspire to, but there is plenty to interest the casual browser nonetheless.
Tokyo's trains feature again in the story Commuting where the typical urban experience of being pressed close to other passengers on commuter transport and having to decide just what your relationship is to the people down whose neck you're breathing is considered. The main character develops an obsession with a woman he regularly finds himself next to and one day tries to put a declaration of love into her purse. Her reaction is less than the man had hoped for. In other words, fantasies that develop are frequently at odds with the situation as imagined by your opposite number.
These stories form a mosaic of contemporary Japan. There's a bizarre dancing competition with Tokyo youngsters dressed as Romanians, Bulgarians and Austrians; the feelings of a Japanese housewife who is regularly mistaken for a Filipina; the contrasting mental habits of American and Japanese gays (and another story about gay marriage Japanese-style); a would-be theft from a moss garden; endangered fireflies released outside inner-city restaurants; unemployed men in all-day cinemas pretending to their families that they still have work; a student dressed as Santa Claus in a department store asked by a Western child to stop his father saying "The Japanese make me sick;" and inevitably, considering the brevity of the stories, much more.
It's an old theatrical principle that when constructing an evening of short items you should put your best piece last and your second-best one first. Richie's final tale is certainly one of his more promising. It's about a company outing in which a group of businessmen is persuaded to sample the delights of a hot-spring bath contained inside a cable-car cabin. This is untypically farcical for Richie, more like comic masters such as Mo Yan than this generally laid-back author.
The cabin, rather predictably, gets stuck, leaving the businessmen suspended above the treetops in cooling water. Richie's problem is what should happen next. I'll leave you to discover the development he opts for, but it doesn't equal in interest the initial situation he's so ingeniously imagined.
Nevertheless there does seem something slightly pretentious about the currently fashionable genre of the very short story. It has the same relation to a 20 or 30-page tale that a photo has to a full-length film -- it may say a lot for its size, but it can hardly compete in scope with its more expansive brother. There's also another shortcoming: it can create expectations that run counter to the author's wishes.
Reading these stories, for example, I found myself getting hooked on brevity and wishing they were shorter still. If you can have a story of 1,000 words, why not one of 100, or 50, or maybe just five? But then you run into serious difficulties. To write a story with three characters and a happy ending, all in five words, would be a challenge. "He chose the prettier sister." That would match the criteria. But would it qualify as literature?
All in all, it wasn't possible to find a really striking story here. Nevertheless, the overall impression left by these vignettes taken as a whole was not unpleasant. Richie, on the evidence of this slim book, isn't a master narrator. But his long experience has given him an elaborate set of perspectives on modern Japanese life, and for these we should be grateful.
Comments will be moderated. Keep comments relevant to the article. Remarks containing abusive and obscene language, personal attacks of any kind or promotion will be removed and the user banned. Final decision will be at the discretion of the Taipei Times.