Heading back into the hills
Nepal offers the best trekking in the world, but is it safe? One intrepid hiker looks beyond the recent headlines
If you ever doubted how indispensable e-mail and cellphones have become, then spending a few days in the Nepalese capital of Kathmandu at the beginning of last month would have convinced you.
Even before King Gyanendra finished telling his subjects on national television that he had sacked the government and was taking direct control himself, the plug was pulled on all telecommunications. If neighbors wanted to discuss the latest twist in Nepal's ongoing political tragedy, then they would have to go round and do it in person.
It quickly became obvious that the information highway would not be blocked for long. International flights rely on the internet for bookings, as do travel agents. Tourists outside the country had no way of contacting their hotels or agents on the ground, or confirming flights.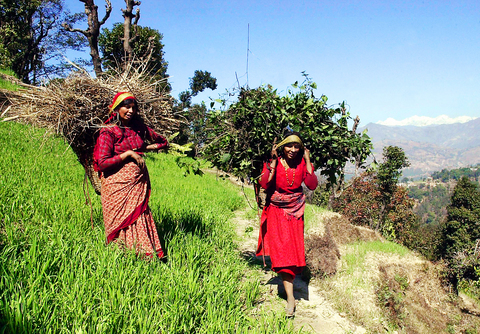 Trekking in Nepal offers the opportunity to see and learn about the country's many cultures and to take in breathetaking scenery.
PHOTO: AFP
The small number of tourists in Nepal shared information by pinning notices on hotel message boards. Those hotels with satellite phones became popular hang-outs, and the one internet cafe in the backpackers' district of Thamel with a satellite phone had queues of more than an hour, as travelers tried to reassure relatives that they were safe and well.
But it wasn't just tourists and the Nepalese elite who suffered. The situation for local people was worse. Leaving aside the sudden disappearance of their freedom of speech, many Nepalese who rely on foreign remittances for their income found their funds drying up as the banking sector ground to a halt.
Until 1950, Nepal was almost entirely isolated from the outside world, with almost no roads and few phone lines. But if the king needed proof of how far this small and underdeveloped country has come in the past 50 years, then an attempt to switch off the 21st century will have showed him. The days of Nepal's isolation are over.
Despite it all, the country's battered tourism industry bravely ploughs on through the deepening troughs of political instability. The Maoist insurgency, which has claimed more than 11,000 lives in the past nine years, has paralyzed development of Nepal's minnow economy. Tourism continues to be the third largest contributor of foreign currency, supporting around 200,000 workers in an underemployed country of 24 million.
The murder of King Birendra by his son the Crown Prince in 2001 and the declaration of a state of emergency later that year devastated Nepal's tourism industry. Fears of getting caught up in the conflict between the Maoists and government forces kept visitors away. In 2002, arrivals by air at Kathmandu barely scraped 200,000. Since then, Nepalese tourism has bounced back, achieving double-digit growth in the past two years.
But there's little doubt among industry experts that Nepalese tourism is grossly underachieving. With Mount Everest, the Earth's tallest mountain, on its northern border, and seven more 8,000m peaks sprinkled around the country, Nepal already has a huge reputation among adventure travellers. Most popular is the Annapurna region, which attracts more trekkers than anywhere else in Nepal.
The hills south of the stunning 8,000m Annapurna are lower and warmer than the approach to Everest's southern base camp, and are consequently more approachable for those with little experience of high country. The influx of trekkers over the years has built up a network of cheap lodges, which makes traveling here very straightforward. It has also transformed the region's economic fortunes.
But with its medieval temples and palaces, the city of Kathmandu itself is a superb cultural destination that has yet to be properly appreciated. In the south of the city, the Durbar Square in Patan contains one of South Asia's finest museums. And hotels such as the award-winning Dwarika's, a stunning recreation of a Malla-era palace using original architectural features, point the way to what could be achieved if the situation improves.
A series of regional airlines have recently started flights to Kathmandu, including Jet Airways and Sahara from Delhi. Next week, Phuket Air starts a new service connecting Bangkok with Dubai via Kathmandu. Air China is also increasing flights, making it possible to fly to Kathmandu from Chengdu via Lhasa.
Meanwhile, the Nepal Tourism Board has gone into promotional overdrive, slashing the cost of mountaineering permits and promising to speed up tourist services such as visas and trekking permits. They have even installed a tourist hotline for visitors to report poor service.
Steve Webster, who runs a locally based travel and trekking agency Escape2Nepal, says: "The mood, at least in Kathmandu, is generally upbeat among tourism entrepreneurs. Many of us are expecting a rebound in tourism, in anticipation that the royal move will improve matters."
He says that being based in Kathmandu has given him an edge in reassuring clients about the situation on the ground.
There is a terrible irony in the current situation for those Nepalese who rely on tourism for their living. The Maoists have gone out of their way to reassure tourists that they are not targets in what they call the "People's War" and have nothing to fear. But that message rarely percolates through headlines of continuing conflict.
Niamh, an Irish tourist on her way to Goa from Nepal, agreed that the image of Nepal abroad hadn't squared with her experience. "I've been here for 10 days and have felt perfectly safe," she said. "I was with friends who have been coming here for years, so that helped. But Nepalese people are so friendly."
Niamh's biggest problem came from the nationwide strike called by the Maoists soon after the king took power. "The lack of buses was an inconvenience," she said. "And organizing visas became a problem while the phones were down."
But for those prepared for the extra cost of flying internally, the recent strikes have not made much difference. There are nine airlines flying domestic routes in Nepal, and they report business is booming with extra flights laid on to meet increased demand.
Most popular is Buddha Air, with a new jet-service from Cosmic Air cutting flight times to the western regional center of Nepalgunj. Traveling to the lakeside town of Pokhara, starting point for classic treks in the Annapurna region, takes around half an hour by air rather than much of the day by bus.
Berry says tourists in the popular trekking areas, including Everest, Annapurna, Langtang and Mustang, see little impact from the political situation. "The Maoists say they have no issue with foreigners, and they've held to their word. We're still running treks to remoter areas such as Dolpo, in the heart of Maoist-controlled areas."
"There seems to be a real feeling that local people are getting fed up with Maoist strikes and that, perhaps, there will be a change in their tactics soon," one tour operator said.
Dervla Murphy once called Nepal "The Waiting Land." Those ordinary Nepalese who rely on tourism for their living will hope the wait is nearly over.
What to see
Mustang
The Lobas people of Mustang, part of the Tibetan plateau, date their tiny kingdom -- which they call Lo -- back to the 5th century.
★ Why go?
Mustang's capital, Lo Manthang (meaning plain of aspiration in Tibetan), and trekking into this remote and restricted corner of the Himalayas are high on the list of the cognoscenti.
★ Travel note:
Permit restrictions mean you'll have to travel with an officially approved operator. Numerous operators are available in Kathmandu.
Everest
★ Why go?
They don't come any bigger than the biggest mountain on Earth. The scenery is spectacular, but arrive out of October's high season and you'll experience Sherpa culture at its best.
★ How to get there?
You can do the round-trip from the airstrip at Lukla to Everest Base Camp in around 15 days, but adopt a more leisurely pace and you'll have more time to acclimatize and enjoy the experience. You can do it yourself for US$1,000 with a Lonely Planet trekking guide and cheap lodges.
Langtang and Helamba
Annapurna and Everest may grab the headlines, but Langtang and its neighboring region of Helambu offer stunning scenery, charming villages and far fewer trekkers.
★ Why go?
You can trek from Dhunche to the foot of glaciers in the Langtang valley, visit the holy lakes of Gosainkund and trek among the beautiful Sherpa villages of Helambu, a little corner of paradise.
★ How to get there?
Public transportation is convenient to Langtang and Helamba, which lie only 75km from Kathmandu.
Annapurna
Nepal's most popular trekking destination has walks from a few days to a complete circuit of the massif, taking up to three weeks.
★ Why go?
Highlights include the Annapurna Sanctuary, arid landscapes in Lower Mustang and lush forests around Ghandruk. There are hot springs at Tatopani -- which means "hot water" in Nepali -- and the promise of a chilled few days at one of Pokhara's lakeside lodges.
★ How to get there?
Numerous local tour operators organize treks starting in Kathmandu. Treks are usually cheaper and easier than Everest.
Publication Notes
Travel to Nepal from Taipei:
Travel to Nepal from Taipei:
There are daily flights from Taipei to Kathmandu via Bangkok on Royal Thai Airways. Roundtrip tickets cost NT$21,000.
Comments will be moderated. Keep comments relevant to the article. Remarks containing abusive and obscene language, personal attacks of any kind or promotion will be removed and the user banned. Final decision will be at the discretion of the Taipei Times.