Restaurant: Outback Steakhouse
Address: 2F, 100, Dunhua N Rd, Taipei (北市敦化北路100號二樓)
Telephone:(02) 8712 8818
Open: 11am until 11pm
Average meal: NT$550 per person
Details: Credit cards accepted. Menu in English and Chinese
Steak lovers will be pleased to know the Australian grill that started in the US, Outback Steakhouse, has stoked up the coals in Taipei. Customers sidling up to an Outback booth between now and Feb. 5 will be offered a 50 percent discount as long as they order steaks exceeding NT$390 in value. And if you get there between 5pm and 7pm ,on Monday through Friday, you can take advantage of the capital city's latest, greatest happy hour special: Buy-one, get-one free beer. \nThe branch that opened on the second floor of the Hyatt Hotel next door to AsiaWorld shopping center is no toehold in the Taipei market. Outback has moved into a 300-ping space capable of seating 240 people in a dining room outfitted with boomerangs and surfboards. It is the company's 1,156th franchise and the first in Taiwan. \nThough Outback offers an extensive menu of steaks, seafood, pastas and more, those thousand restaurants came about because of six dishes that have done very well. \nFirst is their "already famous" appetizer, the Bloomin' Onion (NT$240), diced and deep fried to look as though it's exploded in the plate, with a bowl of dipping sauce dropped in the middle. Choosing between it and the Aussie Cheese Fries (NT$190/NT$260) will be a tough choice, given the combination of Monterey Jack and cheddar cheese that's been drizzled over Outback's "Aussie Chips" -- French fries, that is. \nIn a country that fancies bony broths, a bowl of Outback's creamy onion soup (NT$90/NT$120) will be a guaranteed winner for anyone who misses heartier Western-style soups. \nThen it's time for the meat. If it's any gauge of the quality of Australian beef, Outback started its empire in Orlando, Florida, in 1988, in a time and place where people drove Fords, watched baseball and "spoke American." But the steaks were good enough to win converts from the several other steakhouses that line US highways. Since then, the same has happened in 20 other countries. \nThe reason is the Outback Special (NT$390/NT$490), an 8oz or 11oz center-cut sirloin seasoned and seared to perfection in a proprietary steak pan. It comes with a dipping sauce, but you don't need it. It also comes with veggies and fries that tend to be forgotten given how good the steak is.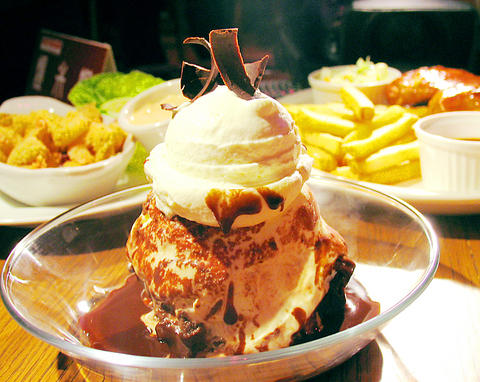 Outback's Chocolate Thunder from Down Under is awesome.
PHOTO: TAIPEI TIMES
Comments will be moderated. Keep comments relevant to the article. Remarks containing abusive and obscene language, personal attacks of any kind or promotion will be removed and the user banned. Final decision will be at the discretion of the Taipei Times.