The circus has just come to town
The traveling show that features feats of wonder is an institution in China's vast countryside
The bald man in a monk's flowing robe pounded a drum and a dull, rising beat echoed through the darkened streets with a promise of something in short supply in this grim, isolated town: entertainment. \nThe circus had come to town, in the form of a dirty pink bus carrying about 20 men claiming to be disciples of China's most revered kung fu traditions. But this would not be a fighting exhibition. The men promised to eat metal balls, sleep on beds of sharpened blades and perform other acts of physical wonder. \nAll for the low price of 3 yuan, or about 36 cents, cheap even for China. They pitched a striped tent on a vacant lot littered with broken concrete, beat the drum and waited. In a town where the closest city is three hours away by narrow mountain road, people came. \n"This is not a movie," promised the announcer, who provided commentary and pounding disco music during the show. "This is not a video. This is a real live show." \nIt was less certain whether these were real live monks. But, really, that did not matter to the more than 100 people who crowded into the tent on a cold winter night, many of them squealing young children whose usual entertainment is state television. \nIn remote Chinese towns like Xinglong, the traveling show is a tradition much like the freak shows that sometimes still turn up at county fairs in the US. Usually, these Chinese troupes gravitate to smaller places with vaudeville-style shows of singing and dancing, or Chinese opera. Sometimes they bring circus acts. \n"There are lots of them in the summer," said Yu Zhimei, who owns a restaurant, Higher than Heaven, a half block from the tent. "Circuses and singing and dancing performances. The audiences love it." \nBut gesturing toward the tent, she sniffed. "Sometimes the level of sophistication is very low. Some groups like this don't have much money. They just use a tent. Other, better groups can rent the hall in town." \nInside the tent, the small children bundled in smudged winter coats did not seem to mind. They watched a shirtless, chubby man offer a short prayer to Buddha. Then he grimaced and groaned as a man from the audience dropped four small metal pellets the size of BBs into his mouth. \n"Quicker, quicker!" the children screamed. \nThe man grunted and stuck out his tongue as proof that he had swallowed the pellets. Then he promised to retrieve them. \n"They will go through my body," he promised. "I'm going to push them back through my mouth, eyes or ears. Which one do you wish?" \nThe children showed no mercy. "Your eyes!" they shouted. \nHe gritted his teeth and pressed his hand against the right side of his stomach. He said he was going to push the BBs through his chest into his head. He said he was summoning his years of physical and spiritual training as a fighting monk. \nApparently, that was not enough. \n"Give him a chopstick, friend!" the announcer shouted. \nThe monk then pressed the chopstick against a bulging vein in his neck, pushing it slowly upward until a silver glint appeared in the corner of his eyelet. \n"Clink, clink." \nTwo small metal pellets fell out of his right eye into a tin cup below. A few seconds later, after sliding the chopstick up his left side, the monk produced two more balls, out of his left eye. The astonished crowd murmured as if they had witnessed a miracle. (No one seemed suspicious that the monk had shielded his eyes moments earlier, perhaps just long enough to slip in the BBs). \nIt was one act of many. One monk tightened a steel cord around his neck until his face turned purple, and another bound his chest in sharpened metal wire. A "junior monk" dislocated his shoulder and then popped it back into place as the announcer declared he needed a few days of rest. \nBut at the intermission, the performers showed their true talent: moving merchandise. \nThe junior monk's shoulder had miraculously recovered; he was dangling prayer beads and other trinkets for sale. Other monks plunged into the crowd selling glow-in-the-dark Buddhas on key chains. The announcer claimed everything was imbued with mystical qualities, never mind that it all looked like so much cheap plastic. \n"These things are real," the announcer promised. "If you take it home, they will bring good luck and happiness. We've got limited mementoes and limited time." \nChai Guofu, a spectator, seemed dazzled by the spectacle. "He used qigong to drink the balls into the body and push it out of his eyes," Chai said, using the word for traditional Chinese breathing exercises. \nAnother spectator was a bit more skeptical. "We've got no entertainment," the man said. "There's nothing to do. The officials are corrupt. They don't build any entertainment facilities for us. So we come to this." \nThe monks were wary of questioning from the only foreigner under the tent. One, Shi Yongfa, said the troupe "travels to so many places that I can't remember them." Another said they had all been raised at the famed Shaolin Monastery, considered the home of kung fu, a boast they used to lure in spectators. \nBut the man deferred any questions to the troupe's manager. The man said the group planned to perform for two more nights in Xinglong and that the manager would be available in the morning. \nThe intermission lasted about 30 minutes until the announcer introduced a pudgy monk and another man carrying an "ancient Chinese beheading blade." "I will cut off his head so everyone can eat some monk meat," the announcer promised, to the delight of the children. \nInstead, the other monks brought out another large saw and made a table of two parallel blades. The pudgy monk lay down atop the sharpened blades with a grimace. \n"This is a soft bed from Chongqing," the announcer said. Another monk then stood on his stomach. "Let's check and see if he's dead or not," the announcer said helpfully. \nHe was not. \nThe next day, as the people of Xinglong went back to work, the pink bus had left town. There would be no interview with the manager. The monks had left for another nowhere town in need of a laugh and some glow-in-the-dark Buddha key chains.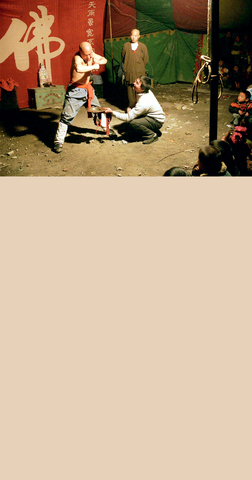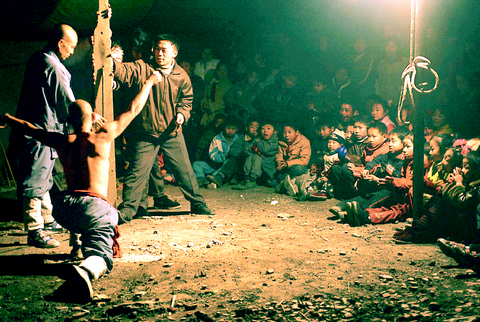 Circus performers in Xinglong, China, entertain the masses.
PHOTO: NY TIMES
Comments will be moderated. Keep comments relevant to the article. Remarks containing abusive and obscene language, personal attacks of any kind or promotion will be removed and the user banned. Final decision will be at the discretion of the Taipei Times.