Ray Charles' true grit exposed
Before he died, Ray Charles said `that's the truth' about a new film that tells his story of a harsh upbringing, musical genius and drug addiction
It took Taylor Hackford 15 years to find financing for his film on Ray Charles, a no-holds-barred story about how a blind black boy from impoverished rural Georgia became a rhythm and blues legend. \nThe American filmmaker finally found one investor, a Ray Charles fan from Colorado, to put up the money for the film's entire budget of US$35 million. \nIt turned out a good bet as Ray raked in US$65 million in its first four weeks in the US and its star Jamie Foxx was tipped for an Oscar for best actor. \nIt is scheduled to show in other regions in the coming months. \nFearless in showing its subject's character strengths and weaknesses, Ray charts the tragedies and triumphs of a great black musician who turned a handicap into a strength. \n"Ray Charles was even more able to get in touch with his feelings because he was blind," Hackford said in an interview. \n"He wasn't inhibited. He was letting it come out. He didn't care about being cool, he was cool," said Hackford, who divides his time between London, New York and Los Angeles. \n"Ray had anger ... He was more concerned about whether a blind person could do something rather than a black person," he said. "Ray Charles was constantly alone in the dark." \nIt was his handicap that forged his genius, said Hackford, who is fascinated by the history of African-American music and the underclass. \nBeyond the box office success of An Officer and a Gentleman, Hackford in 1987 directed a documentary on rock and roll star Chuck Berry which drew the attention of a son of Charles. \nHackford met Charles for the first time in 1987 and obtained the rights for the film, before spending a decade in the wilderness trying to convince Hollywood to put their bets on a film about a black man. \nHe found the man for the part in Foxx, a seasoned comedian who has been a pianist since he was three years old and who resembled Charles to the point of being mistaken for him. \nCharles had written an autobiography, "but it didn't have an emotional depth to it. He told all the facts. It doesn't tell you how he felt," said Hackford who met with Charles over 15 years. \nSo, Hackford talked to 35 people who were close to Charles to find out more about him. Charles did not complain and readily confirmed details. \nThe filmmaker also consulted a black southern American writer to make sure the dialogue in the film was authentic. \nThough Hackford is an unabashed admirer of the bluesman, he said "the film depicts him as not too sympathetic." \nIt shows not only his tragic childhood in Georgia and his climb to stardom, but also his betrayals, his insatiable appetite for sex, his formidable business sense, and his 17-year addiction to heroin. \n"He let me tell that story," during meetings in the last 15 years of his life. "He wasn't afraid of the truth. I told him I wouldn't tell the story unless it was the real story." \nHe added he did not know "if he would have given me the same freedom in the mid-80s." \nAdept at gospel, rhythm and blues, country, rock and jazz, Charles constantly mixed musical genres while forging his own style. \nMixing black gospel and the blues, which caused a scandal in the 1950s, Hackford said, "he was the first to mix God's music with the devil's music." \nCharles' legendary hoarse voice went quiet on June 10 when he died after a battle with liver disease. He was 73. \nHowever, he still had time to attend a pre-screening of the film with Hackford sitting next to him to describe the sequences. \n"He wanted to hear the voice of his mother," a key character in the film, said Hackford, who then recalled the musician saying: "That's it, that's the truth." \nAfter 20 minutes without budging in his seat, Charles turned to the director and said: "Taylor, I'm very pleased."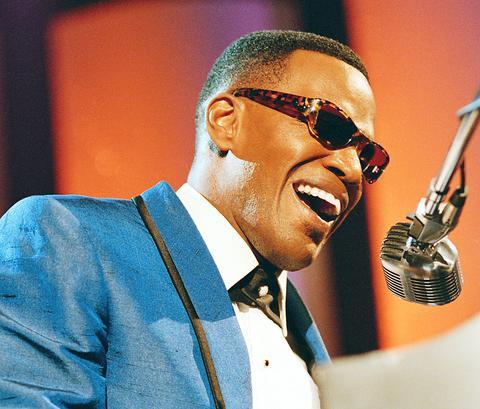 A new movie looking at the life of Ray Charles stars Jamie Foxx.
PHOTO: AP
Comments will be moderated. Keep comments relevant to the article. Remarks containing abusive and obscene language, personal attacks of any kind or promotion will be removed and the user banned. Final decision will be at the discretion of the Taipei Times.