Tears, a typhoon and sunshine at Golden Horse
Best Actree award went to a tearful Yang Kuei-mei, while Andy Lau took the Best Actor honor at yesterday's 41st Golden Horse Awards
There was a rare winter typhoon blowing across the island, but it did not stop the 41st Golden Horse Awards from running in Taichung yesterday on what turned out to be a sunny day. \nKekexili (可可西里) took the Best Picture, while Jacky Chan's New Police Story (新警察故事) was the biggest winner last night, taking Best Supporting Actor, Best Visual Effects, Best Action Choreography and The Audience award. \nThe Best Actress award went to Yang Kuei-mei (楊貴媚) for The Moon Also Rises (月光下我記得). She said she had finally graduated because she had been nominated so many times. Amidst tears she kept repeating, "I've won, I've won," and said she was glad hadn't given up. \nThe outcome of the tight battle between Andy Lau (劉德華) and Tony Leung (梁朝偉) was finally revealed with Lau taking the honors for Infernal Affairs III (無間道III終極無間). He had been nominated for Best Actor the past three years and thanked the jury members for picking him this time. He added that he had been honored to compete with Leung for the last two years and they would no doubt be going up against each other in the future. \nThe Best Supporting Actor was awarded to Daniel Wu (吳彥祖) for New Police Story (新警察故事). He said he was grateful to Jackie Chan for letting him take on the role. Born in the US, Wu said he was a naive man when he first went to Hong Kong seven years ago. He then said he was still a naive man, but now he had an award. He concluded by saying he was "definitely going to get drunk." \nBai Ling (白靈) was honored with The Best Supporting Actress for Three ... Extremes: Dumplings (三更之餃子). It was Bai's first Chinese-language film, as she's found work in Hollywood and been cast in such movies as The Red Corner with Richard Gere and Anna and the King with Chow Yun Fat. \nThere was also keen competition in the Best Director award category but Johnnie To (杜琪鋒) took the prize for the second time with Breaking News (大事件). \nThe joint-winner of Best New Performer was Tony Yang Yu-Nin (楊佑寧) for Formula 17 (十七歲的天空). The Taiwanese Christian thanked god for his award. The film was the second-biggest local film of the year, with a box-office take of NT$6 million. The other winner, 18-year-old Hong Hao-Xuan (洪顥瑄), who has just passed her entrance exam to attend a university in Taichung, was also recognized for her movie Bear Hug (擁抱大白熊). She reckoned Taichung was bringing her luck, which pleased the home crowd. \nThe Lifetime Achievement award this year went to 87-year-old A Pi Po (呵匹婆), who was awarded the honor for her work in Taiwan cinema. She was famous as a black-and-white film actress from the 1950s to the 1970s and simply hoped that everyone would experience good fortune in the years to come. \nEarlier in the day some 2,000 Taichung residents gathered on the sides of the red carpet -- the so-called "Star Boulevard" -- to star gaze. Hundreds of others crammed by the window of the nearby McDonald's, trying to spot the stars. \nCelebrities included John Woo (吳宇森), Hou Hsiao-hsien (侯孝賢), Vanessa Mae and two of Taiwan's taekwondo Olympic medalists. Unfortunately, they were mostly special guests and not nominees. \nDespite the low attendance by actual nominees, the number of films competing for the Golden Horse Awards reached a new high this year. A total of 110 films (including shorts) were nominated. \n"Lack of innovation in styles and stories is Hong Kong's weakness this year," one jury member said, but agreed that it was the movie powerhouse in the region. \nIn Taiwan, where humanism is still the leading filmmaking trend among directors, there are new talents and new spirits among the younger generation, said the jury member, who did not want to be named. \nHer opinion was backed up by the number of prizes that went to Hong Kong films and actors, as well as local award-winning Taiwanese films such as Formula 17 (十七歲的天空) and Splendid Float (艷光四射歌舞團). \nThe latter picked up the Best Make Up and Costume Design award for Jean Chen (陳淑津) and Lai Wei-joung. It also took the Best Original Film Song and Best Taiwanese Movie of the Year award -- an out-of-competition prize that gave local filmmakers a chance to celebrate. \nWinners at the 41st Golden Horse Awards \n*Best Picture \nKekexili (可可西里) \n*Best Short Film \nThe Magical Washing Machine (神奇洗衣機) \n*Best Documentary \nChronicle of Sea Nan-Fan-Ao (南方澳海洋紀事) \n*Best Animation \nMcDull, Prince de la Bun (麥兜, 菠蘿油王子) \n*Best Director \nJohnnie To (杜琪鋒) for Breaking News (大事件) \n*Best Leading Actor \nAndy Lau (劉德華) \n*Best Leading Actress \nYang Kuei-mei (楊貴媚) \n*Best Supporting Actor \nDaniel Wu (吳彥祖) \n*Best Supporting Actress \nBai Ling (白靈) \n*Best New Performer \nHong Hao-Xuan (洪顥瑄) and Tony Yang Yu-Nin (楊佑寧) \n*Best Original Screenplay \nYau Nai Hoi (游乃海), Yip Tin Shing (葉天成), Au Kin Yee (歐健兒) for Throw Down (柔道龍虎榜) \n*Best Screenplay Adaptation \nLin Cheng Sheng (林正盛) for The Moon Also Rises (月光下我記得) \n*Best Cinematography \nCao Yu (曹郁) for Kekexili (可可西里) \n*Best Visual Effects \nVictor Wong (黃宏達), Brian Ho (何志輝) for New Police Story (新警察故事) \n*Best Art Direction \nWilliam Chang (張叔平) and Yau Wai Ming (邱偉明) for 2046 \n*Best Make Up and Costume Design \nJean Chen (陳淑津), Lai Wei-Joung (賴蔚炅) for Splendid Float (艷光四射歌舞團) \n*Best Action Choreography \nLee Chung Chi (李志忠), Jo Stunt Team (成家班) for New Police Story (新警察故事) \n*Best Original Film Score \nShigeru Umebayashi, Peer Raben for 2046 \n*Best Original Film Song \nSplendid Float (艷光四射歌舞團) \n*Best Editing \nDavid Richardson for Breaking News (大事件) \n*Best Sound Effects \nCao Yuan-Fong (曹源峰) for The Passage (經過)
Yang Kuei-mei was the big winner at yesterday's 41st Golden Horse Awards.
PHOTO: AGENCIES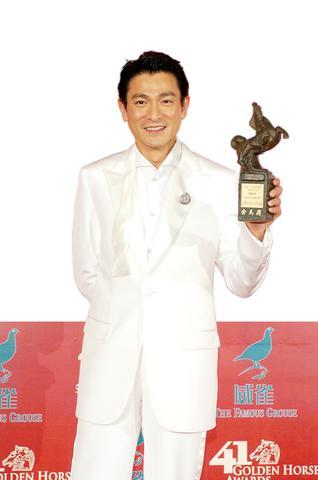 Andy Lau took the Best Leading Actor honor.
PHOTO: AGENCIES
Comments will be moderated. Keep comments relevant to the article. Remarks containing abusive and obscene language, personal attacks of any kind or promotion will be removed and the user banned. Final decision will be at the discretion of the Taipei Times.