The art and craftiness of fengshui
There are up to 30,000 geomancy practitioners in Taiwan, but with only 3,000 of them licensed, there a lot of charlatans out there
No one would believe that behind the ceramic tile exterior of Chen Hsuan-yi's (陳軒翊) Shulin apartment lies an office that makes one want to work overtime. The scent of teakwood from the carved door frames, the gentle breeze from ceiling fans and the brick and mahogany-colored walls were all selected by the fengshui master to create a positive working environment. \nFengshui is a booming business, but as interest in the subject increases, so does the number of critics and charlatans looking to cash in on its popularity. \nRich in history and subject to complex rules, fengshui, put simply, is the placement of objects and furniture in one's home so as to maximize the flow of energy or qi. Its roots are planted in the I-Ching, or Book of Changes, an ancient Chinese divination manual from some 5,000 ago. \nFor experts and masters, fengshui is a complex science that follows calculations using a Chinese compass or luo pan (羅盤), in addition to a whole range of other factors. \n"It is much more than moving furniture around. There is internal and external fengshui and if you really want to improve your quality of life, you must pay attention to both parts," Chen said. Internal fengshui involves living a healthy lifestyle -- early to bed, early to rise, and everything in moderation. External fengshui involves the placement of furniture in one's living and working environments. For accurate readings, both require the date of birth and the height and weight of the people involved. \nChang Hsu-chu (張旭初), chairman of the Chinese Geomancy Research Association (CGRA, 中國地理風水研究協會) estimated that there are about 3,000 licensed geomancy practitioners in Taiwan, but anywhere from 20,000 to 30,000 who are unlicensed. \n"Many who claim to be experts are not. They realize there is money to be made in this field. After they read a few books to learn the basics, they start to counsel people on how to arrange their homes," he said. \nHaving studied the art of spatial harmony for more than 20 years, Chang is regarded as one of Taiwan's leading fengshui experts. His biggest projects to date include Taipei 101 and the Presidential Office. \nGiven the different approaches, there is debate as to who is an authentic practitioner and who is merely jumping on a profitable bandwagon. Chen and Chang's methods are substantially different. Chang can offer advice on how to rearrange furniture over the telephone and can counsel on the basis of a faxed floor plan. \nChen needs to meet with his clients in person to complete a detailed survey before he will give any advice. Chang is fond of using crystals to maximize love, health and wealth, whereas Chen prefers more general recommendations such as adjusting lighting and coloring and most importantly, using plants. Chang is not a fan of plants inside the home. \n"Different masters give different readings ... The most important thing is for the person occupying the space to feel comfortable. If you feel at ease, then the energy flow is good, if you feel stressed, there must be something blocking that flow," Chen said. \nIn addition to teaching fengshui theory, Chen takes on large projects for companies in both Taiwan and China. One point he is sure to get across is the importance of keeping things green. "Fengshui should not hurt the environment. It should always work together with nature," Chen said. \nNot everyone agrees, however, that fengshui is in fact in the best interests of nature. Green Formosa Front Chairman, Wu Tong-jye (吳東傑) said the construction of temples in mountainous regions, where there is believed to be favorable fengshui, is causing great environmental damage. \n"Mountains might be an ideal place for meditation because they have good fengshui, but are the temples the best thing for the mountains?" \nWhen trees are cut down, the soil is eroded which later causes landslides, said Wu, citing the illegal construction of several temples in the Bali and Puli areas. \nFamily burial areas cause a similar problem, he said. "People believe putting the tomb on the mountain will provide good fengshui and that will help to bring good fortune for the next generations; but preserving a healthy natural environment is also important for future generations." \nWu is not the only one who has found himself at odds with the practice. Professional interior designers do not, strictly speaking, adhere to the principles of fengshui. \n"It is not an academic field because it is still considered among scholars to be a sort of superstition. When someone talks about fengshui in an academic setting, they will not be taken seriously," said Tsai Jen-hui (蔡仁惠), a professor of architecture at National Taiwan University of Technology. \nMore recently, however, students of architecture and design have been studying fengshui to look for ways to join the two fields. At present, Tsai has four graduate students researching the relationship. One of the benefits is to avoid conflict when working with clients. "Almost everyone believes in fengshui, even if only a little. So now we see more and more students who want to learn about it, and how they might apply it to their own work." \nWhile future interior designers and architects prepare to take on the roles of masters and designers, those already working in the field continue to follow their clients, regardless of their own personal convictions. \n"We are employed by a client and if the client believes strongly in fengshui then it is important we try to accommodate him," said Peter Young, vice general manager at Steven Leach Group, a Taipei-based architect and interior-design company. \nYoung said once a master has looked over the building or blueprint, he will pass on his recommendations to the designer, who will take them into consideration. When creative differences arise, the designer will look for a "compromise solution" that fits within the guidelines of design without breaking any major fengshui rules. \n"We know enough to always ask straight away what kind of role it will play. The most important thing is to get the experts involved as early as possible to mitigate the impact of any future conflict," explained David Pipkin, the managing director of Steven Leach Group. \nThe worst case involved a large office project in which the owner's husband was a fengshui student. "He was very insistent that the front entrance should be in the center. This would have made the public area almost three quarters of the entire office space. It was an impossible expectation and, in the end, the owner realized it as well." \nIn most cases the recommendations are common sense, not putting your back to the door or sitting at the end of the corridor. It's not practical and it doesn't look good, Pipkin explained. "But that's not to say there aren't times when issues of conflict arise," he added. \nAfter more than 30 years of operation and eight branches across Asia, Pipkin said the best advice came from the company founder who would say, "We've been here too long not to believe in it." \nRoom chart \nDIY Fengshui: The following guide is based on interviews with two fengshui masters in Taiwan, in addition to book, magazine and internet searches. \nThe Nine Bagua Areas: (Align the ''career square'' with the front entrance to your home or just one room. Suggested items and colors to be used in these areas. \n■ Northeast: Wisdom \nColor: Blue, green or black \nObject: Books (keep this area organized) \n■ East: Health and Family \nColor: Blue or green \nObject: Plants, flowers \n■ Southeast: Wealth \nColor: blue, red or purple \nObject: wind chimes \n■ North: Career \nColor: Black, blue or brown \nObject: Water fountain or painting of water \n■ Center: Center for energy \nColor: Yellow or earth tones \nObject: Nothing, best for meditating, sitting \n■ South: Fame and reputation \nColor: Red \nObject: Candles (think fire not water) \n■ Northwest: Influential people \nColor: White, gray or black \nObject: Something you would lend to a friend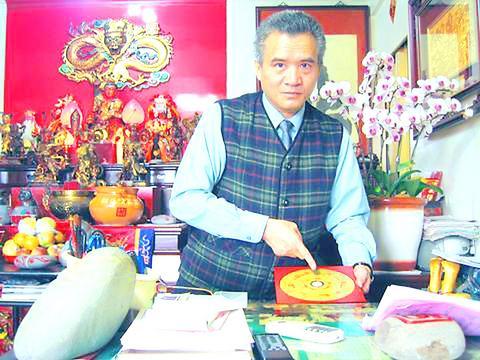 Chang Hsu-chu (張旭初)
GAVIN PHIPPS, TAIPEI TIMES
Chen Hsuan-yi (陳軒翊)
DIANA FREUNDL, TAIPEI TIMES
Publication Notes
Name: Chen Hsuan-yi (陳軒翊), Chairman of Yi-chin Name Psychology Association

Telephone: (02) 2684 4371

Tips (for men and women)

Chen did not have any specific tips for each category but he stressed the importance of light, color and living things. He suggests lamps or track lighting, (bedrooms dark and living room bright). Painting the walls (preferably blue, or an earth tone), and plants or flowers.

Universal Taboos:

1. Problem: Bed, sofa or chair under an over-hang: will cause pressure on your chest.

Solution: Move it

2. Problem: Front and back doors align: the energy goes straight through the house and out the other door.

Solution: Intersect the flow with a sofa, chair or large object to circulate the energy.

3. Problem: Toilet seat cover left up: flushes away all your wealth.

Solution: Close it.
Publication Notes
Name: Chang Hsu-chu (張旭初), Chairman of the Chinese Geomancy Research Association

Telephone: (02) 2567 2155

Web site: www.cocgra.org

Tips (for men and women)

Love: Fill a small bowl with pink crystals and a larger pink crystal ball in the center. Put eight NT$50 coins around a ball and place it next to the spot where you do your makeup, hair or shave.

Wealth: Fill a jubao bowl (聚寶盆) with small yellow crystals, and 108 NT$10 coins. Put it in the far right or left corner of your living room (from your front entrance).

Health: Find a stone (preferably one that is black and smooth). Write: "賜我健康" (I am healthy) on it, with red paint. Put it under your bed.
Comments will be moderated. Keep comments relevant to the article. Remarks containing abusive and obscene language, personal attacks of any kind or promotion will be removed and the user banned. Final decision will be at the discretion of the Taipei Times.