Love connects across the Taiwan Strait
`Love of May' is another step for Taiwanese film away from intellectual art-house fare and toward the safety of feel-good romances
On the surface, Love of May (五月之戀) is a movie about a Taiwanese boy encountering a mainland Chinese girl in Taipei.
Like many Taipei 20-somethings, they hang out in Eslite Bookstore listening to Mayday's (五月天) Taiwanese rock `n' roll music and have lunch at NY Bagels.
The movie is another attempt, following the success of Formula 17 (十七歲的天空), by Taiwanese filmmakers to aim for a piece of the younger market. Gone are the dreary commentaries about political change or social critiques. Instead, in this teen love story, the director tries to introduce a youthful spirit and refreshing romance.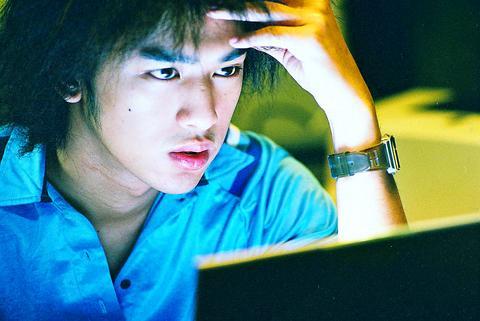 Chen Bo-lin looks for love on the Net and finds it in Love of May.
PHOTO COURTESY OF MATA ENTERTAINMENT
More ambitious is the story's attempt to highlight the ways young people across the Taiwan Strait can connect with the help of cellphones and Internet chat. It also tries to present the stark differences of these connections compared with those of older-generation mainlanders nostalgic for lost hometowns in China.
In the film, Ah-lei (played by Chen Bo-ling,(陳柏霖) is the younger brother of Shi-tou (石頭), guitarist of Mayday. He and two college classmates work as webmasters for Mayday's official Web site and one of their jobs is to reply to fan mail. One day, a fan sends a message, saying: "Who can tell me what May snow is?"
"I've never heard of May snow," replies Ah-lei. "I only know there is Mayday."
The reply makes the female fan, named Xuan Xuan (played by Liu Yi-fei, 劉亦菲), suspicious that the respondent is not really Ah-hsin (阿信), lead singer of Mayday. "You're not Ah-hsin! He's not so low in culture."
"Yes I am him!" Ah-lei replies.
To keep up his lie, Ah-lei tells Xuan Xuan details about Mayday concerts. Xuan Xuan believes him and begins a daily correspondence.
The film is, in a way, similar to what happens in You've Got Mail. The two finally meet up in Taipei and Ah-lei accompanies Xuan Xuan on a trip to see the "May snow." May snow is, in fact, the term given to the fallen blossoms of the Tung Flower, which are found famously in Sanyi, Miaoli County
Ah-lei finds out that Xuan Xuan is actually from Harbin, in northern China, and is a Peking Opera school student who visited Taipei as a Teenage Cultural Exchange Ambassador. Her dream is to come to Taipei to attend a concert by her favorite band Mayday and get photos of the band members autographed.
After meeting in Taipei, Ah-lei thinks he will never see Xuan Xuan again after she returns to Harbin.
But the romance is thickened during their separation, when Ah-lei finds out why Xuan Xuan has been longing for the so-called May snow. It traces back to her remote connection with Taiwan, and brings in a sentimental journey of Xuan Xuan's grandfather who came to Taiwan at the end of the Chinese Civil War.
Unfolding the May-snow secret, the movie's scenery shifts from the snowy white flowers of Sanyi to the snowy world of Harbin.
Chen, who debuted in Blue Gate Crossing (藍色大門), is probably the fastest-rising star in Taiwan, with roles in First Love, Last Love (最初的愛, 最後的愛), 20, 30, 40 and Twins Effect 2 (千機變2). He makes an impressive performance in Love of May, too, playing an aimless young man with a goofy smile, whose pet phrase is "duo-a," a mangled, lazy version of "dui-a" (對啊), meaning "yes" in Mandarin.
Playing opposite Chen, 18-year-old Liu, who bears a striking resemblance to Hong Kong's Cecilia Cheung (張柏芝), shows the potential to become a genuine star, while senior actor Tien Feng (田豐) and the band Mayday are strong presences in the movie.
Publication Notes
Film Notes
Directed by: Hsu Hsiao-ming (徐小明)
Starring:
Chen Bo-ling (Ah-lei), Liu Yi-fei (Xuan Xuan), Mayday, Tien Feng (grandfather)
Running time: 100 minutes
Taiwan Release: July 16
Language:
in Mandarin with both Chinese and English subtitles
Comments will be moderated. Keep comments relevant to the article. Remarks containing abusive and obscene language, personal attacks of any kind or promotion will be removed and the user banned. Final decision will be at the discretion of the Taipei Times.