We're Ausies, and we love Taiwanese girls
Thunder From Down Under are back and they're all greased up and ready to please again
After their successful show last August, the man-power show group Thunder From Down Under has obviously fallen in love with Taiwan. Back in town within 10 months, they've already gotten accustomed to the muggy weather and are enjoying hot pot and all kinds of tropical fruit. And after having been to Room 18 and Ministry of Sound and, of course, the night markets, the seven hunky boys feel, most importantly, that they just love Taiwanese girls!
So now that they're all excited about the ladies here, we can expect some red-hot dances and a feverish atmosphere at the shows. This time the group is not only performing in Taipei (at the Taipei International Convention Center), but also will tour to Hsinchu, for a show at the Lakeshore Hotel, and to Kaohsiung, where they will perform at Chih-Teh Hall.
Most of the boys are new faces for Taiwan's audiences, except for one performer who was here last August. They are younger -- between 23 and 31 -- than the group last year, and they seem naughtier and like to joke around more. But, like the boys last year, they are definitely men who enjoy showing off their bodies and twitching their pectoral muscles for anyone willing to watch. And they also like to invite people to feel their butts.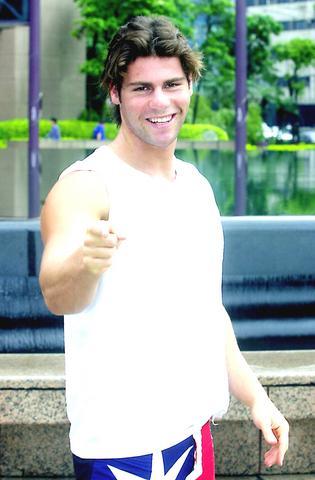 DARREN SUTTON Blond Age: 24 Favorite body part: hands, because they are soft. Girl type: energetic "Six Pack Sutton" is Darren's nickname. He first heard about Thunder while working out at his local gym. Darren enjoys football, swimming and athletics. His favorite movies are Con Air and Indecent Proposal.
Taipei Times: Last year the Taiwanese audience was very passionate and eager to send hugs and kisses. Are you prepared this time?
Thunder From Down Under: Yes, we thought Taiwanese women were shy. But it turned out to be a very exciting atmosphere. For us it's good. Our show needs a lot of feedback and it heats up the vibe more. But it was true that last year I could feel that some women were trying to pull my G-string.
TT: What's the show going to be like this time?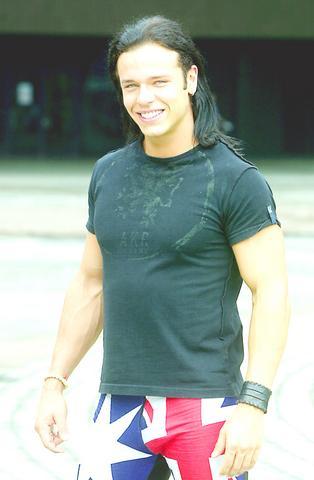 DAVID MOORE Black hair Age: 23 Favorite body part: eyes Girl type: athletic, out-going, sexy and a good dresser When young, David traveled a lot and has lived in many different places. David loves playing golf and also enjoys going to the races. He is fluent in French and believes that women should be romanced.
TFDU: It will still be a mixture of the 70s-style disco songs such as Saturday Night Fever, Living in America and Tom Jones and modern songs such as street dances and hip hop. But it will be entirely different choreography. And all of us will be doing a bit of acrobatics. As for the show in the Hsinchu Hotel, it will be a more intimate show with the audience.
TT: You have been to 15 countries to perform. Have there been any embarrassing moments during your shows?
Michael Cooper: There was once I played a vampire in the show and my costume was tangled and I tripped on stage. I could only quickly stand up and smile at the audience.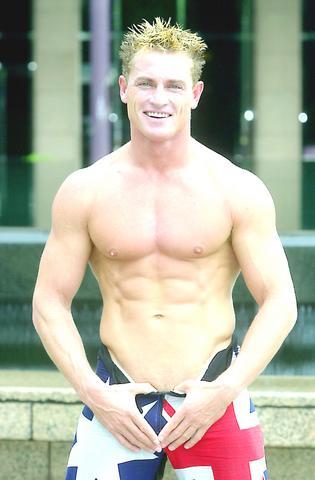 MICHAEL WELLS Blond Age: 30 Favorite body part: abdominal muscles Girl type: tall, thin, sexy, intelligent and rich Michael said Thunder is the best of the best, which is why he entered the Strip Search Australia contest and was ecstatic when he was chosen. "I'm affectionate, love to laugh and have a good time."
TFDU: There were a couple of times I got my G-string pulled off and it was embarrassing. But we got used to it. You can only laugh at it. It doesn't happen too often, about once a month.
TT: What is the secret to maintaining your figures?
TFDU: Going to the gym five days a week, two hours each time. No French fries, no pork chops, no bacon, no beer and no dessert and ice cream. But one day of the week you let yourself have a day off and have some chocolates.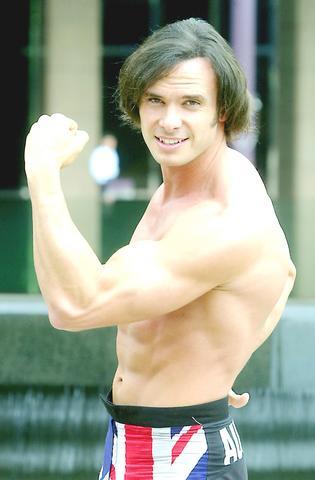 LUKE ZILIANI Brown hair Age: 31 Favorite body part: lips because they are good to kiss. Girl type: not fuzzy Luke's first job was as a barman, but before joining the troupe he had his own business as a clothing importer. Luke is very friendly and has an outgoing personality -- and his favorite movie is Finding Nemo.
TT: Have you ever gone on a date with someone from the audience?
TFDU: Yes, after the show we receive invitations and we might go have a drink or to the nightclub. But we don't do that often. Perhaps because in our show we're showing the physical part of ourselves, we tend to prefer a platonic relationship off stage. Besides, it's actually difficult for us to keep a long-term relationship. We travel a lot and our suitcase is home.
TT: What's your impression so far of Taiwanese girls?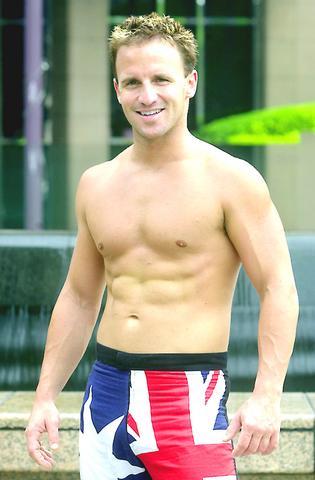 BEN STAADEN Blond Age: 31 Favorite body part: butt, because they are like peaches. Girl type: down to earth, easy going with a sexy smile. Ben enjoys surfing, football, water sports, scuba diving, personal fitness and sailing.
TFDU: Taiwanese women are very sexy. They may be shy, but they're very lady-like. They are slim and classy. More importantly, they show us respect. They aren't rough and they don't forget that we're human beings too. We really like it here.
For your information :
What: Thunder From Down Under
MICHAEL COOPER Blond Age: 30 Favorite body part: smile, because it tends to light up the house. Girl type: athletic Michael is confident, independent and very easy going, and in his first job he was making a living laying bricks before he was snapped up by the Thunder crew.
When and where: 7:45pm, tonight and tomorrow, Taipei International Convention Center; 7:30pm, July 16 Lakeshore Hotel, Hsinchu (reservations only), July 17, Chih-Teh Hall, Kaohsiung Cultural Center.
Tickets: NT$700 to NT$3000, available at Era Ticketing outlets
More info: (07) 537-0000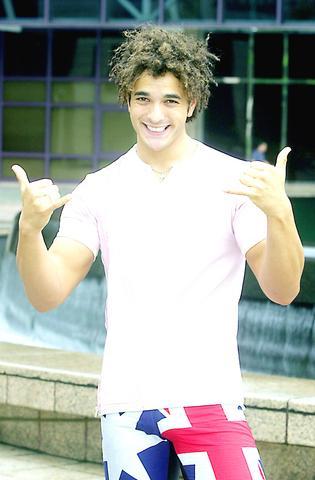 KEITH MILES Salon dreadlocks Age: 23 Favorite body part: nipples, because they are sacred (he has a nipple ring on his left nipple) Girl type: natural beauty Keith was born to be a performer. His dream as a child was to be a famous musician -- and his passion for the stage has always been his first love.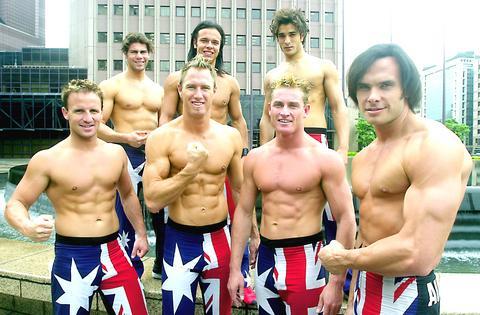 The hunks of burning love called Thunder From Down Under are back in town with freshly toned muscles and tight pants to drive the ladies wild.
PHOTO: SEAN CHAO, TAIPEI TIMES
Comments will be moderated. Keep comments relevant to the article. Remarks containing abusive and obscene language, personal attacks of any kind or promotion will be removed and the user banned. Final decision will be at the discretion of the Taipei Times.